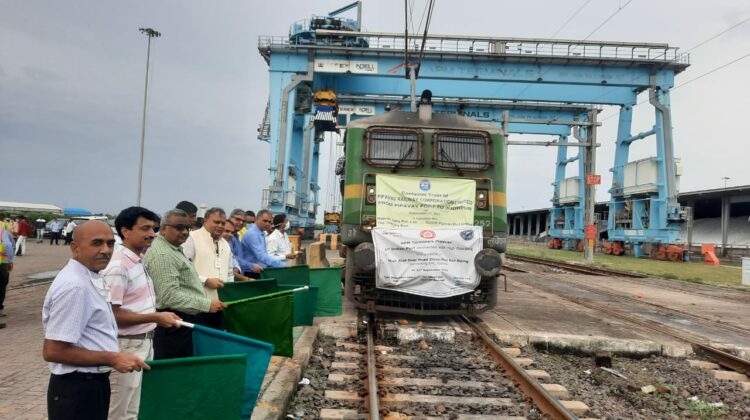 APM Terminals Pipavav provides faster, more cost-effective solutions via Dedicated Rail Corridor

---
PIPAVAV : Following the completion of high-rise overhead electrified rail yard at the end of last month, APM Terminals Pipapav became the first Indian Port, to connect to the Western Dedicated Freight Corridor (DFC). Once fully completed in early 2022, the Western DFC is expected to reduce transit times to the north-west hinterland by around 50%, offering safe, reliable, cost-effective, and environmentally friendly logistics solutions to customers.
The Western DFC is an electrified, double-track rail corridor covering a distance of 1504 kms from JNPT, Navi Mumbai to Dadri ICD near Delhi. The first section between Palanpur and Rewari is already operational.
Once fully operational in June 2022 it will help to decongest the saturated road and rail network. The DFC is also designed to have the possibility of running mixed-load trains, including road railers for roll-on roll-off cargo.
A 269km broad gauge railway line connects the Port directly to the Western DFC at Mehsana and Ahmedabad. Key stations on the Western DFC include Dadri ICD (near Delhi), Narnaul, Sri Madhopur and Reengus (Sikar), Phulera and Marwar Junction (Rajasthan), Palanpur, Amli Road (Sabarmati), Makarpura (Vadodara), Gothangam / Kosad (Gujarat) and Vasai Road (Maharashtra) before it terminates at JNPT (Nhava Sheva Port) in Navi Mumbai.
Significantly reduced transit times
Innovative technology with improved safety features will enable scheduled & timetabled trains to run at higher speeds and provide increased reliability and faster connections for customers.
Transit time for customers' freight between APM Terminals Pipavav, Delhi and the National Capital Region is set to reduce from an average of 60 hours at present to just 24 hours. Development of Multimodal logistic parks along the DFC will provide complete transport solution to customers.
Competitive pricing
For customer's seeking to improve the sustainability of their logistics chain, electrification of much of the DFC will enable APM Terminals Pipapav to support environmentally friendly, long-haul transportation and a reduction of greenhouse gas emissions. The DFC is estimated to save 457 million tonnes of CO2 emission over a 30-year period. Up to 40% lower operating costs should also make way for competitive pricing. Together these factors are expected to encourage a modal shift from road to rail.
The DFC can support double stacked trains up to 7.1 meters high (Currently 4.265m), 3.66 meters wide load with a train length of 1500 meters (Currently 700m) and up to 13,000 tonnes (currently 5,400 tonnes). This will increase current rail freight capacities 10-fold and brings associated efficiency benefits for customers.
Jodhpur ICD connected via Western DFC
In another rail first this month, APM Terminals Pipavav welcomed the first direct container train to the Jodhpur ICD (Inland Container Depot) using the electrified DFC. This was the first independent container train operated by PRCL in India.
A recent surge in imports at Jodhpur has resulted in congestion-related backlogs at various points of the supply chain. This new direct weekly service from Pipavav Port to Bhagat Ki Kothi using electric traction will relieve congestion, reduce cargo transit times and ensure a quick turnaround of containers.
Rail-Out by Bill of Lading
This new service supports APM Terminals Pipavav's new Rail-Out by Bill of Lading product. This allows consignees to rail out their containers on same rake/same day from APM Terminals Pipavav port so that all containers under one Bill of Lading can be cleared together at destination with less hassle. This saves considerable cost and time for importers on consignments planned for inland/hinterland locations.
Commenting on this momentous occasion, Mr. Jakob Friis Sørensen, MD, APM Terminals Pipavav said, "Jodhpur is known for the best of woodcraft, handicrafts & artistic furniture, and guar gum for export. It imports the solar panels and white cement clinker. The direct service opens the doors for exporting/importing this product to/from the global market via port Pipavav.
"Flagging off PRCL's train from our port via electrified route is a significant step towards offering safe, reliable, cost-effective and environment-friendly export and import cargo movements and a seamless connection to our customers from Jodhpur to the rest of the world."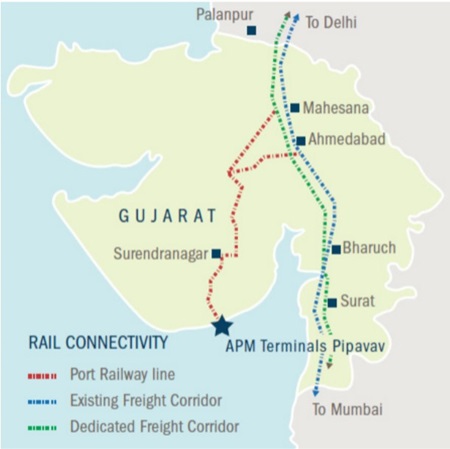 ---