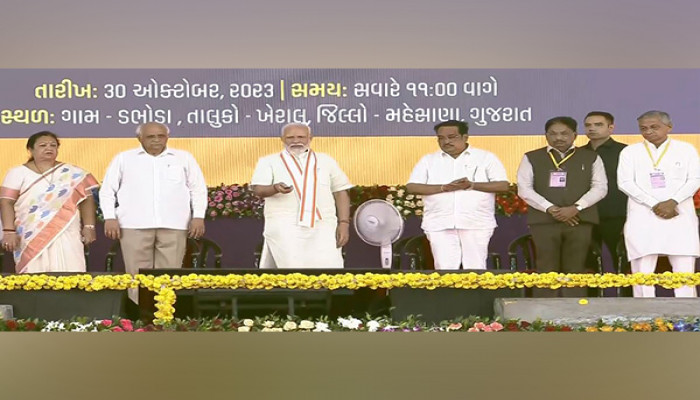 PM Modi dedicates 77-km Western Dedicated Freight Corridor section to the nation
AHMEDABAD : Prime Minister Narendra Modi on Monday dedicated to the nation the 77-km New Bhandu-New Sanand section of the Western Dedicated Freight Corridor that will help speed up the transport of goods from ports and manufacturing hubs in the region.
Sixty goods trains that earlier used the passenger rail routes on this section have been shifted to the freight corridor, leading to faster movement of passenger trains.
"The travel time of Ahmedabad-Delhi Rajdhani Express has been reduced by nearly one hour," a senior Dedicated Freight Corridor Corporation of India Ltd (DFCCIL) said.
The new section of DFC has enhanced connectivity with major ports in Gujarat like Pipavav, Porbandar, Jamnagar with Eastern and Northern India for faster movement of Exim traffic and reduced transit time.
It has also boosted connectivity to freight terminals of Viramgam, Jakhwada, Detroj, Linch and freight loading centers in the Jamnagar area, a senior official said.
There are 19 major bridges, 105 minor bridges, five rail flyovers, 81 road under bridges (Eliminating Level Crossings), and six road over bridges on the 77-km section and 24 km connecting rail lines.
The total project cost of this section is approximately Rs 3,184 crore.
The DFC has enabled operation of heavy and long-haul trains of 25 tonne axle load on bridges and formations designed for 32.5 tonne axle load, first time in India.
The double line electrified track will enable DFC haul more freight at faster speeds. The new section will also provide expeditious connectivity with the dairy industry at Anand, oil refinery at Jamnagar, and connectivity to Delhi Mumbai Industrial Corridor.
The DFC has also achieved impressive average speeds with the highest recorded at 99.82 kmph.