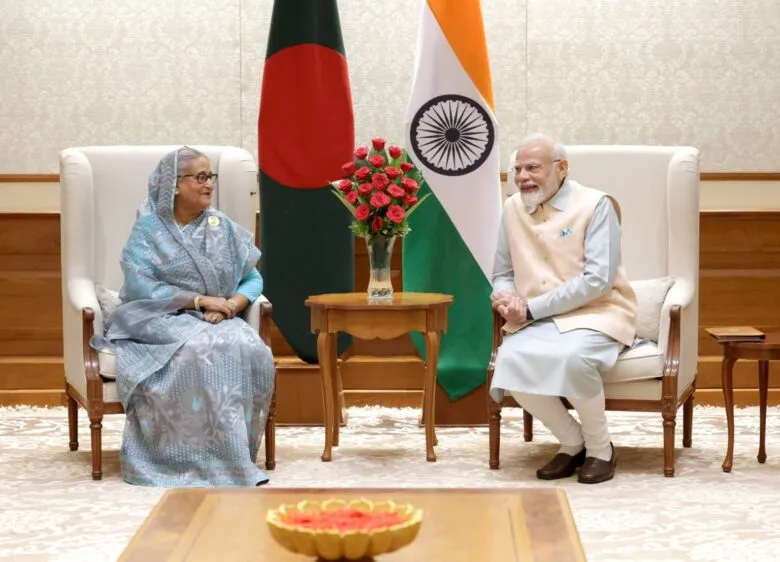 Indo-Bangla Rail and two Power Projects likely to be launched on November 1
NEW DELHI : Prime Minister Shri Narendra Modi and his Bangladesh counterpart Sheikh Hasina are likely to virtually inaugurate two railway projects and a mega power plant on November 1.
The 1320-MW Maitree Super Thermal Power project at Rampal in Bangladesh's Khulna division, the 15.064 km Akhaura-Agartala (rail link project and the 86.87-km Khulna-Mongla port rail line project are key parts of India's Act East policy.
The Akhaura-Agartala new railway line — of which 5.05 km will be in India and 10.014 km in Bangladesh — would link Akhaura in Bangladesh through an international immigration station at Nischintapur in western Tripura.
Funded by India, the Northeast Frontier Railway is the nodal agency of the ₹ 1,000-crore project, which was finalised in January 2010 when the Bangladesh Prime Minister met then Indian Prime Minister Manmohan Singh during her visit to New Delhi.
The project — a dual-gauge meant for passenger and goods interchange between the two nations — would enable people of the northeastern states, especially Tripura, and southern part of Assam and Mizoram, go to Kolkata by rail, saving 22 hours of travel time. The journey currently takes 38 hours.
The $2 billion Maitree Super Thermal Power project, with two units of 560 MW each, is being built by Bharat Heavy Electricals Limited as part of a joint venture between India's National Thermal Power Company Limited and the Bangladesh Power Development Board.