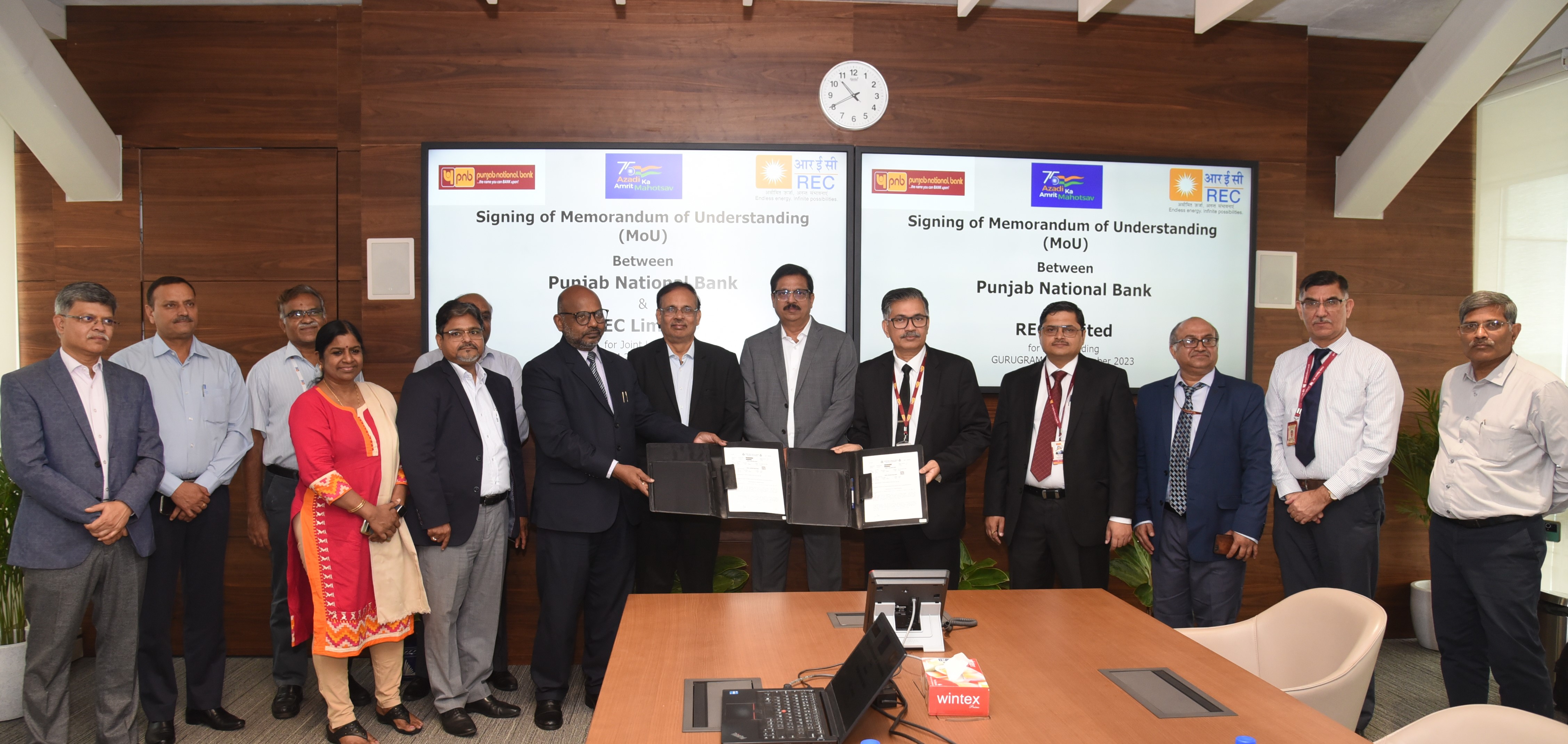 Power PSU REC Ltd & Punjab National Bank inked an agreement to co-finance projects in power,infra and logistics
NEW DELHI : Power PSU REC Ltd and public lender Punjab National Bank on Tuesday inked an agreement to co-finance projects in power, infrastructure and logistics projects.
The two entities will jointly finance loans worth Rs 55,000 crore, REC said in a statement. "REC Limited signed an MoU with Punjab National Bank (PNB) on Tuesday to jointly explore the possibility to fund the Power Sector and Infrastructure and Logistics Sector projects under the consortium arrangement. REC and PNB will associate with each other to co-finance loans amounting to Rs 55,000 crore over the next three years," the statement said.
The memorandum of agreement was signed between TSC Bosh, Executive Director (Infra & Logistics), REC, and PNB Chief General Manager Rajeeva in the presence of other senior officials of the two companies. Under the Ministry of Power, REC Limited provides long-term loans and other finance products for the power infrastructure sector, comprising generation, transmission, distribution, and renewable energy, among others. The company has a loan book of over Rs 4,54,393 crore.
The Maharatna NBFC, REC, has diversified its portfolio towards infrastructure and logistics in FY23. Addressing the company annual general meeting in May, its Chairman and Managing Director (CMD) Vivek Kumar Dewangan had said that the power ministry has allowed the company to finance up to 33% of its outstanding loan book in this sector.
"While posing faith in REC, ministry of power has also allowed our company to lend to non-power infrastructure & logistics sector to contribute to the accelerated development of our nation and I ecstatically report that during the first year itself, we have sanctioned more than ₹85,700 crore towards various projects spanning from metro, ports, airports, oil refineries, highways, steel infra to healthcare, educational institutions and also in sectors of IT infra/ fiber optics, etc. that constitute about 32% of overall sanctions of the company, in the last financial year," he said.
REC provides long term loans and other finance products for power-infrastructure sector comprising of generation, transmission, distribution, renewable energy and new technologies like electric vehicles, battery storage, green hydrogen among others. More recently REC has diversified into the non-power infrastructure sector It loan book is currently above ₹4.54 trillion.
Amid the energy transition journey of the country, the company also plans to raise its loans towards green projects. The NBFC is looking at expanding its loan portfolio for green projects to ₹3 trillion by 2030. The CMD had said that REC would be known for its renewable energy initiatives across solar, wind, hybrid, and e-mobility projects, along with newer spaces like green hydrogen, green ammonia projects, round-the-clock projects and ethanol manufacturing.
"REC is committed to increase its present loan portfolio of green projects to the extent of more than ten times by the year 2030 amounting to ₹3 lakh crore" he said.
The company had raised $1.15 billion in April. The loans have been tied up for a 5-year tenor and are benchmarked to Overnight SOFR (Secured Overnight Financing Rate), which is the benchmark rate for the loans denominated in USD.
The proceeds from this facility shall also be utilized to fund power, infrastructure and logistics sector projects as permitted under the ECB guidelines of the Reserve Bank of India.