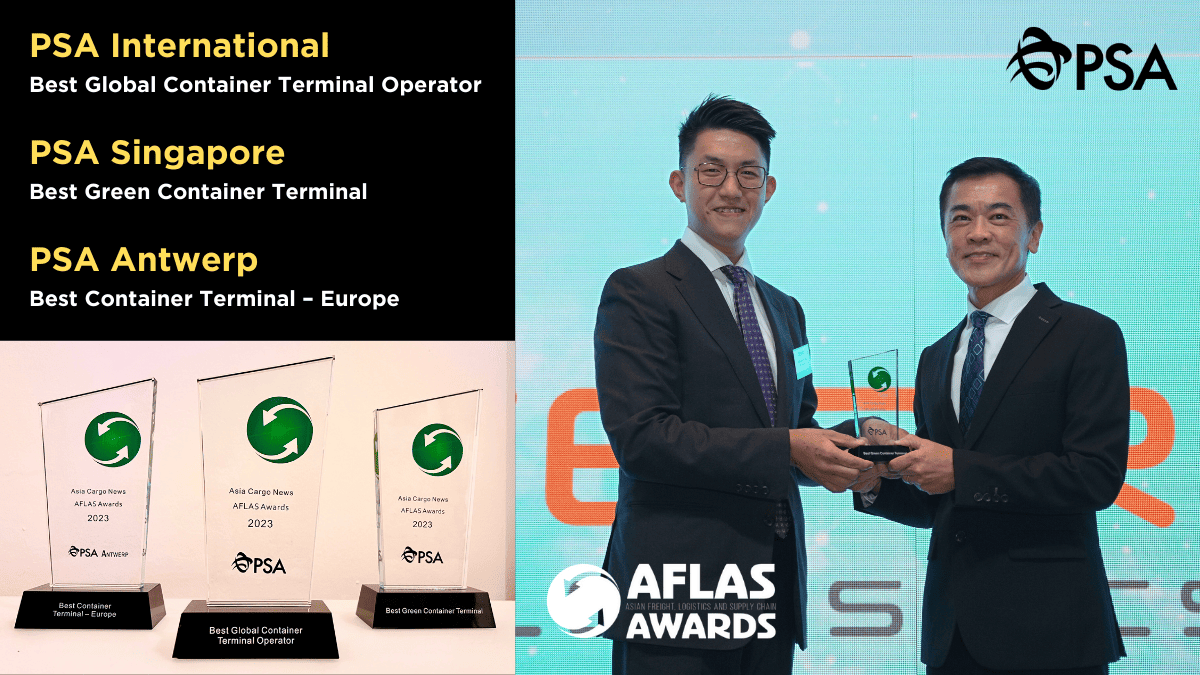 PSA celebrates a Trio of Wins at the 2023 Asian Freight, Logistics & Supply Chain Awards
SINGAPORE : PSA received three accolades at the 2023 Asian Freight, Logistics & Supply Chain (AFLAS) Awards. PSA International (PSA) was named the "Best Global Container Terminal Operator", for the fifth time since the inception of this award. PSA Singapore received for the first time, the "Best Green Container Terminal" award.
In addition, PSA Antwerp in Belgium won "Best Container Terminal – Europe", marking the fifth time PSA Antwerp has bagged the award. Regional CEO Southeast Asia Ong Kim Pong received the awards on behalf of PSA.
PSA International Group CEO Tan Chong Meng said, "Winning the awards is a strong testimony of PSA's unwavering commitment to service excellence and reaffirms our ongoing efforts in investing in and operating world-class terminal facilities. I would like to express my utmost appreciation to our customers, partners and stakeholders for their continued trust and support, without which, we would not have been able to come so far. Our staff, unions and management also deserve great commendation as they have worked tirelessly alongside as a team to navigate the changes in the maritime industry. We will continue to explore collaborative partnerships to enable more agile, resilient and sustainable supply chains and trade across the world."
The gala dinner awards ceremony was held at the JW Marriott Hotel Singapore South Beach on 28 September. Organised by maritime trade publication Asia Cargo News, the AFLAS awards recognise leading service providers for their excellent performance and achievements in the logistics and supply chain industry. Winning organisations are voted in by service users, which serves as a true reflection of user opinion.