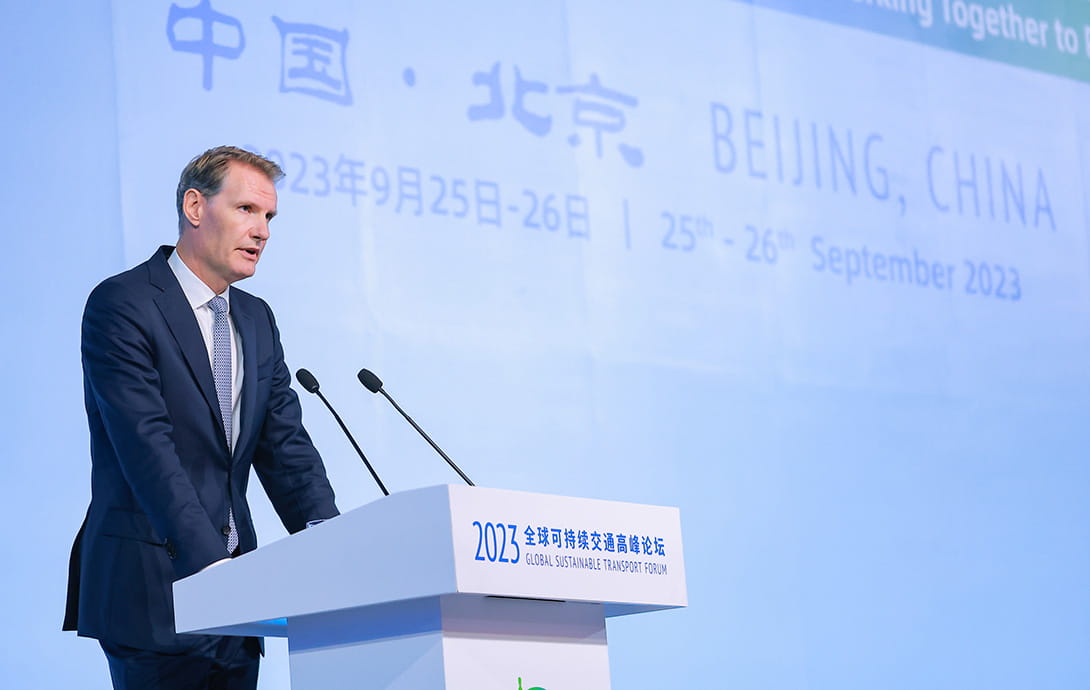 "Embracing digitalization a necessity for maritime trade" MSC CEO emphasizes at Global Sustainable Transport Forum 2023
GENEVA : Speaking for the first time at the Global Sustainable Transport Forum as a keynote speaker, MSC CEO Soren Toft delivered a speech on the transformative potential of digital technologies in the maritime industry. He reflected on MSC's ongoing digital journey as a world leader in container shipping and logistics, and shared his views on the sector's future.
Hosted by the Ministry of Transport of the People's Republic of China, this high-level event unfolded over 25-26 September 2023, with a core focus on sustainable development in transport and the importance of cooperating to achieve the United Nations 2030 Agenda for Sustainable Development. Soren Toft spoke on the first day of the two-day forum 'Promoting Connectivity in the Digital Age' in Beijing, the capital of China.
Fostering synergies between digitalization and sustainability
Mr Toft's opening remarks centred on the symbiotic relationship between technological advances and sustainable development: "At MSC, sustainability and digitization are not considered independent concepts. We see them as complementing and reinforcing each other, creating a powerful synergy to drive change." For MSC, embracing this synergy is not merely an option but an imperative for the entire shipping industry.
Meeting the growing demand for digital solutions
Mr Toft explained that MSC is heavily investing in cutting-edge technologies to optimize the customer experience and meet the surging demand for digital solutions, without losing the company's personalized approach to customer care. "We have to enhance our services, we have to improve our website, and we have to create many other interfaces with our clients – something that is much easier to do today, when the digital tools are available" he said.
Digitizing assets such as ships and containers will also help the company to receive better insights and, ultimately, reduce its environmental impact.  "This will make us more efficient, but also give more real-time information to our customers," Mr Toft explained.
Data sharing and cross-industry collaboration
While collecting data brings clear benefits, Mr Toft underscored the importance of sharing this data: "We will reap the benefits of digitalization if the supply chain stakeholders work together more, from carriers to ports, but also customs authorities and technology providers. Seamless data sharing throughout the shipping process will be a game changer as we move forward." 
Seamless data sharing throughout the shipping process will be a game changer as we move forward. "
Soren Toft, MSC CEO
As a founding member of the Digital Container Shipping Association (DCSA), MSC is committed to standardizing the information flow in shipping. "We advocate for industry standards that support digital connectivity and real interoperability," Mr Toft explained, citing e-documentation (e.g. the electronic Bill of Lading or eBL) and cargo visibility standards as examples. In addition, the company actively contributes to collaborative data-sharing projects such as the White House's FLOW initiative and the Rotterdam-Singapore Green and Digital Shipping Corridor.
A call for governments to support digital innovation
In his concluding remarks, Soren Toft issued a powerful call for collaboration, reminding the audience of government officials that change will only be possible if the entire maritime industry is on board