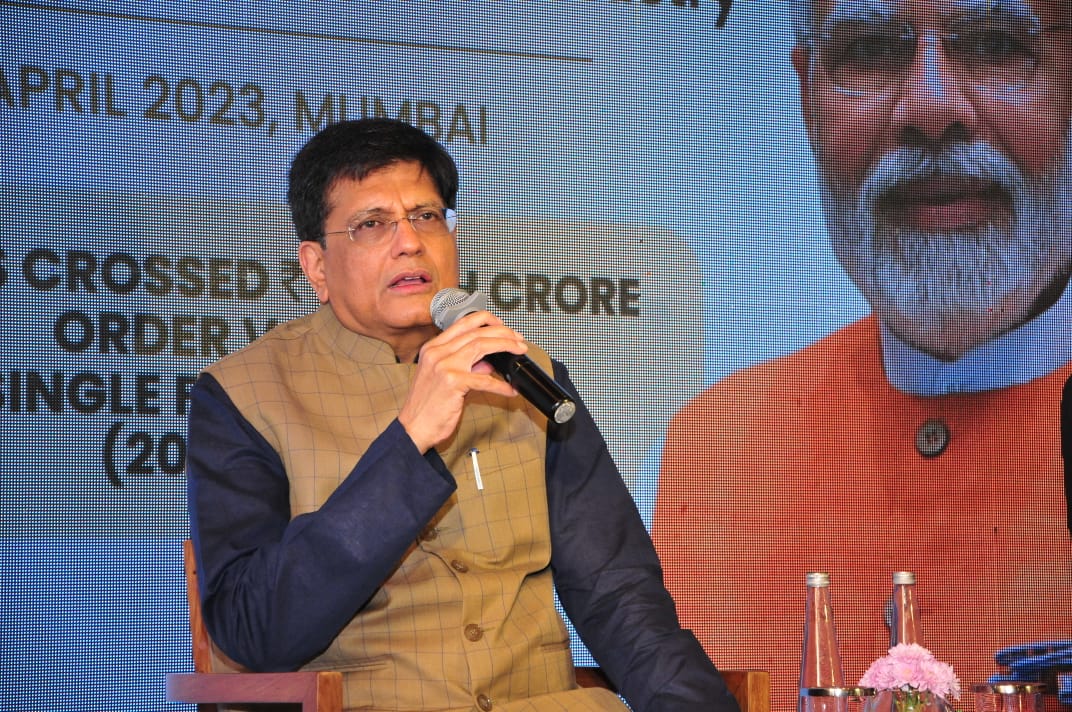 Quality control orders not aimed to stop imports : Goyal
NEW DELHI : Union Minister for Commerce, Consumer Affairs and Food Shri Piyush Goyal said on Wednesday that the Centre was implementing Quality Control Orders (QCOs) on several products and services for faster adoption and alignment with world standards. He said the QCOs would help India have the same quality products as used in large markets worldwide, and hence importers abroad would have confidence in Indian goods. He noted that the National Quality Mission also included sensitising citizens so that they started demanding good quality products. He was talking to reporters on implementing standards through QCOs and standardisation in emerging technology sectors such as drones and electric vehicles.
He said no new QCOs were introduced without adequate and repeated industry consultations. "In the leather and footwear sector, we issued three QCOs in October, 2020 after consultations with industries. If in two and a half years, somebody has not yet become compliant, then there is vested interest, which we cannot fulfil. Consumers in the country are not ready to accept low quality products," he said and added that QCOs would reduce wastage and bring down prices.
The country has already notified a total of 115 QCOs yet and QCOs on as many as 675 products in 14 ministries are currently under consideration.
"The implementation of Indian Standards at the national level has been accorded a top priority by the government," the minister added.
"India is coming up with strict quality measures in line with the world," Goyal said.
People have the right to quality
When questioned on objections that may be raised by World Trade Organisation (WTO) over the quality norms being notified, the minister said, "It is the right of the people of our country to get quality products. This has nothing to do with WTO."
Some of the recent products on which QCOs have been implemented include toys (both electric and non-electric), helmets for two-wheeler riders, domestic appliances like air-conditioners, refrigerators, domestic cookers, LPG gas stoves, safety glass (architectural, building and general use) & safety glass (road transport), footwear, wheel rim etcetera.
Goyal added, the QCOs have been believed to be another step to control the increasing imports from neighbouring country China and a way of becoming more independent.
However, when questioned on how this may affect imports from China, the minister said, "Don't know how this will affect imports from China. Our only focus is on improving the quality of products in India. "
QCOs on drones, Electronic Vehicles under consideration
While a QCO for agricultural drones used for soil analysis, irrigation, crop mapping and pest management has already been implemented, rules for other drones for general requirements are being discussed.
"The standard on Unmanned Aerial Vehicles (UAV) – general requirements, testing requirements of sub-systems & cyber security is under development," Goyal said.
This standard is aimed at ensuring the design and maintenance requirements such as requirements of control & stability, propulsion system, flight control system, geo-fencing, the performance of various subsystems such as control systems, mission profile, and software under various environmental conditions of temperature, pressure, humidity, rain, vibration.
"Cyber security is essential in drones for protection from cyber-attacks, unauthorized access, and theft of data. The document is being developed on the basis of Risk identification. Compliance with this document will ensure the protection of sensitive data, maintaining privacy, ensuring safe operation, preventing hi-jacking," a statement issued by the ministry after the conference read.
The Bureau of Indian Standards (BIS) has already formulated five norms on, e-vehicles & charging infrastructure of whom 5 have been launched and implemented. norms on battery swapping are under discussion with industry representatives, the minister said and "will be implemented soon."
At least three other QCOs are under development in this sector.
Relaunching Jago Grahak Jago
The ministry, as per Goyal, would also be re-launching the government's 'Jago Grahak Jago' campaign, with quality in focus.
The Department of Consumer Affairs runs a "Jago Grahak Jago" multimedia campaign to create awareness amongst consumers about their rights, remedies available as well as duties.