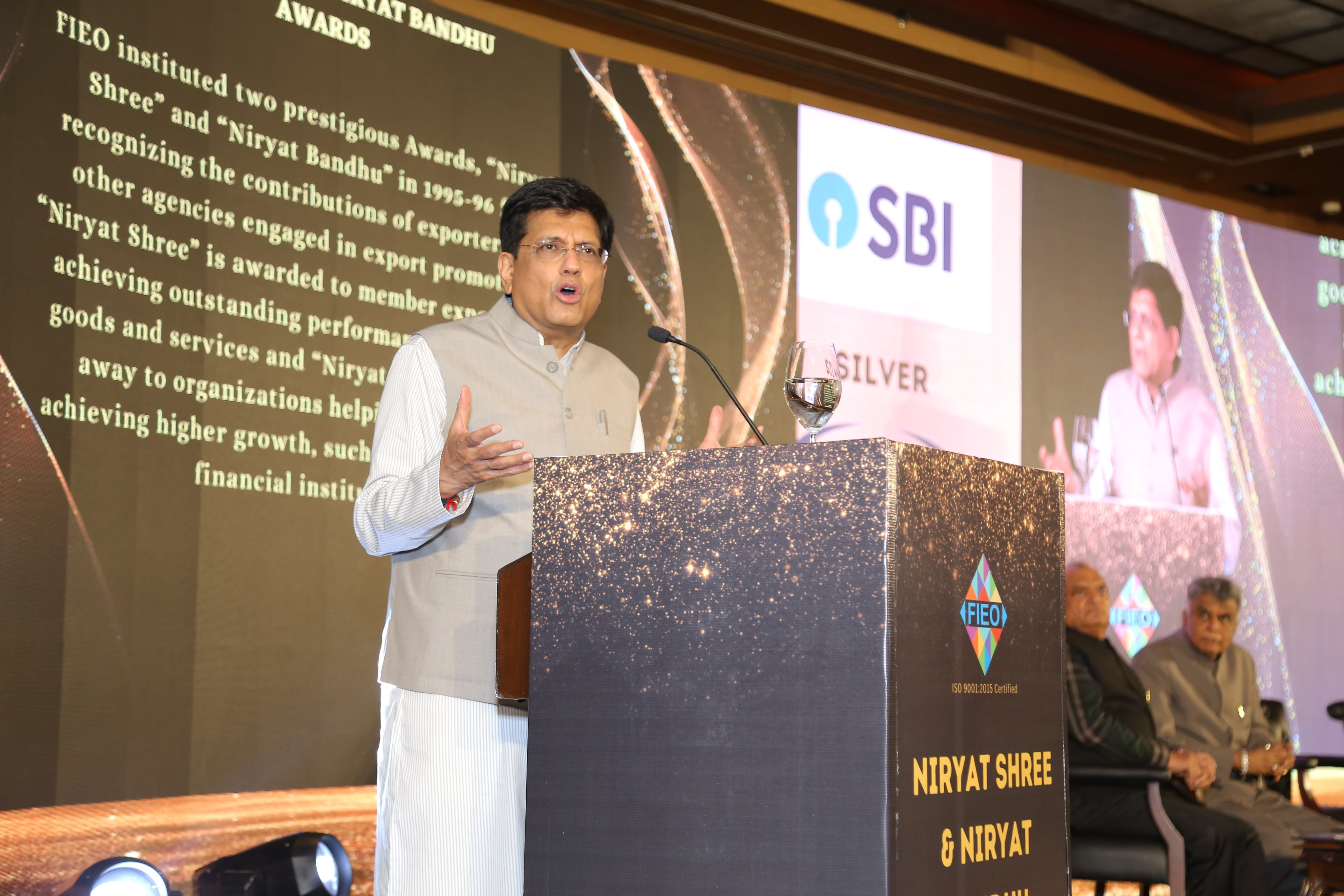 Piyush Goyal presents FIEO's Niryat Shree and Niryat Bandhu Awards
NEW DELHI : The Hon'ble Union Minister of Commerce & Industry, Consumer Affairs, Food & Public Distribution and Textiles, Shri Piyush Goyal, gave away the 17th Set of Niryat Shree and Niryat Bandhu Awards to the outstanding exporters and service providers based on their excellent export performance and incremental growth in exports. Presenting the awards to the award winners, Mr Piyush Goyal said that despite all global challenges, we were still able to achieve overall exports of over US$ 773 billion with services exports touching US$ 325 billion. Praising the exporting community, the CIM said that they have shown exemplary performance and has not only created a niche for Indian brands as Brand Ambassadors, but has set a benchmark for them to grow in the global markets. Mr Piyush Goyal also said that the Ministry is working hand-in-hand with the trade and industry to achieve US$ 2 trillion exports by 2030.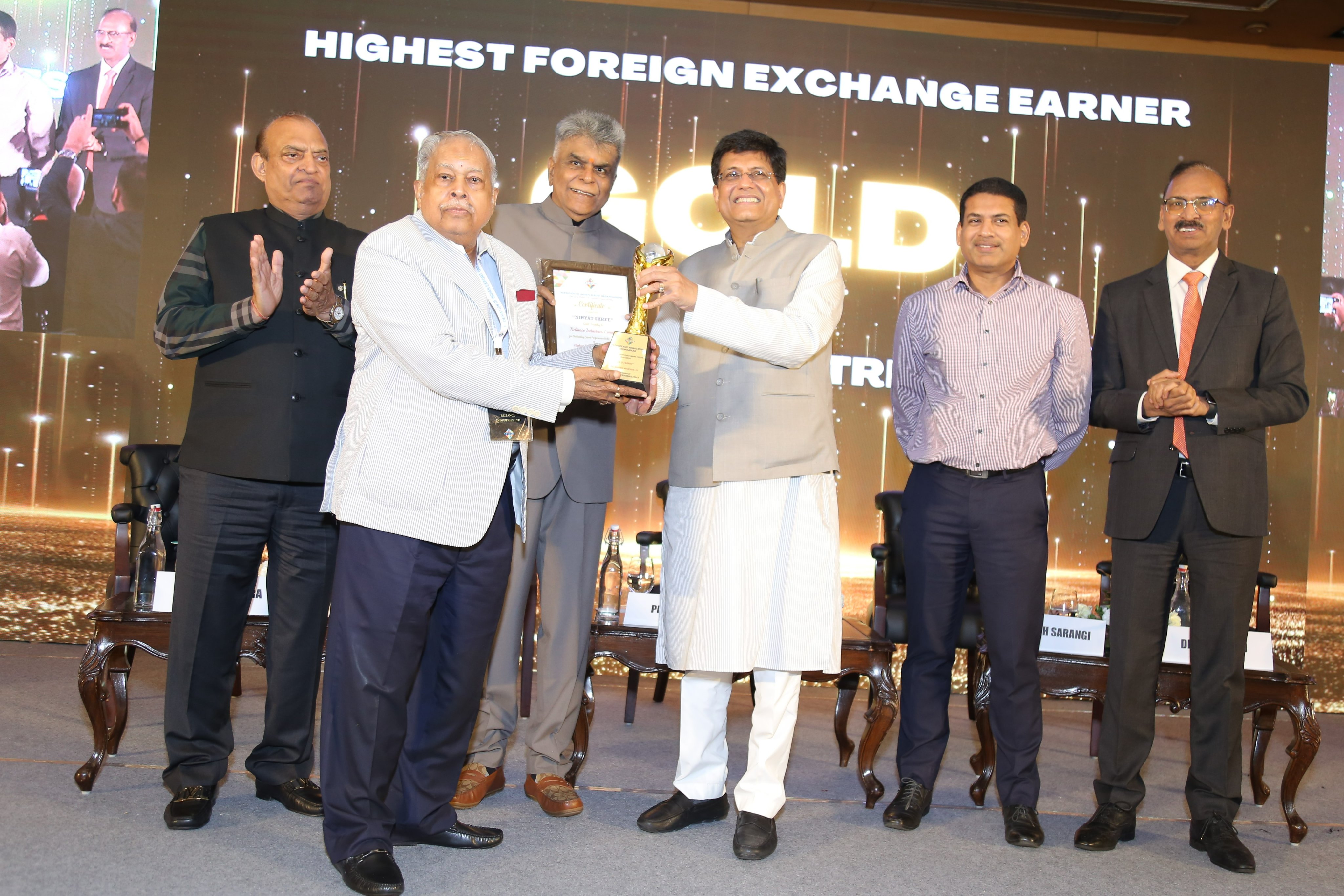 The Minister reiterated that India should engage with quality produced goods and services and also show to the world the path of growth and rising India. We should focus more on export procedures, internationalisation of currency, world class infrastructure and last mile connectivity, said the Minister. Expansion of 5G in the country is the first in the world. We must collectively put our efforts with a sense of duty and responsibility to help in making India a developed economy by 2047. He also added that times ahead are going to be very challenging and tough with Russia-Ukraine crisis further getting intensified. This is the time, we should look at trading in new markets and exploring newer ones, as these are going to be the drivers of growth. The world recognises India for its reliable and quality products. We should all work for future, India's defining moments for inclusive, equitable, sustainable and shared growth for all as envisioned by the Hon'ble Prime Minister, Shri Narendra Modi, said the Commerce and Industry Minister.
Mr Santosh Kr Sarangi, DGFT, GoI, while addressing the function said that despite global challenges, we still have been able to achieve the highest-ever exports of over US$ 770 billion. The DGFT added that the Hon'ble Commerce and Industry Minister has always pushed for achieving newer heights. Mr Sarangi further reiterated that with this type of export growth, we are definitely on track to achieve US$ 2 trillion exports by 2030.
FIEO President, Dr A Sakthivel in his welcome address, congratulated the awardees for their remarkable efforts shown during the turbulent period in global trade. He said that they have made the country proud through sheer dint of their hard work amid meticulous planning. Dr Sakthivel expressed his gratitude to the Hon'ble Minister and said that the exports sectors saw a remarkable growth of over 55% in 2 years, taking aggregate exports to US$ 770 billion in 2022-23 adding US$ 218 billion in the last two financial years, equivalent to Rs 17 lakh 44 thousand crores. FIEO Chief praised the constant review and monitoring done by the CIM himself, supported by the Commerce Secretary, DGFT and other officers of the Ministry of Commerce & DGFT. Dr Sakthivel added that he is confident of achieving the milestone of US$ 2 trillion exports much before 2030. He also urged that the focus should be on supporting overseas marketing initiatives besides setting up of state-of-the-art exposition centers in important business centers abroad.
Dr Ajay Sahai, Director General & CEO, FIEO, while proposing the vote of thanks during the function said that India is not an export driven economy. The share of exports in the country's GDP is around 22%, yet exports are playing a transformational role in the economy. Exports were major contributors to India's additional GDP in the previous two financial years. In 2021-22, out of overall incremental GDP in the financial year, over 50% was contributed by exports alone. In 2022-23, despite global headwinds, exports accounted for over 40% of the incremental GDP. The Hon'ble Prime Minister has rightly said that exports are key to the transition of the country from a developing to a developed economy, which we are endeavouring to achieve before the 100th year of our glorious independence.