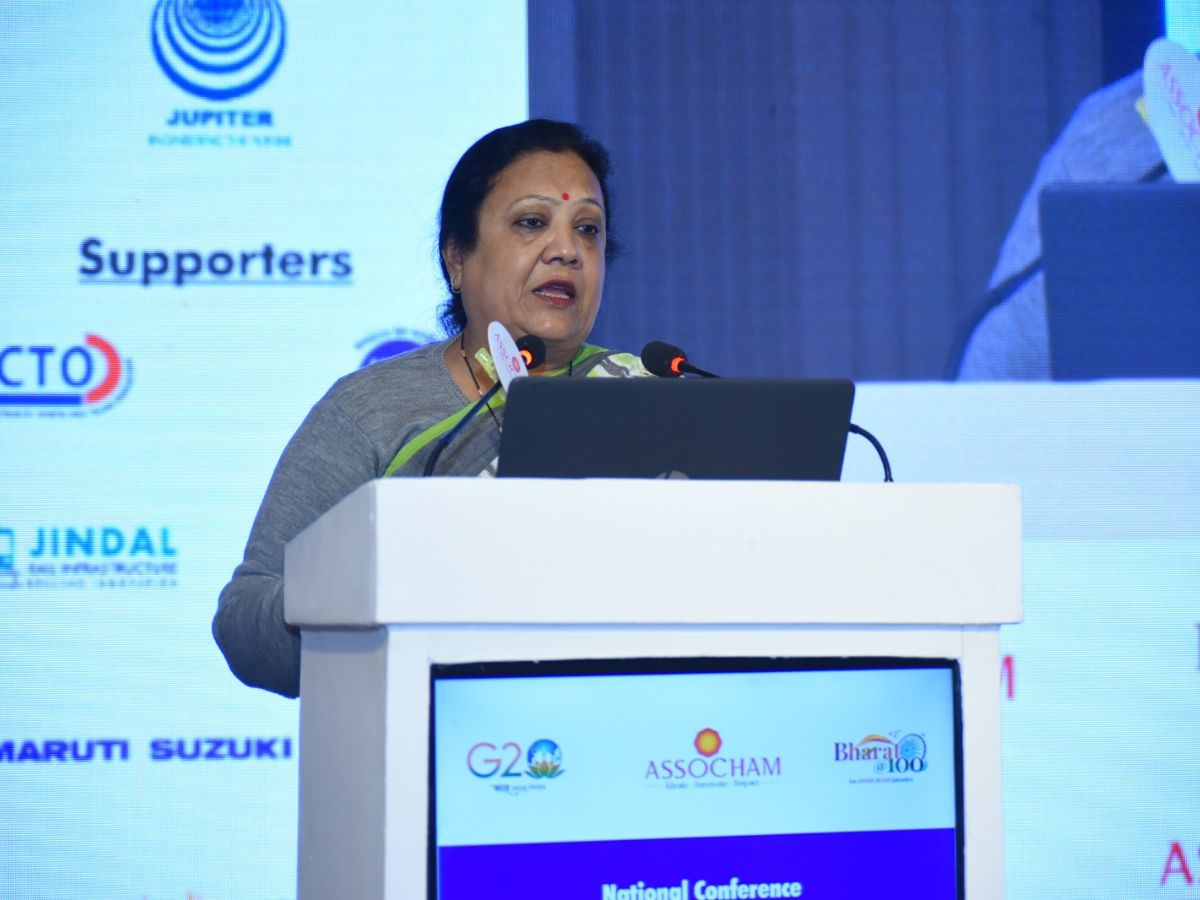 Railways to play an important role in making the country a developed nation by 2047 : MOS, Railways
NEW DELHI : Indian Railways is determined to reduce logistics cost from around 14 percent of GDP to under 10 percent while the National Rail Plan targets an increase in the share of railways in freight transportation from 27 percent to 45 percent. Railways is the most economical and most accessible means of transportation compared to road, air or waterways, said Smt. Darshana Jardosh, Hon'ble Minister of State for Railways and Textiles, Government of India at the National Conference on Freight by Rail organised by ASSOCHAM.
"Till now, the use of rail is more in carrying bulk goods, but today many goods which move by road can also be brought on rail, especially consumer goods which can be easily sent from one city to another through containers, "said Smt. Jardosh " Keeping all these things in mind, a target has been set to increase the share of railways in freight transportation from about 27 percent to 45 percent. To accomplish this, we need track availability, wagon and rake, terminals and various freight schemes." 
"Over the past years, emphasis has been given to track availability, wagon & rake, terminal availability and introducing various freight schemes. From 2014, 13,080 km of tracks have been doubled. Today when DFCCIL is 61 percent commissioned, the freight movement will get a new impetus, once it becomes fully operational. Not only freight but it will also help in increasing the speeds of goods trains. Similarly, Indian railways has successfully completed 85% of electrification of its networks in record time and hopefully it will be completed 100% in the coming financial year." she added.
Shri Anil Kumar Lahoti, Chairman & Chief Executive Officer, Ministry of Railways said, Indian railways has prepared a long term strategic plan – The National Rail Plan for the growth of the rail sector by 2050. Keeping in view the long term goals an important exercise called Mission 3000 MT has been taken up. Last year about 1400MT of freight or 26% of total freight transport were loaded. The target this year is to load more than 1500MT and add another 100MT or more by 2023-24 and by 2029-30, we have to reach 3000MT. To achieve these goals, we have to develop substantial terminal capacity along with first and last mile connectivity to attract more traffic. We also need to increase our rolling stock fleet to carry the traffic and develop adequate maintenance facilities to maintain rolling stock.
"Over 1200 projects have been identified to be completed in the next 5 years with a projected cost of 8.5 lac crores including the addition of 9000+ Kms of new line to the network, doubling and multi-tracking 25,000 Kms, automatic signalling on 10,000 Kms of track to increase capacity and speed of transport. Traction upgradation from 1X25 KV to 2X25 KV, increasing carrying capacity of freight trains and addition of more than 1.5 lakh wagons and 7000 locomotives to the fleet." He further said.
The budgetary outlay for railways has been increased from 1.59 lakh crores to 2.41 lakh crores this year, an increase or more than 50%. This indicates the governments seriousness and support to the railways. The speed of commissioning additional track infrastructure has increased from 4kms per day to 11kms per day. 100 terminals have been taken up under the Gati Shakti policy, modernisation and upgradation of existing freight terminals have been taken up with private participation and government funding. 100 projects for improving connectivity to mines and 54 Sagarmala projects have been identified for improving connectivity to ports.
To encourage private participation in development of terminal facilities, Land Management Policies have been eased, right of way policies and customer friendly policies have been brought in. Lease charge have been capped at 1.5% of market value of the land and tenure of lease has been increased to 35 years. Thirty-seven companies have registered under the General-Purpose Wagon Investment Scheme and more than 560 rakes have been approved for operation. He added.
The conference brought together leading industry personalities and representatives from the government such as, Shri R S Kalsi, Chairman, National Council on Auto & Auto Ancilliaries, ASSOCHAM & Executive Board Member, Maruti Suzuki India Ltd., Shri Vivek Lohia, Chairman, National Council on Railways, ASSOCHAM & Managing Director, Jupiter Wagons Pvt Ltd., Shri Animesh Gupta, Chief Logistics Officer, JSPL, Shri Deepak Sood, Secretary General, ASSOCHAM and Shri Shantanu Bhadkamkar, Chairman–Maharashtra State Development Council, ASSOCHAM, Managing Director, ATC Groupwhere pertinent topics such as 'Challenges and opportunities in rail freight transportation of India' and 'Technology and design for commodity transportation' were discussed.