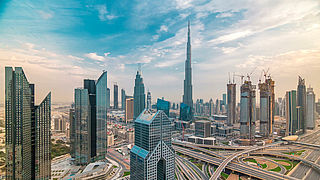 Röhlig Logistics opens a new office in Dubai and expands its global network

---
BREMEN : Owner-managed logistics company Röhlig Logistics has expanded its network with the opening of an office in Dubai.
Dr. Robert Gutsche, Chief Financial Officer at Röhlig Logistics explains: "Dubai represents a central hub for many global customers and is the fastest growing economy in the Middle East. Dubai has state-of-the-art logistics facilities and a favorable geographical location. As a hyper-connected pro-business hub, Dubai delivers efficiency, security and a forward-thinking ecosystem for accelerated growth."
Dubai plays a leading role not only in regional logistics, but also as an inter-connective hub between Asia, Africa and Europe. Using its existing customer base, Röhlig Logistics will use Dubai as a catalyst for further expansion in the Greater Middle East.
A team of very experienced forwarding staff works in Dubai. The branch office is headed by CK Prasanth (Branch Manager), who reports to Kuben Reddi, Managing Director of Röhlig-Grindrod and Röhlig Dubai, based in South Africa
About Röhlig Logistics
Röhlig is an owner-operated logistics company which offers its customers services in the areas of sea freight, air freight and contract logistics. The family-owned company was founded in 1852 in Bremen, Germany. Today, it employs 2,200 staff members in more than 30 countries. More information on www.rohlig.com.