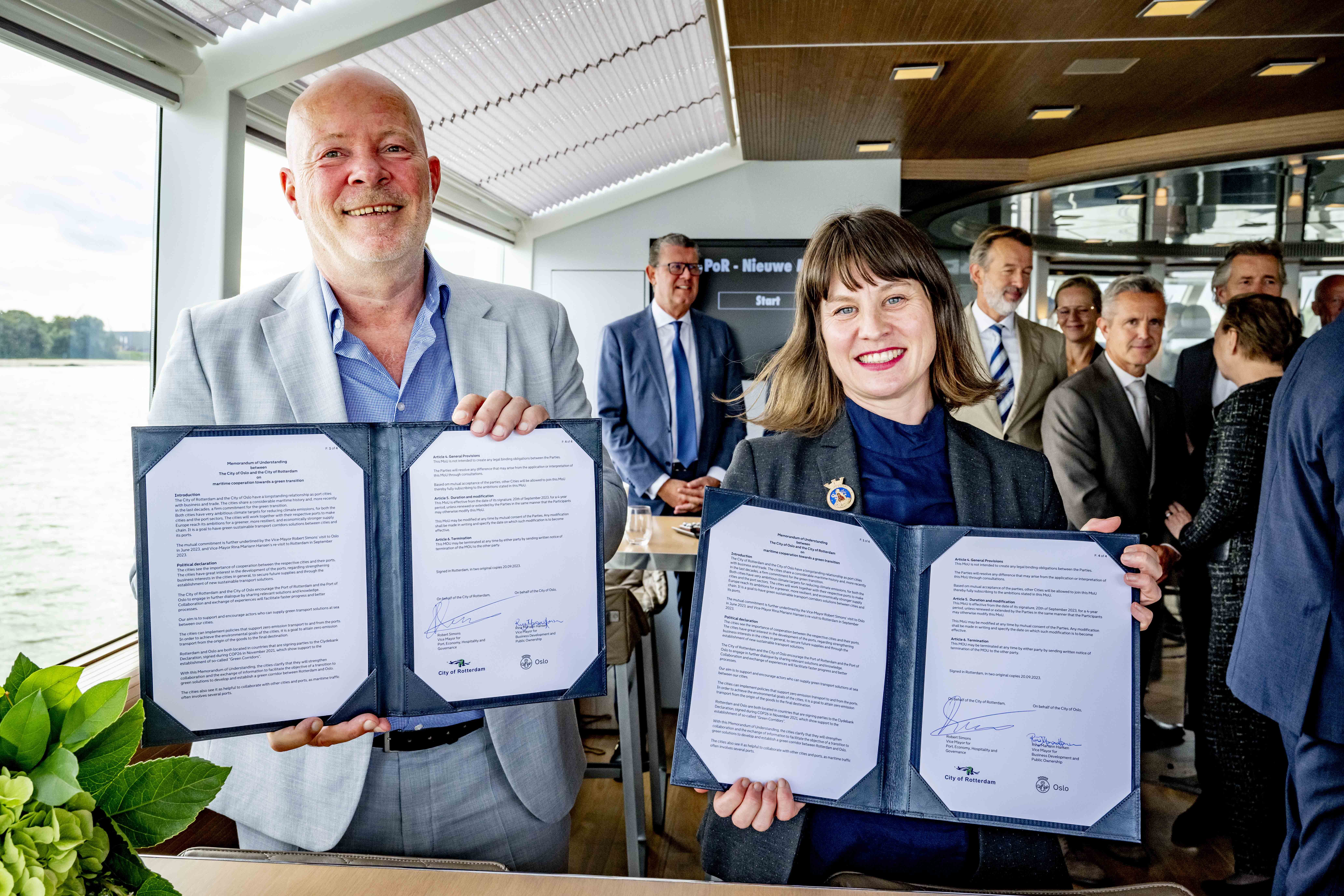 Rotterdam and Oslo Cities signs MoU for New Green Corridor
ROTTERDAM : A Memorandum of Understanding (MoU) has been signed by the City of Rotterdam and the City of Oslo to create a new Green Corridor for short sea shipping that will be served by Samskip's next generation zero-emission SeaShuttle vessels. Strengthening their longstanding relationship, the agreement also sees two of Europe's leading hub ports commit to accelerate green transition in shortsea shipping, to support the debut of Samskip's green hydrogen-fueled container ships.

Samskip Holding BV CEO Kari-Pekka Laaksonen, said: "Samskip celebrates both the cooperative endeavors of this partnership, as well as this momentous occasion and the positive results that come from the green transition efforts. We all must take responsibility for the future of our industry and planet and contribute to a cleaner and brighter future for everyone. We at Samskip continue to support such initiatives whole-heartedly. This signing brings us one step closer toward the exciting launch of SeaShuttle, the zero-emission hydrogen vessels which will be utilized in this project, and we look forward to continuing to nurture the relationship we have built between Rotterdam and Oslo."
Both cities have invested in decarbonization initiatives as part of their commitments to the advancement of the maritime industry. As part of the largest multimodal network in Europe, Samskip has major terminals in both cities.

Two Samskip next generation zero-emission SeaShuttles will be utilized to service the new green corridor. These vessels will be among the first zero-emission short sea container vessels in the world to use green hydrogen as fuel. The operation will include weekly loops between Rotterdam and ports in the Oslofjord region establishing true end-to-end corridor services.

Samskip Director, Business Development Magnús Salberg Óskarsson, said: "We are so proud to be a part of such a project. This is a perfect example of different companies and entities pulling together to accelerate greener logistics to help us achieve our ambitious decarbonization targets for the upcoming years. Our partners have very similar objectives and goals to Samskip, and we are happy to work with hands-on contemporaries that help us make a real difference!"

About Samskip
Samskip offers pan-European, environmentally responsible combined transport services via shortsea, road, rail and inland waterway routes. We are committed to cost-effectiveness, operational excellence and best practice in sustainable transport. High frequency services connect destinations across Europe, the Baltic States, Iceland and Faroes Island, both door-to-door (including collection) and quay-to-quay, transported using a wide range of owned vessels, containers, trucks and trailers.