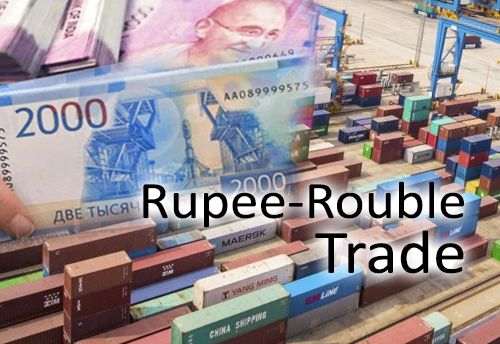 Rouble-rupee trade plan between Russia and India hits a roadblock over conversion issues
NEW DELHI : The rupee-rouble trade between India and Russia may hit a roadblock with traders finding the currency conversion after pegging it with the US dollar cumbersome and expensive, one official and two traders said, adding that commercial gains of trade with Russia at this juncture may not be worth the risks.
The current conversion mechanism for rupee-rouble trade does not make much commercial sense, they added. Similarly, the margin in Russian crude is no longer lucrative for Indian refiners, they said. And banks are also concerned over secondary restrictions from the US, the three persons mentioned above said requesting anonymity.
"The double conversion charges cost about 2-3% of the total transaction value, which is an expensive proposition for importers and exporters of both sides. If the two sides agree, a direct rupee-rouble conversion mechanism can be established on 1:1 basis, which is close to the market rate, and which will also save hedging costs," one of them, an expert in trade, said.
As the rupee is not fully convertible, a market-driven exchange rate for rupee-rouble is not possible (which is why it needs a so-called double conversion — rupees to dollars and dollars to roubles), but an administrative exchange rate can be derived, he added.
Meanwhile, Reuters, citing references of two unnamed Indian government officials and an anonymous source , on Thursday reported that India and Russia have suspended efforts to settle bilateral trade in rupees, after months of negotiations failed to convince Moscow to keep rupees in its coffers.
The India-Russia trade deficit has jumped abnormally in favour of Moscow mainly because of imports of discounted Russian oil. But, a significant fall in international oil prices and shrinking discounts on Russian crude are dissuading factors for Indian refiners, a second person mentioned in the first instance said.
According to official data, India's merchandise imports from Russia jumped 369% to around $46.3 billion in 2022-23 from $9.87 billion in 2021-22, mainly on crude shipments.
"The sudden trade imbalance was because of energy imports in FY23, but this may not be the same in FY24 because Indian refiners, who were getting discounts up to $20 a barrel on Russian crude and now getting the same at a discount of less than $5," the second person added. Mint on April 27 reported that the steep discounts India enjoyed on Russian crude oil through most of FY23 have plunged.
There is no point in undergoing cumbersome payment settlements through a third currency and risk the insurance as well as banking system for a small margin, the third person mentioned above said. HT on February 6 reported, quoting Russian ambassador Denis Alipov that Indian banks were cautious about using a rupee-rouble payment system for settlement of trade with Russia because of concerns about "secondary restrictions" from the US.
Alipov's remarks came in the backdrop of problems in settling trade in rupees and roubles. After the imposition of Western sanctions against Russia after the Ukraine war, the Reserve Bank of India (RBI) permitted Russian banks to open nine vostro accounts in IndusInd Bank and UCO Bank in November 2022. RBI on July 11, 2022 permitted invoicing and payments for international trade in Indian currency (rupee). So far, 18 countries have opened about five dozen special rupee vostro accounts (SRVAs), A vostro account is held by a bank on behalf of another bank. The 18 countries are Botswana, Fiji, Germany, Guyana, Israel, Kenya, Malaysia, Mauritius, Myanmar, New Zealand, Oman, Russia, Seychelles, Singapore, Sri Lanka, Tanzania, Uganda, and United Kingdom.