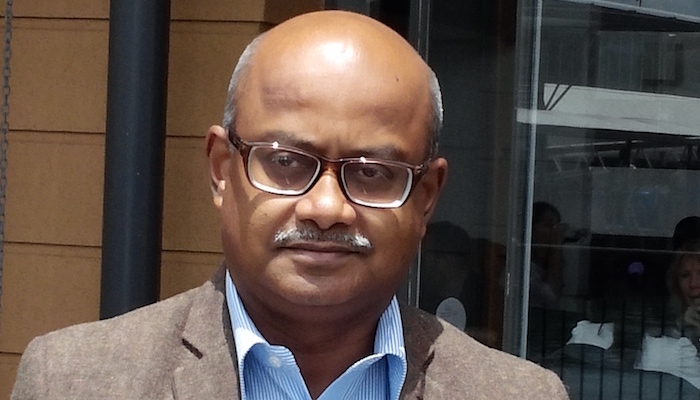 Exports did reasonably well, need services boost to hit $2 trillion: National University of Singapore's Amitendu Palit
SINGAPORE : India's export sector has done reasonably well in the past year despite global headwinds like supply-chain disruptions and slowing economies, says Amitendu Palit, Senior Research Fellow and Research Lead (Trade & Economic Policy) at the Institute of South Asian Studies in the National University of Singapore.
However, outbound shipments may have to navigate difficult waters as the globe is headed towards a slowdown.
As such, India would have to rely more and more on boosting its services exports as it seeks to raise overall exports to $2 trillion by 2030, Palit, who specializes in trade policies, political economy of international trade and Asian public policies, said. Palit has in the past spent several years as an advisor to the finance ministry and has been World Economic Forum's Global Future Council on Trade and Investment.
"When one looks at the way the global scenario has been unfolding, there are areas of concerns; there's no denying that because for the last three years nearly, we have seen the global economy and the global macroeconomic landscape being affected by developments which are not really predictable," Palit told in an interview.
"If we generally look at the data for Indian exports for the last financial year, I think Indian exports have done reasonably well considering the scenario in which they were performing. And that has much to do with the fact that Indian exporters have been able to relatively well hold their fort, they have been able to retain their competitiveness, they have diversified to a certain extent," he added.
Rough seas
India is poised to become the world's fastest-growing major economy in the coming years and has outlined its plan to more than double annual exports to $2 trillion by 2030 from $770 billion in the last fiscal year. However, a sluggish global economy is likely to act as an impediment to the export target.
The International Monetary Fund (IMF) has slashed its global growth forecast for 2023 and 2024 by 10 basis points each — one basis point is one-hundredth of a percentage point — to 2.8 percent and 3 percent, respectively. Moreover, over the medium term, the prospects for growth seem dimmer than in decades.
Not only is the global economy slowing but the effects of de-globalisation and fragmentation of supply chains are also showing up.
Developments in the world could continue to affect the prospects of Indian exports in "a very significant fashion," Palit said.
"Indian exports across a wide range of commodity baskets or services are unlikely to perform all together well at all points in time. There will be sectors and industries which will occasionally be subjected to disruptions like say for example, logistics-related issues."
As such, the $2 trillion export target which has to be met over the next six years, is a task "because such an export performance is not entirely the responsibility of Indian exporters or Indian industry," the researcher said.
To get close to the $2 trillion target, the services sector will need to grow faster. Services have been an underrated sector, notwithstanding the fact that they have performed very well over the last 25-30 years. Moreover, the current global conditions are marginally more favourable to the growth of services exports than manufacturing exports, according to Palit.
Not all bad news
Over the last year, India's exports were also helped by the decision to import Russian crude oil, which enabled the Indian industry to keep the momentum going, continuing to supply to several markets from where some of its competitors had withdrawn in certain segments.
Moreover, the government has had a dedicated focus on raising awareness about the importance of exports; it has been pushing districts as export hubs.
"These perhaps are not policies that are…going to produce results overnight, but at the same time, they do actually send the signal that exports are important," Palit said.
India's trade with its neighbours has increased and the country is pushing the rupee for settling trade transactions.
"I think this is a right time for India to push the Indian rupee because there will be more currencies which will be up there" to compete with the dollar's position as the apex currency for trade, the researcher said.
Still, it is going to be a long time before either the yuan, or the Indian rupee or some other currency, actually can reach a stage of consumption globally, where we can talk about de-dollarization, he added.
The country pushing for free trade agreements in recent years is also likely to bring benefits down the road, especially if it can sign one with the European Union. However, information about these trade pacts should reach the ground, according to the researcher.
The MSME conundrum
​Micro, small and medium enterprises (MSMEs) will need to pull up their socks to match the local sourcing needs of e- commerce giants like Apple, Amazon and IKEA.
MSMEs are still quite unwilling to formalise, something which comes with costs, regulations and processes.
A large number of Indian SMEs are actually no more manufacturing SMEs; because of the cost pressures that they have encountered, they have converted themselves into trading SMEs, Palit said.
"Now, once this process has set in, it can actually be wholly consuming. So it is essentially the future of the MSME sector in India which is now being questioned."
Unless they adapt themselves to options like online retail sales, and sourcing, or being connected to the big online retailers, they are likely to have very limited chances of survival, he added.