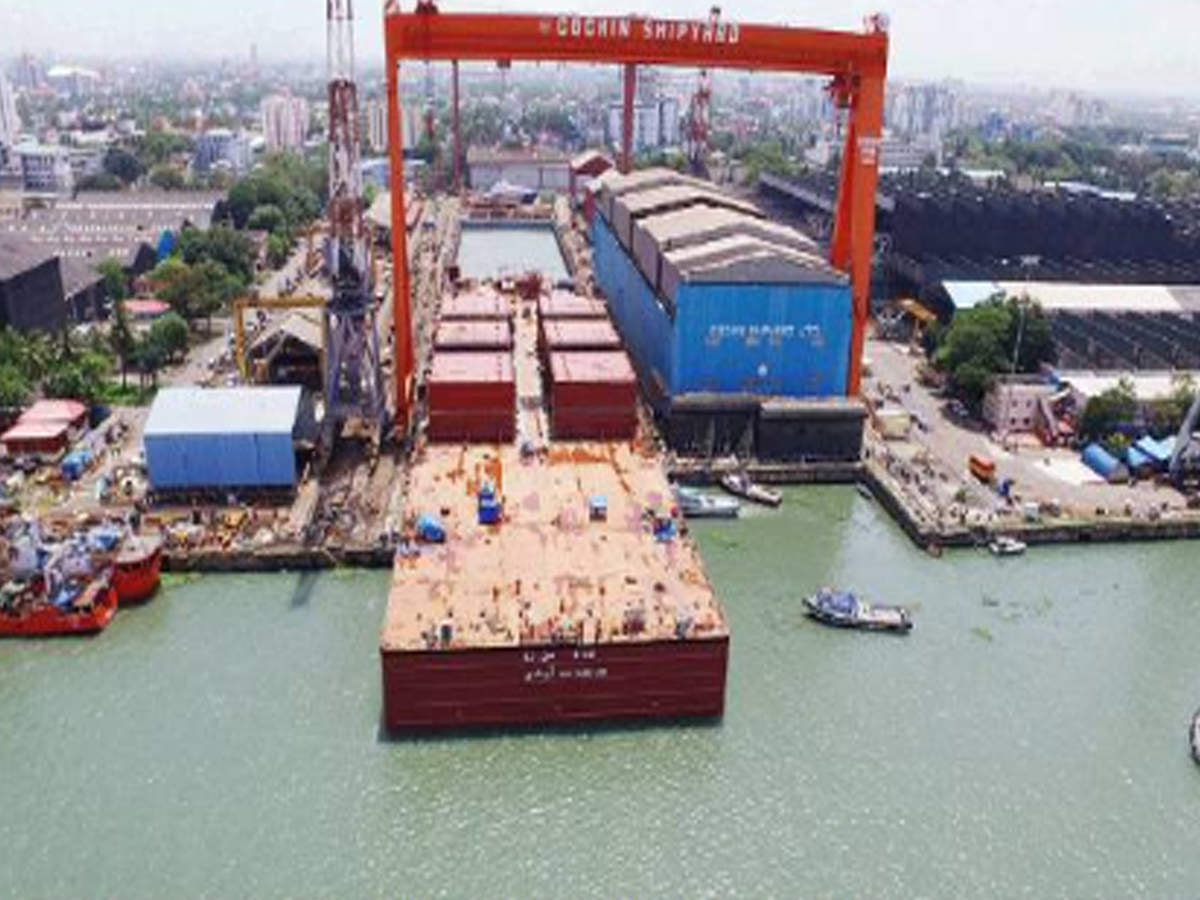 Rs 4,000 cr state-aid for shipbuilding go abegging as yards collapse
MUMBAI : A Rs 4,000 crore state aid budgeted by the government for local shipbuilders for a ten-year period starting April 2016, is going abegging after a spate of yard collapses resulted in just Rs 241 crores or a paltry 6 per cent of the total corpus being used up so far, with three years left for the scheme to end.
The financial assistance to Indian shipyards is applicable for shipbuilding contracts signed between 1 April 2016 and 31 March 2026.
Some 28 shipyards had registered under the scheme of which nine have utilized the benefits, building 80 vessels for which financial assistance of Rs 241 crore has been approved, the Union Minister of Ports, Shipping, and Waterways, Shri Sarbananda Sonowal told Rajya Sabha in a written response to a question on 28 March.
The government disbursed Rs 58.03 crores as shipbuilding financial assistance for FY21, Rs 64.62 crores for FY22 and Rs 58.04 crores for FY23 (up to 24 March 2023), Sonowal added.
State-run Cochin Shipyard Ltd secured a major chunk of the subsidy approved so far (Rs 68.83 crores for building 11 vessels) and is the only government-owned shipyard out of the nine from the list that have utilised the scheme.
Goa-based Chowgule and Company Pvt Ltd has secured financial aid of Rs55.13 crores for constructing seven ships, while Mandovi Drydocks, also based in Goa, has got Rs42.50 crores for building 26 ships.
The other shipyards that have been given financial assistance are Gujarat-based Shoft Shipyard (Rs 19.13 crores for 15 vessels), West Bengal-based Titagarh Wagons (Rs 18.29 crores for 2 ships), Goa-based Vijai Marine Services (Rs 12.60 crores for 8 vessels), Sembmarine Kakinada Ltd (Rs 11.23 crores for 2 ships), Kolkata-based A C Roy & Company (Rs 9.76 crores for 8 vessels) and Goa-based Dempo Shipbuilding & Engineering Pvt Ltd (Rs 3.98 crores towards one ship).
Larsen & Toubro which runs a shipyard at Kattupalli near Chennai has not availed of the subsidy scheme because it builds only defence vessels which are not covered by the policy.
Local shipyards are entitled to a maximum state aid of Rs 40 crore to build a standard ship within three years from the date of contract, according to the norms framed by the Ministry of Ports, Shipping, and Waterways to implement the shipbuilding financial assistance scheme that was approved by the Union Cabinet in December 2015.
The financial assistance to shipbuilders, both state-owned and private, is valid for a ten-year period beginning 1 April 2016, scaling down the quantum by three percentage points every three years, starting with 20 percent during the first three years, 17 per cent for the next three years, 14 per cent for the next three years and 11 per cent in the tenth year.
The quantum of financial assistance for a vessel will be a product of the applicable rate of financial assistance prevailing on the date of contract, and the lower of the contract price or the fair price when converted into rupees.
The scheme was designed to promote the government's 'Make in India' programme, encourage the local shipbuilding industry by providing a level playing field vis-a-vis foreign shipyards and help India raise its stature as a ship building nation.
But local shipyards have not been able to take advantage of the scheme mainly because some big shipbuilders such as Pipavav Shipyard, ABG Shipyard and Bharati Shipyard collapsed under a huge pile of debt and had to be sold or liquidated under India's bankruptcy law.
"The implementation of the scheme coincided with the collapse of big private yards such as ABG, Bharati and Pipavav," said Syed Abdi, an independent shipbuilding consultant. "Rs 4,000 crore is a huge corpus, but there are no takers, there are hardly any shipyards. So, what will you do,?" he asked.
Some of the stressed yards have since been sold through the Insolvency and Bankruptcy Code (IBC) but they were shut for many years that to re-start shipbuilding now is a "big task".
"Normally when you start or restart, initially you can't start shipbuilding straightaway, it is not feasible to start shipbuilding per se immediately. You have to start with some repair work," said Abdi.
This explains why the remaining three years of the scheme is not likely to see a quantum jump in the utilisation of the aid.
The new owners of the stressed yards have to evaluate and finalise a business plan and pump in a lot of money to get return on their investments. Typically, it takes about 5-6 years to break even in the shipbuilding industry.
"It is a bottomless pit," said an executive associated with the shipbuilding industry.
For example, he said, one of the biggest issues facing most of these yards is siltation. "You have to do dredging, then to get the infrastructure up and running like the cranes and the machinery which are not in working condition," he said.
"No offence meant to the government; it is fancy to have documents such as the Maritime Indian Vision 2030. But they have to put the money where it will be really useful to the new owners. Say, for instance, how to monetise the inventory for the new owner of a yard. He is pumping in money and would want to see the low hanging fruits that can be monetised from the yard, either through scrap sales or inventory sales," the executive stated.
Further, to restart the yard, the new owners will have to secure all the licenses for shipbuilding from the government, warship building permits from the Indian Navy and the Coast Guard as well as insurance.
The state aid of Rs241 crores utilised so far has been used for constructing small crafts and vessels. None of the local shipyards have managed to bag some eye-popping, big-ticket orders for constructing container ships, LNG, LPG, crude oil tankers and large ships being built globally to run on alternate fuels such as ammonia and methanol.
Cochin Shipyard and Chowgule and Co, though, have been an exception in this regard, achieving a moderate degree of success in winning some orders for electric ships (green ship) from global fleet owners as well as local clients.
"Those big orders are very difficult to get," explained the ship building industry executive mentioned earlier.
"The bottom line is that for a shipyard to build large cargo ships, one off, of a certain type of vessel is very difficult because there is a learning curve to it. You sink in a lot of money on design and if you are constructing some six vessels, then that design cost can be spread over six vessels. But you cannot do one off, of any type of new ship building," he explained.
The huge infrastructure required for building big cargo ships are in Cochin, Kattupalli (L&T), Pipavav, ABG and Bharati.
Pipavav is the only yard in India which can dock and repair oil drilling rigs. It has the biggest graving dock in India. Cochin Shipyard is erecting a similar one which will be ready by next year.
In the absence of private shipyards having the capacity to build big ships, mostly smaller ships are now being constructed that don't require big infrastructure, the industry executive said.
"Everybody is beating the drums, but only hollow sound is coming," said a second shipbuilding expert, lamenting the absence of big operational private yards capable of building large cargo carriers.
"But, with new owners coming in, there is light at the end of the tunnel. There is some revival strategy happening," he said.
The government and the new owners of yards should sit across the table and discuss ways to tweak the policy to align it with the Maritime India Vision 2030. Shipbuilding is a business which is a huge employment generator and an employment multiplier with all the ancillary units, he stated.
"Whatever is feasible and within its framework, the government should look at how much they can stretch themselves to assist the new owners. That is the key," he added.