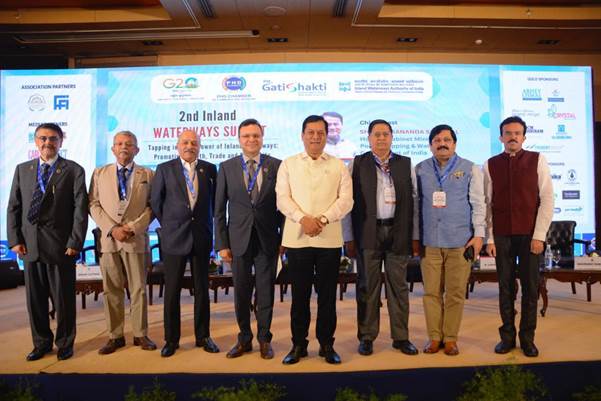 Sarbananda Sonowal says Government planning to develop Eastern Grid with 5,000 kms of navigable waterways
NEW DELHI : Union Minister of Ports, Shipping & Waterways and Ayush Shri Sarbananda Sonowal announced the Government's plan to develop the Eastern Grid with 5,000 kms of navigable waterways. The Minister was speaking at the 2nd Inland Waterways Summit organised by PHDCCI, the industry chamber in New Delhi .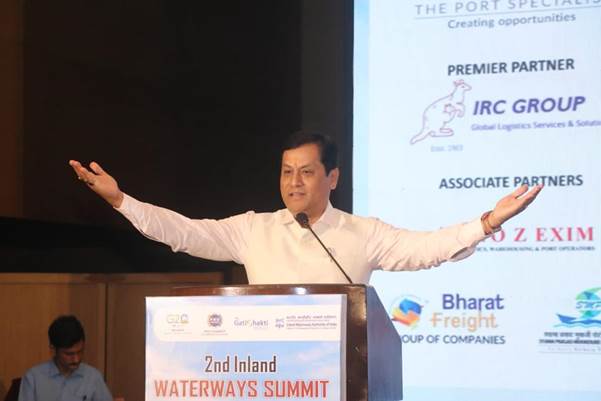 Shri Sonowal said, "Under the dynamic leadership of Prime Minister Shri Narendra Modiji the government is working extensively to develop the Eastern Grid with more than 5,000 kms of navigable waterways. We are encouraged by the results of work done on National Waterways 1 – the river Ganga. Given the rich inter web of rivers in the eastern India, which comprises 4 key waterways along with certain international routes, we intend to develop this huge potential of 5,000 kms of navigable waterways through this grid. The development of this grid will not only boost regional integration & accelerate development but it will further deepen eastern India's trade within BBIN countries (Bangladesh, Bhutan, India, Nepal). It will also further amplify trade potential with countries like Myanmar, Thailand, Malaysia and Singapore. Under the visionary leadership of PM Modi ji, we want to explore this immense potential of trade for the economic progress and development of eastern part of India."
The second Inland Waterways Summit, organised by PHDCCI, has a theme of "tapping into the power of Inland Waterways: promoting growth, trade & prosperity." The summit is a platform to explore potential of inland waterways for regional economic integration and sustainable development by the different stakeholders including government, interest groups and business enterprises along with entrepreneurs.
The Union Minister said, "With the seamless connection between NW-1(Ganga), NW-2(Brahmaputra) and NW-16 (Barak), the government is keen to create opportunity via an economic corridor of 3500 kms connecting the Northeast India with the rest of India, via Bangladesh. This will also link Bhutan and Nepal with Bangladesh onto the international trade routes through a multi-modal connections developed in India. As India develops Sittwe port in Myanmar, the regional economic integration, cooperation & amplification can smoothly happen among BBIN – BIMSTEC – ASEAN countries. Under the visionary leadership of Prime Minister Shri Narendra Modi ji, we are working for deeper & longer network integration of inland waterways in this region to provide a future ready mode of movement; that is economical, sustainable, and efficient. More than 600 million people from this area will benefit from this project as it is likely propel the new Engine of growth, the Northeast India, for economic development, market access & employment generation in the region.
Adding on the need to accelerate growth in eastern India, Shri Sonowal said, "Eastern Grid can unlock multi-lateral trade potential of $49 billion dollars as Govt remains committed accelerate growth in eastern India. PM Modi ji has always given special focus to improve & better the socio economic aspects of the Northeast India. This grid will realise the vision of our Prime Minister to make the Northeast India as the new engine of growth of India. This region is one of the least integrated regions in the world and the govt intends to turn it around by working to resolve with all stakeholders to simplify tariff & non tariff barriers, transit regulation, interoperability of vehicle fleet and many such technical limitations. Beyond the economic advantage, the grid also gives the region strategic advantage of access to international trade routes as well as climate resilience fo an environment friendly transport mode – powered by green hydrogen, electricity, LNG etc. I hope this summit on inland waterways will pave the way for a closer and deeper strategies for the development of the entire region in the spirit of the philosophy envisaged by Modi ji as 'Sabka Saath, Sabka Vikas, Sabka Viswas, Sabka Prayas'."
The event was also attended by Sanjay Bandopadhya, IAS Chairman, Inland Waterways Authority of India; R. Lakshmanan, IAS, Joint Secretary (Admn, Parl & DGLL), Ministry of Ports, Shipping & Waterways; Saket Dalmia, President, PHDCCI; Sandeep Wadhwa, Chair, Gati Shakti Development Forum; Ashok Gupta, Co-Chair, Gati Shakti Development Forum; Col. Saurabh Sanyal, CEO & Secretary General, PHDCCI among other leading members of the industry, policy advocates, industrialists, entrepreneurs and other eminent personalities.