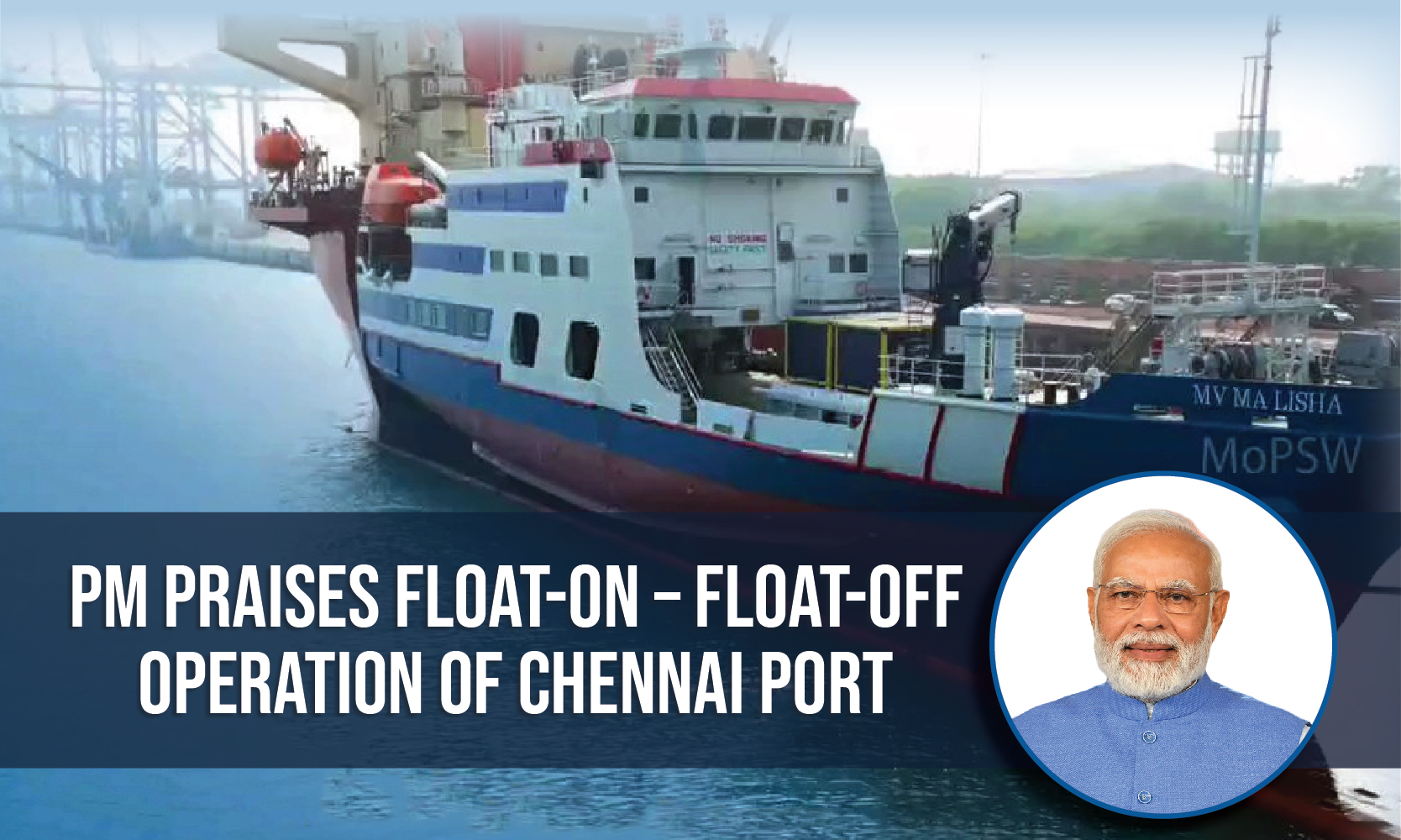 PM Modi praises float-on – float-off operation of Chennai Port
CHENNAI : The Prime Minister, Shri Narendra Modi has praised float-on – float-off operation of Chennai Port which is a record and is being seen an achievement to celebrate how a ship has been transported to another country.
The float-on-float-off operation, also known as FLO-FLO, involves loading and unloading large and heavy cargo vessels by submerging them partially in the water. In this method, the cargo is floated onto the deck of the carrier vessel, and then secured in place before the vessel is partially submerged to allow the cargo to float off. This technique is particularly useful for transporting oversized or heavy cargo, such as ships or offshore drilling rigs, which are too large to be loaded using conventional methods.
The Chennai Port, which is one of the major ports on the eastern coast of India, recently undertook a FLO-FLO operation to transport a ship to another country. The operation involved the loading of a 285-meter-long, 43-meter-wide, and 14.2-meter-high ship, weighing over 17,000 tonnes, onto a heavy-lift vessel. The ship was then transported to an undisclosed destination overseas, where it will be put into service.
The FLO-FLO operation was carried out by a team of experts from the Chennai Port Trust, along with the crew of the heavy-lift vessel. The operation required careful planning and execution, as any mistake could have led to damage to the ship or the heavylift vessel. The team used sophisticated equipment, including hydraulic jacks, winches, and ballast pumps, to ensure that the ship was safely and securely loaded and unloaded.
The successful execution of the FLO-FLO operation has been hailed as a major achievement for the Chennai Port Trust, as well as for the Indian shipping industry as a whole. The Prime Minister praised the port for its technical progress and efficiency, and for setting a new record in the transportation of oversized cargo.
Replying to a tweet by Union Minister of State, Shri Shantanu Thakur, the Prime Minister tweeted :
"Great news for our ports and shipping sector."