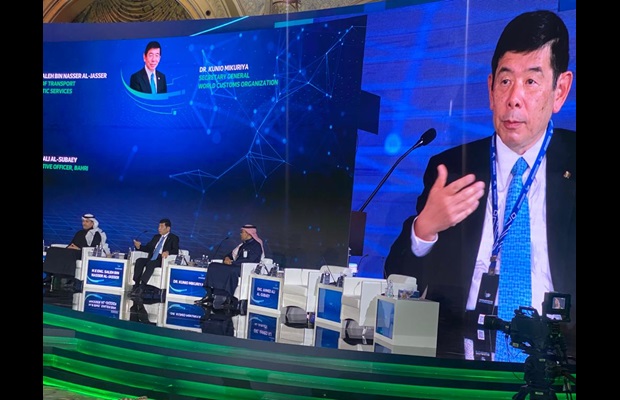 Saudi Arabia showcases its development at ZAKAT Tax and Customs Conference 2023
RIYADH : At the invitation of Mr. Suhail Abanmi, Governor of ZAKAT, Tax and Customs Authority of Saudi Arabia, WCO Secretary General, Dr. Kunio Mikuriya, visited Riyadh, Saudi Arabia on 8 and 9 February 2023 to speak at the ZAKAT Tax and Customs Conference 2023.
At the high-level panel session titled "An Investment-Friendly Logistics Environment (Transparency and Efficiency)", Dr. Mikuriya spoke about international standards, including WCO instruments and programmes, technology and human capital, as ways to enhance connectivity at borders. In addition, he stressed the importance of developing trust and cooperation between domestic and international stakeholders, such as in Authorized Economic Operator (AEO) programmes. He went on to say that sharing data with tax and other government agencies would improve economic competitiveness by facilitating and securing supply chains and thereby improving investment climate.
Other panelists, including the Minister of Transport of Saudi Arabia and the CEO of a shipping company, shared the vision of transforming Saudi Arabia into a regional and global logistic hub.
Secretary General Mikuriya also took the opportunity to discuss with Mr. Faisal F. Al-Ibrahim, Saudi Minister of Economy and Planning, about ways to strengthen the Gulf Cooperation Council Customs Union. WCO Secretary General visited, together with ZATCA Governor Abanmi and the WCO Council Chairperson, Ahmed Al-Khalifa, President of Bahrain Customs, the WCO Regional Training Centre and the Regional Dog Training Centre, hosted by Saudi Arabia in Riyadh and explored their contributions to regional capacity building activities.
Dr. Mikuriya welcomed the efforts by Saudi Arabia to share good practices on Customs-Tax cooperation, AEO and other Customs related matters during the conference.
.