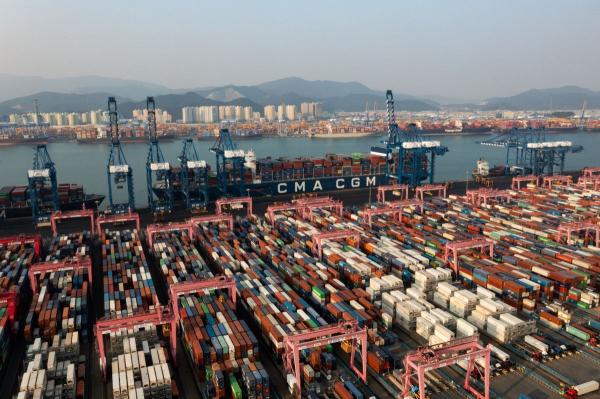 Shahrouri warns of a crazy rise in shipping prices: the decrease is temporary #Ammon

---
SHANGHAI : Secretary of the Jordanian community in China sector expert logistics rare Shahrouri, the shipping fees will not go significantly down, but will temporarily decline may be followed by waves of height can be described Paljnonah, as the rise Its effect is immediate, but the decline needs time after the market is saturated, and between Shahrouri to Ammon that all global studies indicate the continuation of the crises of global shipping chains until the first quarter of 2022, and the growth of global demand for sea freight between 7-9% coinciding with the end of the Chinese year (February). next.
Shahrouri stressed that stability with the relative decrease in prices for a period of one or two weeks does not mean the beginning of the end of the crazy price hike for freight, noting that the matter depends largely on supply and demand.
He said that the ships loaded to the Arabian Gulf and the Red Sea, i.e. before the Suez Canal, were available for a period of two weeks. dollars again; This is due to the lack of supply that will occur at the end of this month and until next April at the very least.
* Does sea freight need a Musa stick?
Shahrouri stressed that major shipping centers in the world suffer from increasing levels of congestion in light of the accumulation of containers in seaports from Singapore to Piraeus in Greece. In the vicinity of Singapore, the congestion on 11/1-2021 was higher than usual by 22%, in light of the anchorage of 53 container transport ships in front of the coast of the city, which is an important financial center and a center for transporting goods, and this number of ships anchored is the highest since the beginning of the Bloomberg tracking Data News in the month of April and explained that this accumulation has caused a logistical problem in supply chains globally, and this problem can be observed by simply tracking shipping lines via satellite by doing an immediate follow-up to the problems of ports around the world.
He told Amoun that DP World, one of the largest port operators in the world, expected the continuation of supply chain bottlenecks that disturbed global trade flows, and this is accompanied by continued pressures on shipping until 2023, i.e. for another two years at least, and pointed out that "Maersk" was more positive in its expectations. She said that the continuation of the shipping market crisis will continue until the first quarter of next year at least, as a result of the growth in global demand for container trade faster than previously expected, while the largest shipping line in the world sees that global demand for sea freight will grow between 7-9% This year, compared to previous expectations, which ranged between 6-8%, and "Maersk" predicted an increase in global demand for containers by 2-4% in the year 2022, and said that in addition to the increase in China's exports in October by 27.1% on an annual basis, exceeding expectations Analysts, while imports jumped 20.6%, according to the country's customs data
Analysts had expected October exports to increase 24.5% after they jumped 28.1% in the previous month, and this reflects expectations of higher prices as well, according to Shahrouri, adding that supply chains around the world entered a state of chaos as the shipping capacity was unable to cope with the increased demand for Consumer goods, and port disturbances caused by several factors, including:
The outbreak of the Corona virus, especially in the most crowded ports, and organized power cuts in China, which led to a lack of irregular production and an increase in demand, in addition to the rise in oil prices again in November, and what made matters more complicated is the increase in taxes on international marine channels, especially the Suez Canal, where the Canal Authority decided Suez recently increased ship transit fees by 6% during the next year 2022, in addition to natural disasters such as the recent typhoon that crossed Shanghai and Shenzhen, which led to the accumulation of cargo ships from Shenzhen to Singapore, which posed a challenge to ships' schedules in terms of accurate sailing and arrival times
Shahrouri indicated that in the end, sea container lines are the biggest gainer from the jump in freight rates to record levels due to the great need of merchants to secure the transportation of goods. And that the effects of the accumulated shortage and delays are reflected in the high costs of shipping goods and shipping lines are spending a wonderful time, while some companies have pledged to set a maximum limit for spot prices Shahrour asked, "Is it aftershocks or a violent earthquake is coming?", calling for preparation and preparation for both matters