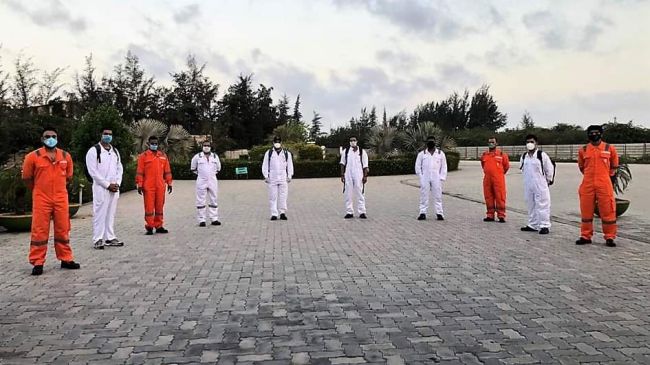 Ship managers pause crew changes of Indian seafarers as nation grapples with Covid-19
NEW YORK : It is becoming harder and harder to take on crew from world's third-largest supplier of ships' officers.
India's punishing Covid-19 crisis has added to a mountain of challenges for ship managers carrying out crew changes — with some choosing to avoid employing the country's seafarers and others seeking to overcome the hurdles of taking them on.
The nation is wrestling with a huge spike in coronavirus infections, with the daily tally of new cases at just under 350,000 on Wednesday, down from a peak of more than 400,000 per day a week earlier.
The situation comes amid a crew-change crisis that has lasted for more than a year and is threatening to cut off the supply of fresh seafarers from the world's third-largest pool of ships' officers.
As India's latest Covid-19 wave grew, seafarers who have recently visited the country have found themselves banned from travelling to nations where crew changes often take place.
Carl Schou, President and Chief Executive Officer of Norway's Wilhelmsen Ship Management, said the company had halted crew change from India until the end of May.
'Other nationalities'
"With this in effect, it means that overdue Indian nationality crew will not be able to sign off until we find crew from other nationalities which can relieve them," he said.
"At this point in time there is no other alternative, except to rely on the solidarity of our crew to extend their contract further until we find a way to relieve them."
Wallem Group, a Hong Kong-based ship manager, has also sought seafarers of other nationalities as the Covid-19 crisis has worsened in India.
"The Indian Covid situation has made it extremely challenging to have Indian seafarers joining vessels at this time," interim chief executive John-Kaare Aune told TradeWinds.
"We have put additional hotel quarantine arrangements in place for joining crew and enhanced our crew-change Covid-protection protocols.
About 38% of its seafarers are from India.
Many shipowners are calling for a pause -n crew changes involving Indian seafarers for a period of months, said Mr. Rajesh Unni, Chief Executive of Singapore-based Synergy Marine.
"There are too many moving parts right now, and it is better to hunker down and wait for things to settle," he said, noting that his company has diversified its workforce.
But he cautioned against taking a "knee-jerk" reaction by abandoning Indian seafarers and trainees.
"Yes, short term it is a struggle but in [the] long-term perspective, we should not move away from any nationality considering [it is] just a temporary situation," he said.
Bernhard Schulte Shipmanagement (BSM), which has a large number of Indian officers among a total of 4,250 seafarers from the country, said it is facing challenges conducting routine crew changes to relieve mariners.
"With travel bans restricting the movement of our Indian seafarers, BSM is drawing on its pools of seafarers in other nations to replace Indian nationals on board who need to return home, or to man vessels joining our fleet," the company said.
"However, this is unfair and unreasonable towards Indian seafarers and can only be a temporary solution."
The situation is leading to a hike in costs for ship managers, as demand for non-Indian seafarers rises.
"Demand for Chinese crew is already surging, resulting in double-digit wage increases since the start of the pandemic," said Simon Frank, chief human resources officer at Thome Group.
"With the situation exacerbated by a lack of global recognition for seafarers as key workers for priority vaccination, then we foresee a major crewing crisis in the immediate future."
But some ship managers are finding a way.
Anglo-Eastern chief executive Bjorn Hojgaard, whose company's seagoing workforce is 65% Indian, has not replaced those seafarers with non-Indian crew, except in isolated cases.
Only about 1.3% of the company's seafarers are overdue on their contracts. And though Hojgaard said the past few weeks have been more difficult, the company is making headway in getting seafarers vaccinated and bringing in seafarers who have already recovered from the virus.
Avoiding Indian seafarers is not an option.
"The reality is that there is nowhere we could go and find replacement crew for a pool of our size," Hojgaard said.
"Pretty much all seafarers are associated with a management or ownership company, and 'poaching' in someone else's pool would only be a beggar-thy-neighbour, short-term relief."
Source : Trade Winds