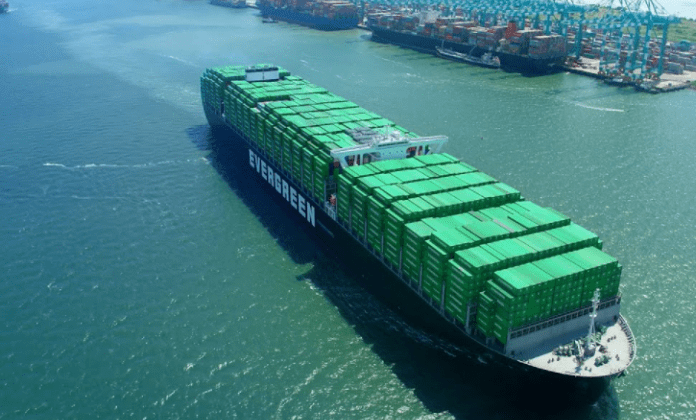 Shipping lines beat IMO carbon target
TAIPEI : Taiwan's two largest shipping carriers have reduced their carbon emissions by 40 percent, seven years ahead of a goal set by the International Maritime Organization (IMO), Minister of Transportation and Communications Wang Kwo-tsai said on Monday.
Wang made the remarks at a side event on green marine transport at the 11th APEC Transportation Ministerial Meeting in Detroit, Michigan.
Of the world's top 20 shipping firms, three are based in Taiwan, including Evergreen Marine Corp, Yang Ming Marine Transport and Wan Hai Lines, Wang said.
Collectively, they account for more than 10 percent of global shipping capacity and are implementing measures to attain the ideals of green marine transport, he said.
Yang Ming and Evergreen Marine have reduced their carbon emissions by 40 percent, a goal the IMO said should be achieved by 2030, he said.
Taiwanese shipping firms plan to procure 33 dual-fuel eco-friendly ships and 46 low-carbon ships, and continue to increase the proportion of shore power used by their fleets, he said.
Yang Ming and Wan Hai joined the Silk Alliance, which was launched by the Lloyd's Register Maritime Decarbonisation Hub to develop a "Green Corridor Cluster" beginning with intra-Asia container trade, he said.
Wang exchanged views on the "Green Maritime Corridor" and electric vehicles with US Secretary of Transportation Pete Buttigieg and interacted with transportation heads from Chile, Indonesia, New Zealand, the Philippines and Thailand, the ministry said.
Separately, starting next year, people accessing data stored on the ministry's Transportation Data Exchange platform would be asked to pay a monthly fee of NT$200 to NT$20,000 depending on their membership plan, the ministry said.
The platform offers one-stop access to transportation data, with consistent standards to systematically and comprehensively collect data on public transportation, traffic, parking, geographical information and tourism, it said.
The platform has more than 6,500 subscribers and an average daily connection volume of 460 gigabytes, it said.
More transportation-related data would be stored on the platform, including railway and shipping services, electric vehicle charging station locations and demand-response transport services, it added.
Six membership plans would be introduced: General, Bronze, Silver, Gold, Platinum and Professional, it said.
The scheme has discounts on membership fees of 80 to 100 percent for organizations that partner with the ministry to collect data, it said, adding that non-profit groups and academic institutions would be given a 50 percent discount.
Monthly fees would be waived for those who make special contributions to the platform, it said.