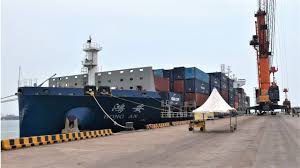 Shipping starts on the Chittagong-Dubai route
DHAKA : Shipping has recently started in the Chittagong-Dubai route even as part of its debut journey, a ship carrying 121 export containers from Bangladesh left Chittagong Port recently to Jebel Ali port in Dubai.
according to the reports, a container ship named HONG AN left for its first transhipment port Colombo in Sri Lanka on 7th May from which it was expected to leave for Jebel Ali port via Mundra port in India even as its journey en route to Jebel Ali port in Dubai, HONG AN carried 895 TEUs of export cargo, of which 751 TEUs are for Colombo port, 23 TEUs for India's Mundra port and 121 TEUs for Jebel Ali port.
This is as per the Chittagong port terminal operator Saif Powertech.
Reports further added, with the new service, export of goods from Chittagong to Dubai will take only 15 days even if in the return journey, traders in Bangladesh will be able to bring goods to Chittagong port, including raw materials for the readymade garment sector in 10 days, thereby significantly reducing the transport time.