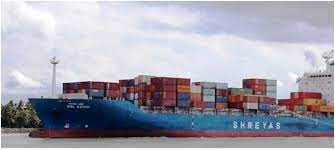 Shreyas Shipping adds box vessels to upgrade fleet
MUMBAI : Shreyas Shipping and Logistics, has acquired two container ships to replace older tonnage in its fleet.
The Mumbai-based company recently inked agreements for one 2,872-TEU ship and another 2,553-TEU ship. Both vessels are expected to join its fleet shortly.
At present, the company has a fleet of 13 vessels, including 11 box carriers and two dry-handy size bulk vessels.
Shreyas Shipping has ongoing exclusive charter arrangements with DP World's feeder line subsidiary Unifeeder, after the Dubai-based group acquired Shreyas' parent Transworld Group in 2020 to consolidate its integrated logistics interests.
Transworld Feeder, Shreyas' holding company, currently operates a fleet of 19 vessels of varying capacities, connecting the Middle East, the Indian Subcontinent and the Far East with hub ports at Jebel Ali and Colombo.
"Transworld Group's asset-light business model and continuous goal to be the preferred business partner for logistics solutions is in perfect line with the Unifeeder way of working," Unifeeder Group earlier noted.
It added, "Both Unifeeder Group and Transworld Group have always aimed for the best solutions for our customers, and with this expansion, we will increase the logistics capabilities of both groups, which delivers greater flexibility and efficiency for our customers."
Shreyas Shipping ended the quarter October-December on a weak note as it reported significant declines in revenue and net earnings.
"Container shipping markets continued to decline as compared to previous quarter on account of ongoing global geopolitical disruptions," the company said.
Shreyas further noted, "Charter and freight levels have shown lowering trend."
It went on to explain that "It is pertinent to note that consequent to the transaction undertaken with Unifeeder ISC FZCO and deployment of bulk carriers in global market, charter hire income is the sole source of revenue for the Company."
The tonnage acquisition move comes as officials at India's maritime organisation, Directorate General of Shipping (DG Shipping), have reportedly drawn up new stricter age conditions to deny port entry for multi-purpose vessels, tankers and bulkers that are older than 25 years.
For fully cellular box ships, the age cap has been proposed at 30 years, according to current indications.
DG Shipping said, "There is a need for review and to specify certain requirements to enable registration/operation of quality tonnage under the Indian flag."
The authority added, "There is also a need to create a level playing field for Indian ships by applying the requirements for quality tonnage to foreign-flagged vessels calling Indian ports or Indian offshore facilities, for carrying Indian cargo or for providing services in Indian EEZ/offshore area."