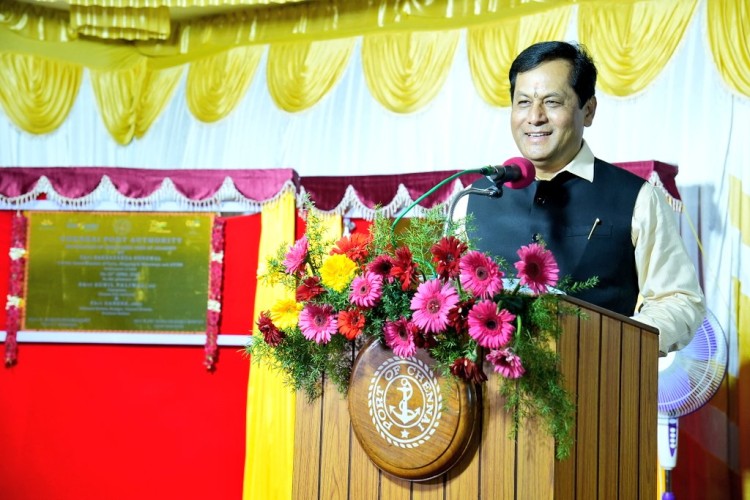 Sonowal inaugurates infra projects at Chennai and Kamarajar Ports
NEW DELHI : The Union Minister of Ports, Shipping & Waterways Shri Sarbananda Sonowal inaugurated major infrastructure projects in Tamil Nadu to augment the capacity of Chennai and Kamarajar Ports in the state. The projects – worth more than Rs 148 crores – aim at boosting the capacity of Chennai and Kamarajar ports.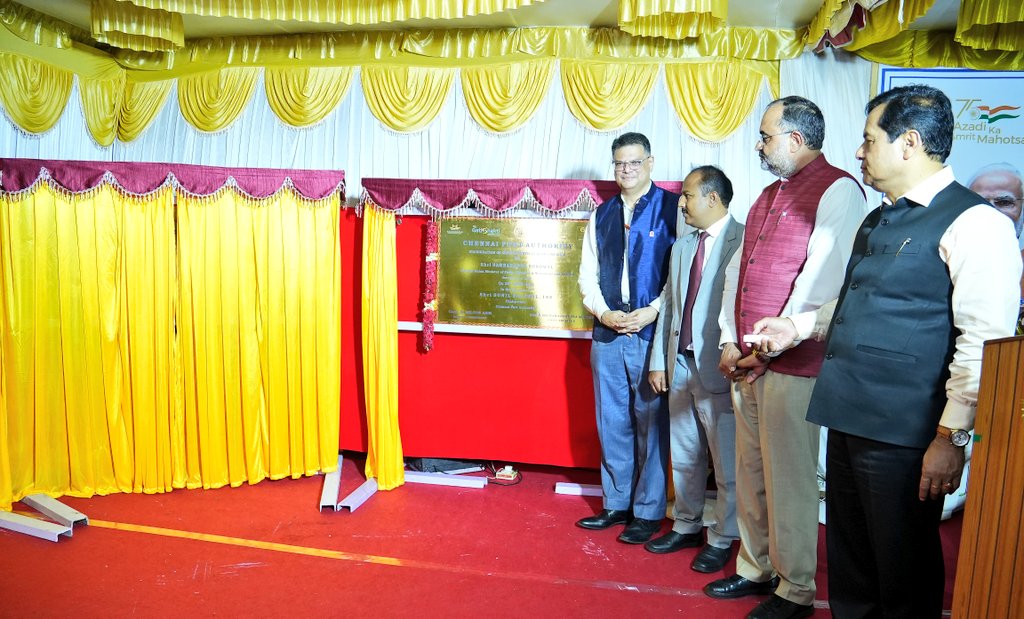 Sarbananda Sonowal said, "Ports are the economic growth centers of the nation. It gives me great delight to inaugurate multiple projects worth ₹ 148 crore related to development of the Chennai Port Authority and the Kamarajar Port Limited in Chennai, Tamil Nadu. Inaugurated the Bunker Berth at Bharathi Dock of Chennai Port Authority at a cost of ₹ 50.25 crore under Sagarmala. This will make a capacity addition of 1 MMTPA and enable handling of Bunker Tankers upto 10000 DWT. Also inaugurated the Goods Shed of Chennai Port Authority at Dolarpet under Sagarmala & PM GatiShakti at a cost of ₹ 5 crore. A major addition that will shift traffic from road to rail and improve cargo handling at the port. To improve Port access at Kamarajar Port, inaugurated the Amrit Mahotsav Marg built at a cost of ₹ 92 crore under Sagarmala. Also commissioned the 40KLD Sewage Treatment Plant at Chennai Port Authority built at a cost of ₹ 65.35 lakh as part of our Green Shipping initiatives."
The 182 m Bunker berth Project, funded under the visionary Sagarmala scheme of Ministry of Ports, Shipping and Waterways (MoPSW), is worth ?50.25 crores. This will enable a capacity addition of 1 MMTPA (Million Metric Tonnes Per Annum) and will also handle Bunker Tankers up to 10,000 DWT. This will serve the bunkering needs of vessels calling at the regional ports in Chennai, Kamarajar and Katupalli and other vessels passing from nearby.
Sonowal said, "The rich history of Tamil Nadu's marine trade has been a bedrock of growth and development of Indian economy. As we work towards building an 'Atmanirbhar Bharat' under the dynamic leadership of Prime Minister Shri Narendra Modi ji, these projects are expected to play a pivotal role in engineering the positive turnaround in the marine sector of the region. The projects inaugurated today will not only empower Tamil Nadu's marine sector but also enable growth multipliers in the regional trade along with the EXIM trade. Our conscious effort to unlock the humongous potential of Blue Economy, through revolutionary schemes like Sagarmala, is in sync with the vision of new India as envisaged by Modi ji."
Sonowal said, "India is in talks with Russia to open up Chennai-Vladivostok Maritime Corridor to further the special relationship between the two countries while unlocking the huge trade potential in blue economy. Under the dynamic leadership of Prime Minister Shri Narendra Modi ji, India affirms its commitment to rejuvenate its trade & investment potential to propel the growth of India. This corridor will serve this purpose acting as a conduit of growth & investment cooperation between two historic cities with rich marine history – Chennai and Vladivostok – of the two countries."
The 15,000 Sq Meters large Goods Shed facility, with loading & stacking facilities at Jolarpet, will enable movement of cargo from up to Chennai Port through railway, increasing movement of cargo especially containers. The port will also get a revenue share (from Southern Railway) from the Terminal Access Charges.
As part of the Green Port Initiative of MoPSW, the Sewage treatment plant of 40 KLD capacity will enable reuse of waste water after treatment for various purposes. The Amrit Mahotsav Marg between Kamarajar Port's 4.8 km access road from Vallur junction to NCTPS junction was built with an investment of Rs 88 crores. This will boost hassle free movement of cargo with better road connectivity to the port.