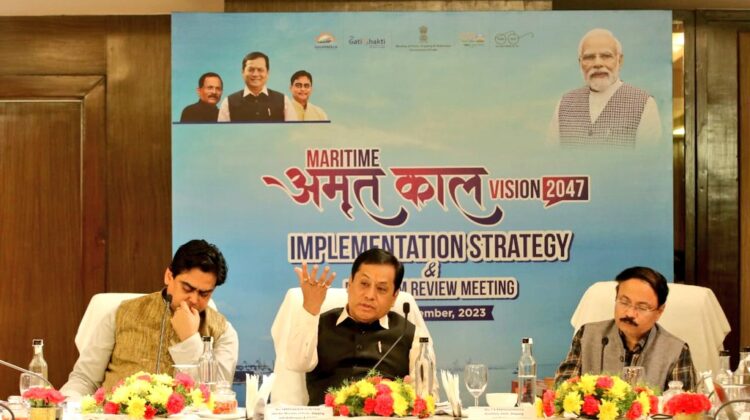 Sonowal urges Ports in India to make optimal efforts to secure a spot in top 25 World Port Ranking
NEW DELHI : Union Minister for Ports, Shipping and Waterways, Shri Sarbananda Sonowal on Friday urged ports to make optimal efforts to secure a spot in the top 25 World Port Ranking, emphasizing that remaining competitive requires improving positions in the annual "Global Ranking" published by the World Bank.
Shri Sonowal was chairing a mid-term review meeting in New Delhi to determine a comprehensive approach towards swift and smooth execution of the 'PM Maritime Amritkaal Vision' with an ultimate goal of making India the global maritime leader by 2047.
It is understood that all ports and agencies under the Ministry were directed to showcase their "Green Initiatives" on international and relevant forums. Statistics stated that in FY-2022-23, a total of 177 projects were completed at major ports, while currently, 162 projects are at various stages of implementation with an investment exceeding Rs one lakh crore.
Major programmes of the Ministry including its flagship programme Sagarmala as well as other prominent programmes were reviewed. The meeting also inquired about the progress of 162 projects with an investment outlay of Rs one trillion.
Shri Sonowal said that India is standing at an extremely important stage towards becoming a global leader in the maritime sector. "Under the dynamic leadership of Prime Minister Narendra Modi, the 'Maritime Amritkaal Vision', 2047 was launched exactly a month ago at the Global Maritime India Summit in Mumbai. The document is a manifestation of Modiji's vision towards enabling India's ports, empowering the shipping sector and rejuvenating waterways with the ultimate goal to turn India into a global power in the maritime sector. We are working to make our ports break into the top 25 ports of the world," he said.
Shri Sonowal further said that his ministry has also received encouraging responses to set up 'Green Hydrogen Hubs' at Deendayal port and VO Chidambaranar ports. "Similarly, powering our waterways remains a major focus for the ministry as Modiji directs to revive and rejuvenate the inland waterways system to power the economy to reach its next logical destination of becoming the world's top 3 economies," the Minister added.
Significantly, the Deendayal Port Authority is setting up 'Green Hydrogen Hubs' in which the port has received prominent responses from 13 prospective developers against Global EoI. A total of over 7 MMTPA capacity green Ammonia production has been offered by prospective developers. It is expected that the offered development will cater to the domestic and international demand of 1.4 MMTPA of Green Hydrogen.
Similarly, VO Chidambaranar Port Authority has earmarked 500 acres of land for the 'Green Hydrogen Hub'. An agreement has been signed between VoCPA and NGEL (A subsidiary of NTPC) for the installation of a 'Green Hydrogen and Derivative Production Facility'. A proposal for a grant for developing the common infrastructure to support the green Hydrogen projects has been submitted to MNRE.
The ministry said that currently over 800 projects worth more than Rs 5.74 lakh crore are being monitored under the 'Sagarmala Programme' for implementation by 2035.
"Out of these, 237 projects worth Rs 1.22 lakh crore have already been completed, 262 projects worth Rs 2.44 lakh crore are under implementation and 310 projects worth Rs 2.08 lakh crore are under various stages of development. Further, under the holistic development of coastal districts, a total of 567 projects with an estimated cost of around Rs 58,000 crore have been identified. Under the Sagarmala Programme, 94 projects worth Rs 31,597 crore have been completed resulting in capacity addition of more than 230 MTPA," the ministry said.