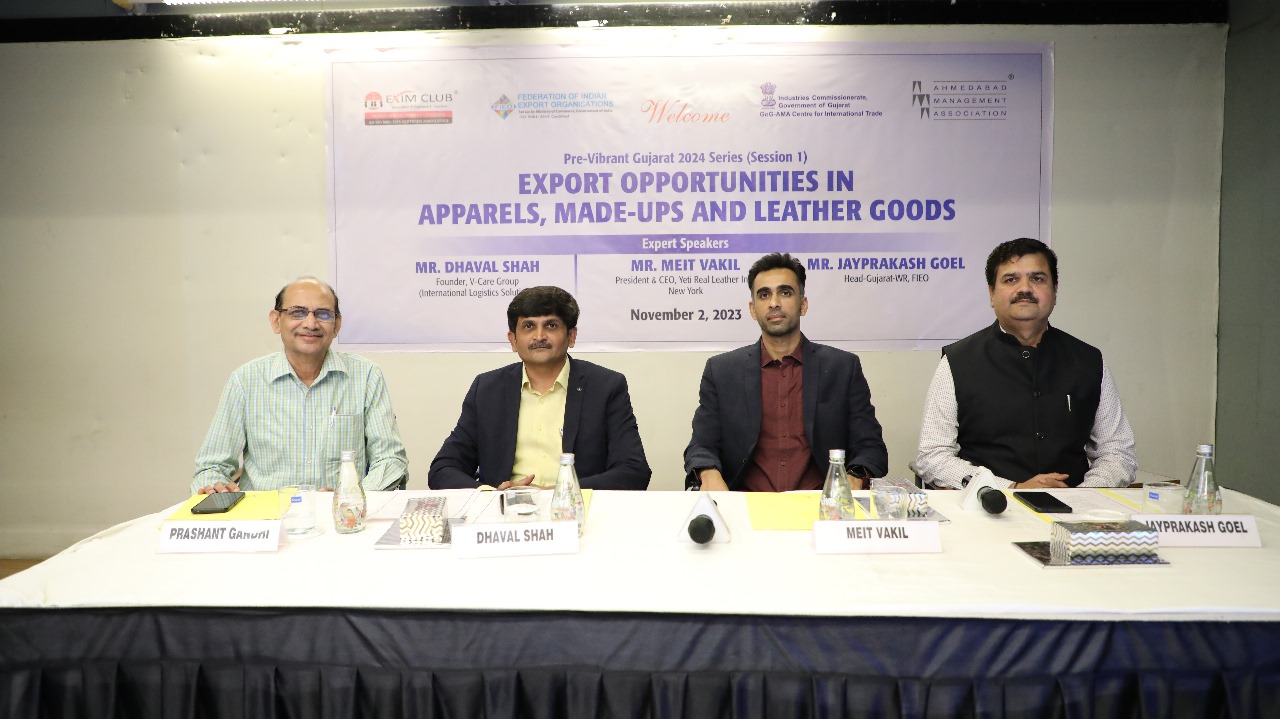 Successful first session of Pre-Vibrant Gujarat 2024 series at AMA-Ahmedabad
AHMEDABAD : EXIM Club Ahmedabad, in tie up with Ahmedabad Management Association and Federation of Indian Export Organisations – Ahmedabad, organised an exclusive SEMINAR on "EXPORT OPPORTUNITIES IN APPARELS, MADE-UPS AND LEATHER GOODS" at AMA – Ahmedabad on Thursday 2nd November, 2023.
Panelist Mr. Dhaval Shah – Founder, V-Care Group & Co (International Logistics Solutions); Mr. Meit Vakil – President & CEO, Yeti Real Leather INC, New York and Mr. Jayprakash Goel – Head- Gujarat-WR, FIEO has given very useful insights in benefits of participation.
Mr. Dhaval Shah gave insights on overall export trend of India and digital revolution by E-commerce export from India. He explained Initiativesfor ease of doing business by Government of India in benefits of new exporters. Also given some useful inputs on what are common Risks in international trade and Mitigating agencies?
Mr. MeitVakil gave insights on Leather Accessories and Industry as One of the Top Most Exports of India. He mentioned that India is the 4th largest exporter of leather goods in the world and more than 95% of the production units in the sector are Micro, Small & Medium Enterprises (MSME) units.
Mr. Jayprakash Goel gave insights on Apparels & Made Ups – India's Traditional Line Of Exports. He explained India is the sixth largest exporter of textiles and apparel products in the world with a massive raw material and manufacturing base.As the textile industry is crucial for India's growth, the government of India has implemented several schemes for the growth of production and ease of trade.