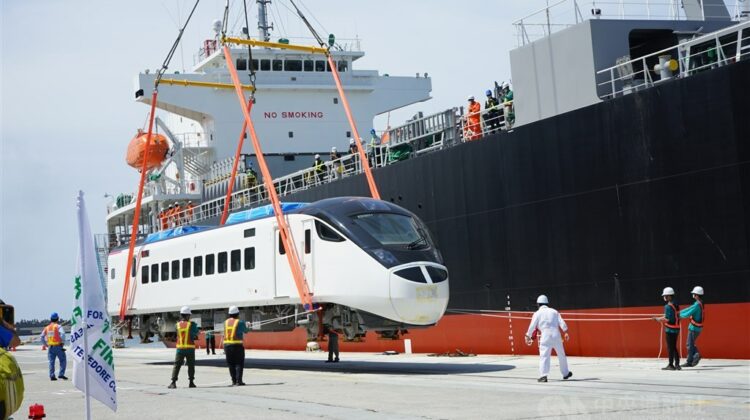 Taiwan receives delivery of first EMU3000 train from Japan
Taipei : The first of 50 new intercity express trains ordered by the Taiwan Railways Administration (TRA) arrived at Hualien Port from Japan recently and could enter service on the east coast line by the end of this year.
The new EMU3000 trains provide a 40 percent increase in passenger capacity over the existing Puyuma and Taroko express trains currently in service, Transportation Minister Wang Kwo-tsai (王國材) said during a delivery ceremony in Hualien County.
Wang said the trains, manufactured by the Japanese conglomerate Hitachi, are scheduled to enter service by the end of 2021 at the earliest.
According to the TRA, each EMU3000 train consists of 12 cars, compared with the Puyuma and Taroko express trains which have only eight cars.
Prior to entering service in Taiwan, the EMU3000 will be tested for quality and safety, the agency said.
The testing will be overseen by the TRA, Hitachi and TÜV Rheinland Taiwan Ltd., which will perform independent verification and validation (IV&V) functions.
The first 12 EMU3000 cars arrived in Taiwan on Friday.
The railway agency has ordered a total of 600 cars from Hitachi, which are to be delivered in several batches until 2024.
The TRA said a total of seven trains are due to be delivered this year, 15 in 2022 and 16 in 2023 before the rest are delivered the following year.
The agency has ordered the 50 EMU3000 trains so it can retire trains that are more than 30 years old and provide additional seating capacity on Taiwan's east coast line, where tickets are often hard to come by.
It expects the first three EMU3000 trains to enter service by the end of this year.
Source : Focus Taiwan