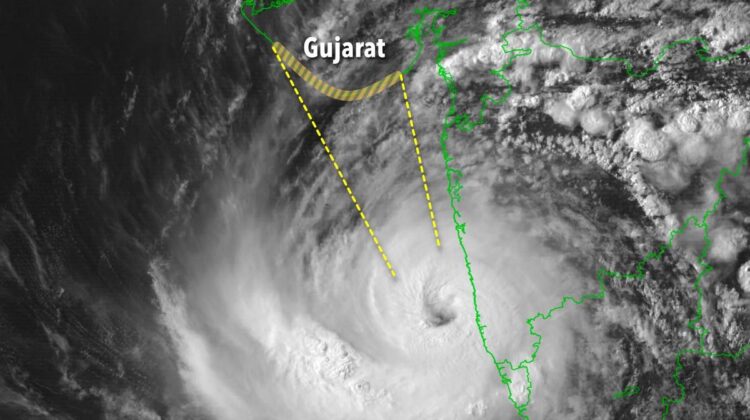 Tauktae threat : Industries, Ports shore up precautions
AHMEDABAD : More than 100 vessels left the main ports of Gujarat, sailing into the high seas over Sunday and through Monday morning, ahead of the looming Tauktae Cyclone threat.
Fourteen ports were asked to stop their operations by the Gujarat Maritime Board as it was reported that Tauktae was likely to make landfall in Saurashtra region. All mother vessels, each having the capacity to carry thousands of containers, were asked to leave the main ports of call by 10 AM on Monday, said an official at the GMB, the state's maritime regulator.
All units in the Kandla Special Economic Zone (KASEZ) on Monday were directed to remain closed from 6 AM till 6 PM on May 18. The directive came from the Kandla SEZ Authority (KASEZA)."In case the units are involved in the continuous process or manufacture of essential items as defined in the guidelines issued by the Union ministry of home affairs, the same shall be allowed to function with bare minimum staff," the authority said. The units were also advised to keep an action plan ready for addressing any emergency situation and at the same time taking care of Covid protocols.
Meanwhile, Adani Ports and Special Economic Zone (APSEZ) stated that it has initiated all actions in line with the disaster management plan and standard operating procedures at its port facilities in Hazira, Dahej, Mundra and Tuna in Gujarat and in Dighi in Maharashtra. "We have simultaneously stocked medicines, dry rations and kept communication lines clear and prepared for power disruptions," said an APSEZ spokesperson.
As for the ships at the ports of Gujarat, an official said: "On Sunday, 46 of these ships were anchored at private ports and 56 at Gujarat Maritime Board operated ports." The official added: "On Monday morning, they had all left for the high seas." Once at the high seas, where the cyclone is not predicted to hit, the vessels are safe and will wait till the storm has subsided, the official said.
The ports that have halted operations include Pipavav, Jafrabad, Navlakhi, Sikka, Okha, Porbandar, Veraval, Bhavnagar, Alang, Dahej, Rozi, Magdalla, and Mundra. Six sailing vessels at Old Mundra have been kept in the shelter.
Corporate and industrial houses in Gujarat are taking various precautionary measures too. "The SOPs are all-encompassing covering people safety, vessel safety, equipment safety, backup yard safety, vehicle and railway safety," the APSEZ said in its media statement.
Mukesh Ambani, the Chairman of Reliance Industries Ltd, is at Moti Khavdi near Jamnagar, where the company runs the world's largest refinery project with a huge petrochemicals project. RIL's Jamnagar refinery is likely to witness heavy wind and rains. "The complex has been designed to sustain 180 kmph wind velocity, which is much higher than the anticipated cyclone wind velocity," according to a company statement. "But precautionary measures are being taken to ensure that the supply of oxygen to various states continues uninterrupted." RIL has ramped up oxygen manufacturing capacity at Jamnagar to become India's largest producer of medical-grade liquid oxygen from a single location.
"RIL Chairman Mukesh Ambani continues to be in Jamnagar overseeing the supply of oxygen," the statement said.
"We are prepared with all the necessary precautions to tackle any eventuality," a spokesperson of Essar Ports said. "We are working in close coordination with the local administration. We have moved all our floating crafts to inner anchorage. To ensure workplace safety, operations and movement of manpower have been suspended and will only resume once the conditions improve."
.
Source : Times of India