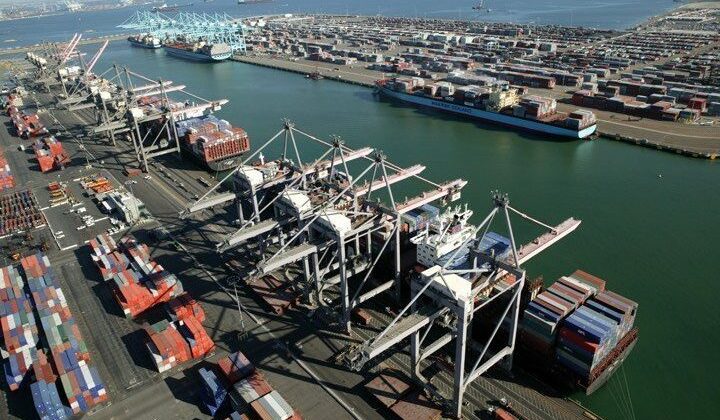 Tension mounts in US West Coast ports labour talks
CALIFORNIA : Tension is building in negotiations between terminal operators and the labour unions on the US West Coast which have now dragged on for almost a year.
The situation reached something of a climax in days just prior to the Good Friday holiday, when the two West Coast mega-ports, Los Angeles and Long Beach were forced to cancel operations on their evening shifts due to a lack of workers turning up.
In a 12 April press event, Gene Seroka, Executive Director of the Port of Los Angeles, offered his comments on recent developments, but couched in the perspective of longer term moves towards a port with towards reduced greenhouse gas emissions.
Regarding the early April worker shortage, he said that that the Good Friday/ Easter Holiday normally brings reduced throughput. Nevertheless, in a press event Seroka described last week's developments as a "call to action", amidst a complicated backdrop that's "not new…where ongoing issues have been battled for some time".
Even though freight costs for boxes have cooled off significantly from their late 2021/early 2022 heights, the cargo shifts to the East Coast have stuck. Recent data shows overall cargo volume in March, 2023, at 622,233 teu, down substantially from the year earlier 959,674 TEUs. Frequently, "labour concerns" are cited by cargo shippers when asked why they've not shifted their activity back from the Atlantic ports to the major hubs at Los Angeles/ Long Beach.
Looking ahead, Seroka focused on a very positive longer-term future, but emphasized that a labour deal is crucial, and "great for confidence" and for "bringing cargo back to Los Angeles," after decades of boxes moving way from Pacific Coast ports. As part of the longer term, Seroka was looking to train workers to be participating in a lower carbon future, but, in the shorter term, he said that: "A negotiated settlement is crucial to bringing cargo back to LA".
While the port is not directly involved – the talks are between the ILWU, the West Coast union representing port worker, and the Pacific Maritime Association (PMA), which represents the terminals, – he said, "I don't want to see a widespread labor disruption- it's time to get to an agreement."
Responding to a "what if" question of what happens if negotiations are not moving forward, he said, "There are no contingency plans, this is not a transactional business…we are continuing to focus our efforts around the [negotiating] table." He also took a step beyond the rhetoric- talking about "rank and file [workers on the docks] who are working every day."
On the matters directly at hand, he said, "I don't want to see a widespread labour disruption… I want to get to an agreement." He expressed positive "minute by minute" dialogues with Executive branch governmental departments Labor and Transportation. "I've been very pleased by the commitment from the Cabinet," he said.
Stepping back, Seroka's press briefing featured an executive from the world of electric vehicles with a focus on moves towards battery powered commercial trucks. In the longer term, the Port of Los Angeles hopes to bring in cleaner power. In the same timeframe, the workforce, on the docks and on shore, will need to focus on "career development". Though not explicitly stated in the Port of Los Angeles dialogue, training of the workforce for managing new fuels is very much a part of their plan looking ahead.