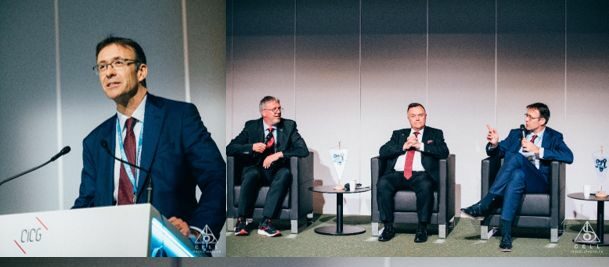 The 2023 FIATA HQ Meeting is officially open
GENEVA : FIATA International Federation of Freight Forwarders Associations, (FIATA) has welcomed over 150 participants from almost 60 countries to Geneva, the home of the FIATA Headquarters, to its annual membership gathering! 33 hours of sessions with over 30 speakers from international organisations,  startups and freight forwarding companies will share their voices at the event titled 'Navigating Uncertainty'.
The Opening Ceremony featured welcomes by FIATA President Ivan Petrov and Director General Stephane Graber and an economic outlook by keynote speaker Jan Hoffmann, UNCTAD Head of Trade Logistics. Forwarders are optimistic on business growth for 2023, despite the many geopolitcal challenges.
FIATA would like to thanks its exhibitors and sponsors Raft, Green Future Logistics, AELER Technologies SA, Republique et Canton de Geneve, FORWARD Belgium (for the FIATA World Congress 2023) and Net Freight, for their support and participation to this year's FIATA HQ Meeting.
Day 1 of the 2023 FIATA HQ Meeting saw a plethora of topics addressed on an exciting line-up of panels.
In a very interactive Multimodal Transport Institute session, 'Addressing challenges for multimodal transport', FIATA brought together speakers from the UIC – International union of railways UICrail UICrail, IRU, United Nations Economic Commission for Europe and the Greater Caspian Association which raised important points around the corridors which grew as a result of the Ukraine-Russia war. Participants took part in an interactive workshop session in order to give a global perspective on transport corridors at present.
Sustainability at what cost? – A riveting panel discussion was held on the decarbonisation of the maritime sector, in which speakers from the World Shipping Council, FIATA and Minerva Bunkering discussed the requirements of freight forwarders to align with the International Maritime Organization's strategy to reduce carbon emissions by 40% by 2030.
Collaboration and engagement were key priorities mentioned for the successful accomplishment of these targets. Speakers referred back to Jan Hoffmann's previous session quote "Delaying the change is more costly than the change itself".
Pedro Nonay, ex-CEO and Consultant in Commodity Trading shared on alternative fuels and the exploration into fuel from crops. LNG, methanol and ammonia were touched upon by both James Corbett and Tyler Baron as other alternatives, and their implementation time frames featured. The forwarding sector at large will in time need to adapt, and FIATA aims to equip forwarders with this knowledge in a timely manner.
A more detailed coverage can be expected by at the end of the event. Further reports are awaited.