TMS TACCC 2023 makes strong case for determined climate change action
DUBAI : The inaugural Transportation and Climate Change Conference (TACCC), held at the Saadiyat Rotana Resort in Abu Dhabi, made an indelible impression on those attending, highlighting the need for strong, concerted action to achieve climate change and sustainability goals. This groundbreaking event, held before a packed house with more than 300 delegates present, brought together eminent figures from across the transportation sector, to foster dialogue, discuss innovation and strengthen the collective commitment to addressing pressing climate change challenges.

The event commenced in the esteemed presence of H.E. Ahmed Jasim Al Zaabi, Chairman of the Abu Dhabi Department of Economic Development, who attended as the Guest of Honour, along with Captain Mohamed Juma Al Shamisi, Managing Director and Group CEO of AD Ports Group. The conference was inaugurated by Trevor Pereira, Managing Director of The Maritime Standard, who underscored the urgency of addressing climate change in the maritime and transportation sectors, and the perfect timing of this event in that context.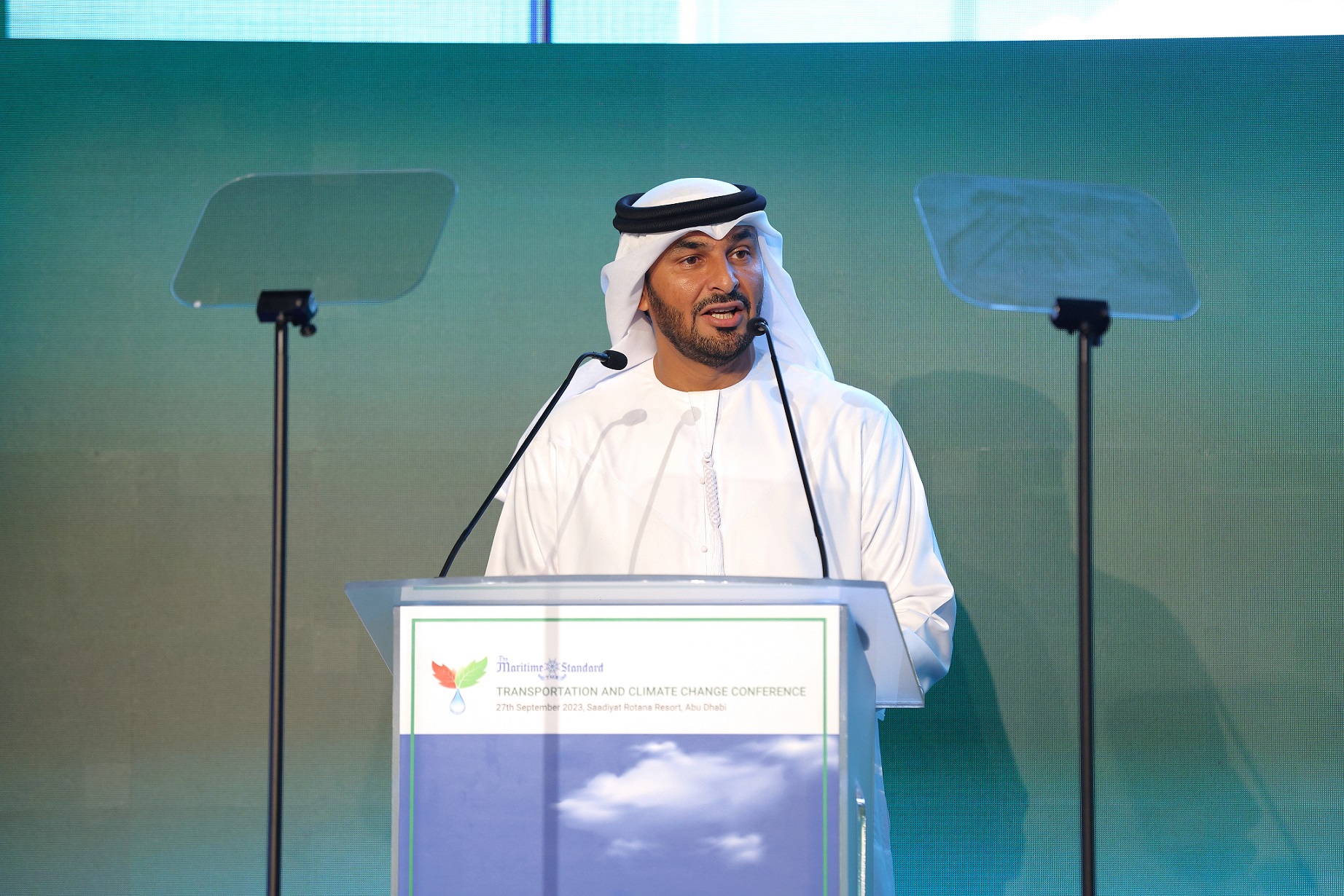 TACCC featured an exceptional lineup of speakers and industry leaders who delved deeply into critical issues relating to carbon emissions reduction and environmental sustainability. The opening keynote session, expertly chaired by renowned Sky News host, Yalda Hakim, featured a number of influentialc figures from the shipping, maritime, rail and air transportation sectors, led by Capt. Abdulkareem Al Masabi, CEO of ADNOC Logistics & Services, who set the stage with a compelling keynote address, emphasising the importance of industry-wide collaboration.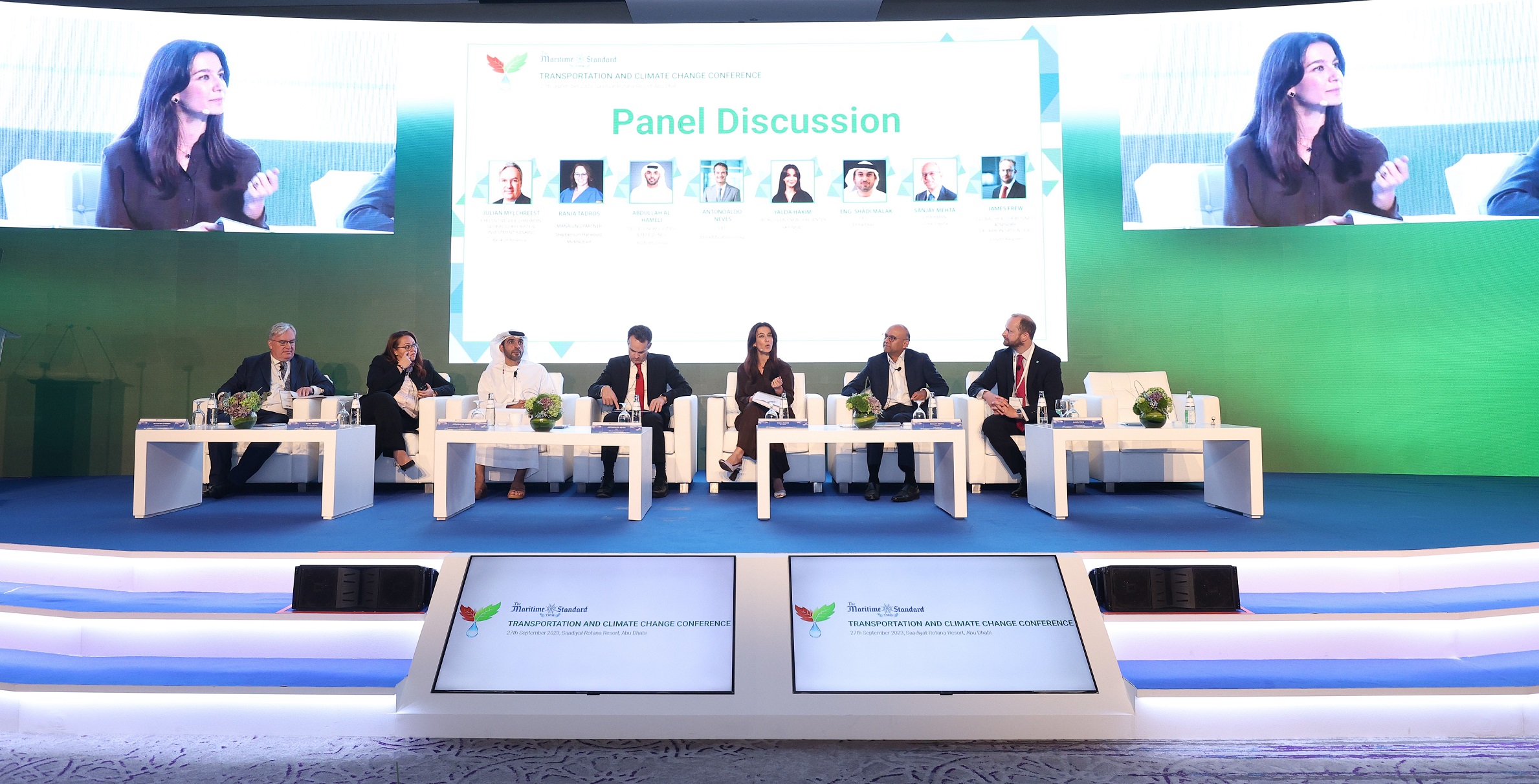 Session 1 of TACCC, which addressed the theme "Tackling Transportation's Contribution to Climate Change: Setting the Course for a Sustainable Future," witnessed presentations by senior executives all of whom are spearheading change in their respective domains. Speakers in this pivotal session included Eng. Shadi Malak, CEO, Etihad Rail; Antononaldo Neves, CEO, Etihad Aviation Group; Julian Mylchreest, Executive Vice Chairman, Global Corporate & Investment Banking, Bank of America; Sanjay Mehta, Chairman of S One Capital; Abdullah Al Hameli, CEO, Economic Cities & Free Zones, AD Ports Group; Rania Tadros, Managing Partner at Stephenson Harwood Middle East and James Frew, Global Head of Business Advisory – Decarbonisation Lead at Lloyd's Register.

Following an engaging Q&A session and a networking luncheon, Session 2, chaired by industry luminary Sanjay Mehta, revolved around "Sustainable Ports, Logistics, and Aviation: Redesigning Operations and Technology for a Greener Future." The lineup of speakers included Emile Hoogsteden, CEO, SOHAR Port & Freezone; Jonathan Andrews, CEO, Steamship Mutual; Antonio Campoy, CEO, Noatum Group, Logistics Cluster, AD Ports Group; Gonzalo Conseco, Director of Research & Development, Onepoint5 & Former Senior Advisor to the Secretariat of the UNFCCC; Mohammad Jaber, Managing Director, Air & Sea and COO Abu Dhabi, DSV Solutions Abu Dhabi; and Matthew Luckhurst, Managing Director, APM Terminals Bahrain. Collectively they explored innovative strategies across the transportation sector and made a number of valuable suggestions for future action.

The conference concluded with Session 3, focusing on "Navigating the Operational, Technological, Legal, and Financial Hurdles to Change." Moderated by leading maritime lawyer Rania Tadros of Stephenson Harwood, the session featured speakers including Emil Pellicer, General Counsel, AD Ports Group; Nitin Mehta, Group COO at Lila Global; Carlos Guerrero Pozuelo, Global Market Leader for Gas Carriers, Bureau Veritas Marine & Offshore; Farooq Zuberi, CFO, APM Terminals Bahrain; Ravi Jawani, Partner, Fichte & Co; Vijay Arora, Managing Director, Indian Register of Shipping; and Hamed Fathi, Director and head of Legal at the IME Group. Spanning a wide range of maritime activities, these speakers comprehensively addressed the complex challenges faced by the industry, providing valuable insights into how they can be overcome.

The crucial timing of TACCC 2023, only a few weeks before the UAE hosts the COP28 climate change conference, and hard on the heels of strong International Maritime Organisation action to speed up climate change measures, meant that it secured substantial support from event sponsors, including AD Ports Group, ADNOC Logistics & Services, National Marine Dredging Company, Etihad Rail, Sohar Port and Freezone, Islamic P&I Club, Saifee Ship Spare Parts & Chandlers, Alligator Shipping Co., Al Raiya Group, Stephenson Harwood Middle East, Monjasa and Steamship Mutual. The commitment of a plethora of leading companies and organisations reflects their shared dedication to driving progress in the fight against climate change and underlines the stature of this event.

Reflecting on a hugely successful first TACCC, Trevor Pereira expressed his gratitude to all those who attended for contributing to positive outcomes. He added, "This was truly a landmark event that will help propel the transportation and maritime sectors toward a more sustainable and environmentally conscious future. One of the key messages was the need for cooperation and collaboration and I know the many conversations and interactions that took place on the day will do much to cement those ties. Overall. attendees left full of hope and optimism for a brighter, greener future, inspired by what they had heard, and we look forward to welcoming them back to a future TACCC that will build on the success of the first."