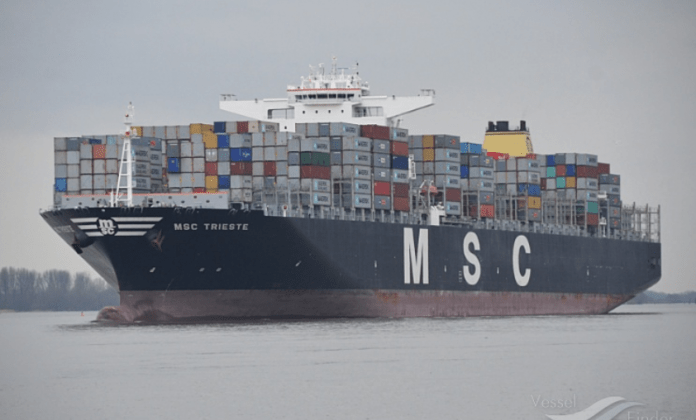 Top 11 liner operators to receive 89 large vessels in 2023
FRANCE : As a result of frenzied newbuilding orders in 2020 and 2021, the world's 11 largest container carriers are scheduled to receive 89 large container ships in 2023, according to Alphaliner's latest report released on 22 February.
These include ships in the 24,000 TEU, 13,000-15,000 TEU and vessels of at least 7,000 TEU.
MSC, which has the largest orderbook, is expected to receive 33 large ships this year.
Alphaliner said, "Presumably, MSC will try to channel much of its fleet growth into new standalone loops outside of the 2M as the carrier prepares for the end of the vessel-sharing agreement with Maersk in late 2024. MSC in February announced the imminent re-boot of its suspended Far East – Mediterranean service 'Dragon' and an armada of big newbuildings is ready to join the carrier's network in Q1 and Q2. Compared to the 'old Dragon' loop, which was a joint 2M operation, the 'new Dragon' re-boot will likely be an MSC-only offer. A sign of things to come as MSC unilaterally increases capacity."
MSC and Maersk are due to disband their 2M alliance in 2025, and the Danish carrier, having been less aggressive at ordering new ships, will hardly receive any large vessels in 2023 and its new 16,200 TEU methanol-powered ships are only due mid-2024.
OCEAN, the largest carrier alliance in terms of vessel capacity, has gone through a well-timed growth period with numerous newbuildings, primarily from CMA CGM and Evergreen. This year, the alliance partners will only expand moderately with a handful of 13,000-15,000 TEU ships and other mid-sized vessels. OCEAN will return to stronger growth in 2024, when all three partners are scheduled to receive 28 Neo-Panamax ships as well as another seven 24,000 TEU units for OOCL and Evergreen.
THE Alliance's fleet growth will be led by Hapag-Lloyd and ONE, with Hapag-Lloyd receiving a series of high-reefer 13,000-15,000 TEU vessels which the shipping line is expected to deploy primarily on non-alliance north-south routes.
Among the big three alliances, OCEAN's partners are the most evenly matched when it comes to newbuilding plans. All three member carriers will take delivery of many 13,000-15,000 TEU ships, through 2024 and 2025.
Alphaliner said, "The termination of 2M and the end of 2024 will see OCEAN cement its position as the biggest alliance in the market. That is unless the end of 2M will trigger a so far unforeseen seismic shift in the entire alliance landscape in a few years."