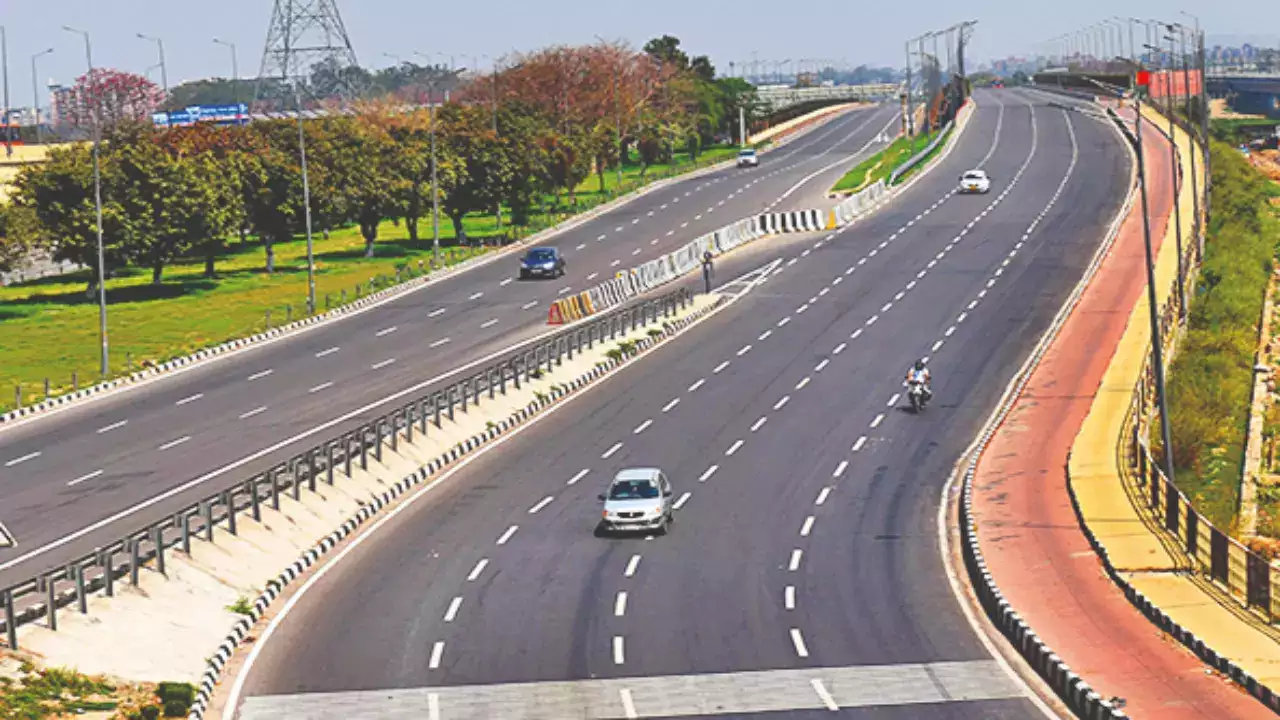 Total 4686 km National Highways sanctioned Rs 60,093 crore by the MoRTH in last 3 years, in the North Eastern Region
NEW DELHI : Government of India is implementing various flagship and other schemes for the development of the North Eastern Region through the respective administrative Ministries/Departments within the approved financial outlays as per scheme design. As per extant policy of the Government, fifty-five non-exempted Central Ministries/ Departments are mandated to spend at least 10% of their Gross Budgetary Support (GBS) for Central Sector and Centrally Sponsored Schemes in the North Eastern Region (NER) for the overall development of the region including infrastructure development. Under 10% GBS, an expenditure of Rs.3.01 lakh crores has been incurred by these Central Ministries/ Departments since financial year 2017-18. The year-wise details of Budget Estimates, Revised Estimates and Actual Expenditure under 10% GBS since financial year 2017-18 is given below:
Year-wise details of Budget Estimates, Revised Estimates and Actual Expenditure under 10% GBS (Rs. in crore)
Year
Budget Estimate
Revised Estimate
Actual Expenditure
2017-18
43,245
40,972
39,753
2018-19
47,995
47,088
46,055
2019-20
59,370
53,374
48,534
2020-21
60,112
51,271
48,564
2021-22
68,020
68,440
70,874
2022-23
76,040
72,540
47,785*
Total
354,782
333,685
301,565
Source: Statement 11 of Union Budget of various yearsNote: Actual Expenditure figures are provisional and subject to vetting of Ministry of Finance.* Total GBS expenditure of all 55 Ministries/Departments for the current year 2022-23 up to the end of Third Quarter i.e. 31.12.2022.
Several infrastructure development projects have been taken up by the concerned central Ministries and Departments in North Eastern Region (NER) for their development, which, inter-alia, include:
A total of 4686 km of National Highways have been sanctioned by Ministry of Road Transport & Highways in NER in the last 03 years amounting to Rs. 60,093 crores. Major ongoing Capital Road Connectivity projects in NER include 4 laning of Dimapur-Kohima Road (77.87 km) in Nagaland; 4 laning of Nagaon bypass to Holongi (167 km) in Arunachal Pradesh; Alternate two-lane Highway from Bagrakote to Pakyong (NH-717A) (152 km) in Sikkim; 2 laning of Aizawl–Tuipang NH-54 (351 km) in Mizoram; 4 laning of Imphal–Moreh section of NH-39 (20 km) and 2-laning of 75.4 km in Manipur.
In addition, the Ministry of Development of North Eastern Region under North East Special Infrastructure Development Scheme (NESIDS) and North East Road Sector Development Scheme (NERSDS) has sanctioned 77 road projects amounting to Rs.3372.58 crore.
19 railway infrastructure projects, falling fully/ partly in North Eastern States, covering total length of 1909 km at a cost of Rs. 77,930 crore have been undertaken during the last three years and are at different stages of planning/ approval/ execution. Out of these, 409 km length has been commissioned and an expenditure of Rs. 30,312 crore has been incurred upto March 2022.
Ministry of Civil Aviation has launched Regional Connectivity Scheme
(RCS)- UDAN (Ude Desh ka Aam Nagrik) on 21.10.2016 to enhance regional air
connectivity across the country from unserved and underserved airports in the
country and making air travel affordable to the masses.
Airports at Rupsi, Tezu, Tezpur, Pasighat, Jorhat, Lilabari, Shillong, Pakyong,
Itanagar & Dimapur involving 64 routes have been operationalized under UDAN in the North Eastern Region. There were 9 operational airports in 2014 in the North East Region. Presently, there are 16 operational airports in the North East Region. Additionally, Advanced landing Ground at Ziro has also been operationalized.
During the last three years, 4 Waterway projects/works costing Rs.1040.71 crore have been sanctioned in North Eastern Region, details of which are as under:
| | | |
| --- | --- | --- |
| Sl. No. | Project /Work | Cost(Rs.in cr.) |
| 1 | Comprehensive Development of NW-2 (River Brahamputra) | 474 |
| 2 | Comprehensive Development of NW-16 (River Barak) | 148 |
| 3 | Construction of Ship Repair Facility at Pandu (Guwahati) and development of Alternate Road Connectivity to Pandu Port (River Brahmaputra) | 388 |
| 4 | Development of IWT on river Khawthlangtuipui- Tuichawng in Lunglei District, Mizoram | 6.18 |
| 5 | Development of Inland Water Transport on Gumti River in Tripura | 24.53 |
| | Total | 1040.71 |
Department of Telecommunications has undertaken several projects in the North Eastern States for strengthening telecom connectivity in the region, the Projects are as follows: (i) Arunachal Pradesh and 2 Districts of Assam Project: The project cost is Rs 1255.59 crore, (ii) Meghalaya Project: (iii) A total of 1358 towers have been commissioned, (iv) BharatNet project is being implemented in a phased manner to provide broadband connectivity to all Gram Panchayats (approx. 2.6 lakh) in the country: (v) A pilot project for rolling out of 5 Lakh FTTH connections in GPs /villages across the country (including NER) using BhartNet through BharatNetUdyamies (BNUs) with financial support from USOF is being implemented by BSNL. As on 14-03-2023, total 2,04,170 FTTH connections have been provided under the pilot project across country & (vi ) 4G saturation Project: Under this project 24680 uncovered villages across the country are proposed to be covered with 4G services. It also includes upgradation to 4G service of existing 2G/3G sites at 6279 villages. These include 5665 villages of North East Region.
Power Sector
Ministry of Power has also undertaken power generation (hydro/ thermal) projects since 2014 in the North Eastern States. Further, the transmission and distribution network has also been strengthened. 03 Hydro Electric Projects (above 25 MW) 740 MW have been undertaken in the North Eastern States. A Gas based Power Project in the State of Assam viz. Lakhwa Replacement Power Project of 69.755 MW capacity (7 x 9.965 MW) by M/s Assam Power Generation Corporation Ltd. was commissioned on 14.02.2018. Further, Power Grid Corporation of India Ltd. (PGCIL) is executing two major Intra State power transmission and distribution schemes viz. (i) North Eastern Region Power System Improvement Project (NERPSIP) for Six States (Assam, Manipur, Meghalaya, Mizoram, Tripura and Nagaland) for strengthening of the Intra-State Transmission and Distribution Systems (33 kV and above) at an estimated cost of Rs.6,700 crore; and (ii) Comprehensive Scheme for Strengthening of Transmission and Distribution System in Arunachal Pradesh and Sikkim sanctioned at an estimated cost of Rs.9,129.32 crores.
In addition, the Ministry of Development of North Eastern Region under North East Special Infrastructure Development Scheme (NESIDS) have sanctioned 06 power projects amounting to Rs. 273.01 crore.
In the renewable power sector, a total generation capacity of 578.54 MW has been installed in the North Eastern Region and Sikkim.
In addition to above, Govt. of India has undertaken "Yuva Sangam" initiative to strengthen people-to-people connect specially between youth belonging to NER and other States and Parampara (Tradition), Pragati (Development), Prodyogiki (Technology) and Paraspar Sampark (People-to-People connect).