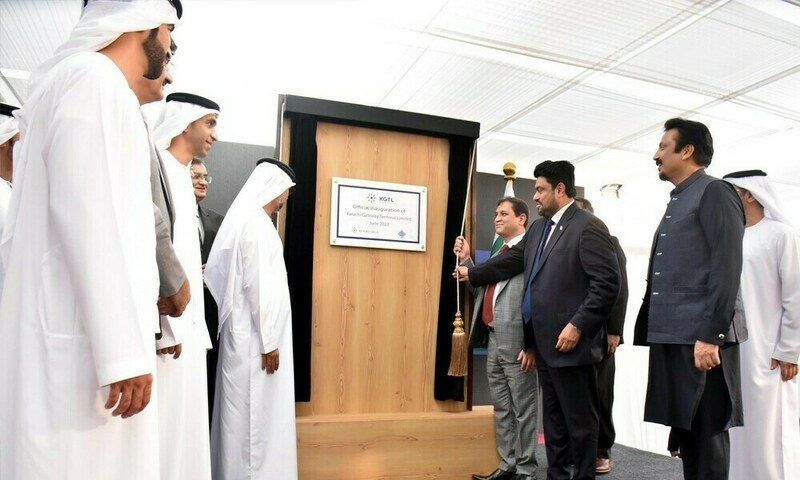 UAE to pay $102 million over five years to operate Karachi Port Terminal 
ISLAMABAD : Abu Dhabi Ports signed 50-year concession deal with Karachi Port Trust in June for handling port terminal. Joint venture will see investment of $220 million in Pakistan over first 10 years, the maritime ministry says.
The United Arab Emirates will invest $102 million over five years to develop and operate a bulk and general cargo terminal at Karachi port, minutes of the Senate Standing Committee on Maritime Affairs released on Friday said.
UAE's Abu Dhabi Ports (AD Ports), a leading port operator, signed a 50-year concession agreement with the Karachi Port Trust (KPT) in June for the handling of one of its port terminals in Karachi.
Under the agreement, the Pakistan International Container Terminal (PICT) has been handed over to a joint venture (JV) between AD Ports Group, a majority shareholder, and Kaheel Terminals, a UAE-based company, formed to manage, operate and develop the Karachi Gateway Terminal Limited (KGTL) at berths 6-9 at Karachi Port's East Wharf.
The joint venture will see an investment of $220 million in Pakistan over the first 10 years.
Pakistan's Senate Standing Committee on Maritime Affairs met on Thursday for a briefing on the concession agreement with Abu Dhabi Port.
"It was briefed that the concession periods for the agreement is 25 years with USD 18.00 per cross berth move and a ground rent of PKR 1,100 square meters per annum and upfront payment of USD 50 M," the minutes of the meeting revealed.
"It was briefed that an investment of USD 102 M will be made in next five years by the terminal operator."
Pakistan says the handling of its port terminal by the Abu Dhabi Ports will increase the South Asian's nation's revenue generation by up to $7 million a year and pave the way for an additional $2 billion investment in its maritime sector.
The joint venture will include significant investments in infrastructure and superstructure over the next 10 years, with the bulk of it planned for 2026, according to AD Ports. Development works include the deepening of berths, an extension of quay walls, and an increase in the container storage area. As a result, the terminal will be able to handle post-panamax class vessels of up to 8,500 TEUs (Twenty-Foot Equivalent Units) and container capacity will increase from 750,000 to 1 million TEUs per annum.
The UAE port operator had also expressed interest in investing an additional $2 billion in Pakistan, including in a railway link between the country's two main ports.
The port deal comes at a time when Pakistan, reeling from an economic crisis, is desperately looking for external financing.
In June Pakistan set up the Special Investment Facilitation Council (SIFC), a civil-military forum, to attract foreign funding, especially from Gulf countries, by streamlining bureaucratic procedures and improve investment climate for businesses looking to set up operations in Pakistan.
The SIFC has prioritized five key sectors for attracting investment: agriculture, mining, information technology, defense production, and energy.