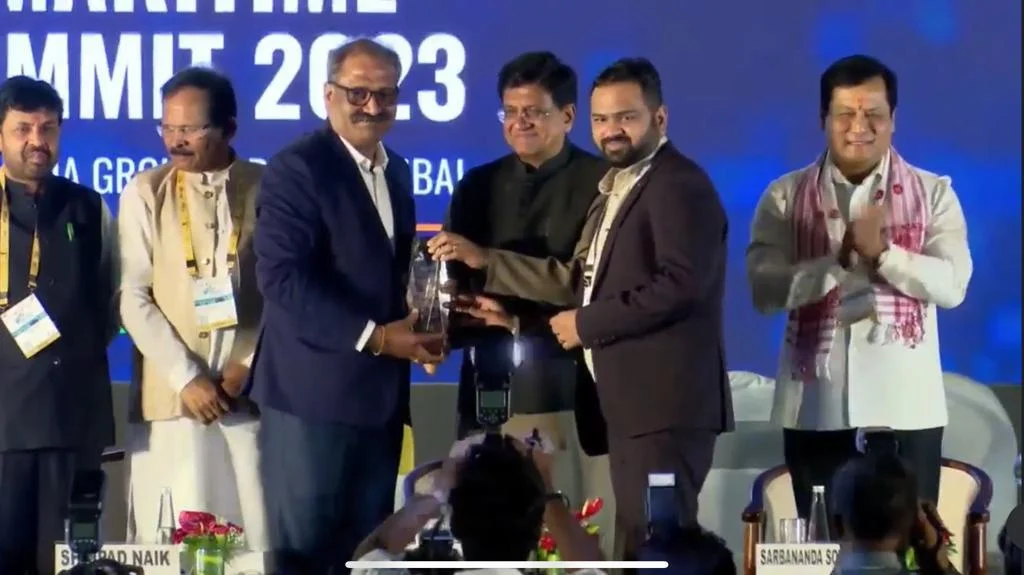 Unifeeder honored with the 'Multimodal Category Award' at Global Maritime India Summit 2023
MUMBAI : During the three-day summit, many Indian ministers, government officials and international maritime communities discussed and deliberated key issues of the maritime sector – emphasizing the importance of the Indian maritime sector and the need for collaboration to achieve sustainable growth – Shri Narendra Modi, Honorable Prime Minister of India, inaugurated the summit on 17th October 2023.
The summit was a flagship event aimed at propelling the Indian maritime economy by promoting global and regional partnerships and facilitating investments.
Regionalization, Nearshoring and Extensive Networks make the difference
We were actively involved in the event, with our Group CEO Jesper Kristensen, serving as a speaker in one of the sessions. Jesper shared his insights on the implications of regionalization and nearshoring on shipping networks, highlighted the importance of multimodal logistics to India, and explained the advantages of trade and connectivity. He also talked about decarbonizing the maritime sector, a key issue for the industry.
Honored with the Multimodal Category Award
Avana Logistek Ltd – Unifeeder Group (Part of DP World) was honored with the Multimodal Category Award – Maritime Exellence Achievers 2023, according to a release.
As pioneers in Indian coastal containerized trade, we are proud to have developed an economical and environmentally friendly multimodal transportation mode in India. Despite facing many challenges in the past, we have continued to dominate the market and maintain a 52% market share in the domestic coastal container cargo business.
We express our sincere gratitude to all internal and external stakeholders who have supported us throughout our journey. The recognition is a token of appreciation for our past efforts and a push factor for our future endeavors. We thank all our esteemed customers, vendors, service providers, and associates for their continuous support and trust in us over the last 20+ years, and we look forward to providing sustainable services in the coming decades, said the release.

With an extensive network, we cater to more than 23,000 customers and extend our reach to over 2,000 inland destinations, connecting seamlessly with the major ports along both the eastern and western coasts of India.
In summary, a very fruitful event where we had the opportunity to share our expertise and perspectives on the latest trends in shipping and maritime logistics, explore collaborations with domestic and foreign partners, and gain exposure to global best practices. We look forward to continuing our efforts to support the growth of the Indian maritime economy and the industry as a whole, the release added.