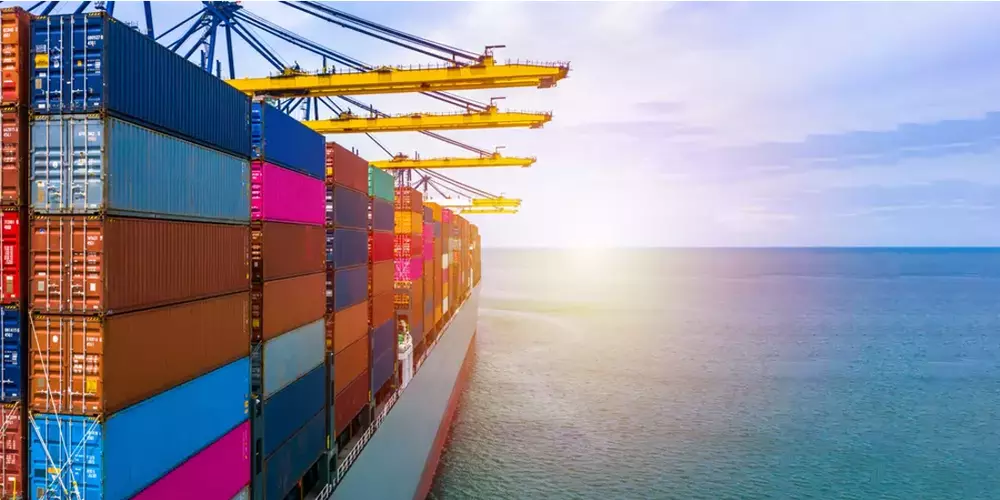 Freight rate slide on trades out of India continues amid persistent demand pressure
MUMBAI : Container freight rates across trades out of India have seen no noticeable recovery signs for carriers in October, according to the latest market analysis by a foreign based News Agency.
On the westbound India-Europe trade, average short-term contract rates from West India [Jawaharlal Nehru Port (JNPT)/Nhava Sheva or Mundra Port to Felixstowe/London Gateway (UK) or Rotterdam (the Netherlands) have fallen to US$600 per 20-foot container and US$675 per 40-foot container, from US$650 per 20-foot container and US$700 per 40-foot container at the end of September.
For West India-Genoa (the West Mediterranean) bookings, October contract rates have crashed to US$550/TEU, from US$800, and US$600/FEU, from US$750, according to the analysis.
However, eastbound cargo (imports into India) rates for these port pairings have remained steady, month-on-month – hovering at US$600/TEU and US$650/FEU for bookings from Felixstowe/Rotterdam to West India and US$350/TEU and US$500/FEU for shipments from the West Mediterranean (Genoa) to Nhava Sheva/Mundra.
Short-term contract prices on the India-US trades have cooled measurably from end-September levels, indicating the persisting demand pressure for major carriers. Average rates in October for shipments from West India (Nhava Sheva/Mundra) to the US East Coast (New York) have dropped to US$1,500/TEU, from US$1,700, and to US$1,700/FEU, from US$2,100/FEU in September. For Indian container loads moving to the US West Coast (Los Angeles), rates are down to US$1,600/TEU and US$1,850/FEU, from US$1,600/TEU and US$1,700/FEU reported last month.
For the West India-US Gulf Coast (Houston) trades, there has been an 8% decline in rate levels, month on month, down to US$1,700/TEU and US$2,350/FEU, according to the analysis.
Short-term contract rates on the US-India trades (return leg) have continued to remain at the averages seen in September, at US$475/TEU and US$550/FEU from the US East Coast to West India, and at US$1,000/TEU and US$1,150/FEU for US West Coast-West India bookings.
August average rates from the US Gulf Coast to West India have also held firm at US$800/TEU and US$1,100/FEU.
Carrier contract rates on intra-Asia trades out of India have seen further declines in October, from the September averages, the analysis found. For West India-Yantian (South China), the analysis has put average rates at US$100/TEU and US$200/FEU, down from US$115 and US$230, respectively, while for West India-Shanghai (Central China), rates have continued to be in negative territory, with carriers quoting US$5 for both TEU and FEU loads.
For West India-North China (Tianjin) trades, October rates have seen a further slide, slipping to US$50/TEU and US$100/FEU, from US$65/TEU and US$125/FEU reported in September.
Similarly, for Indian cargo to Singapore and Hong Kong, there seems to be no letup in the rate slide, with carriers accepting bookings at as low as S$5 for both TEU and FEU bookings, according to the analysis.
Rates have also sunk on the India-Middle East trade because of significant capacity additions. Average October prices for a TEU booking West India (Nhava Sheva/Mundra)-Jebel Ali/Dubai shipments have plunged to US$5/TEU and US$20/FEU, from US$45 and US$90, respectively, in September.
However, there are some hopeful signs for supply chain stakeholders, as the pace of Indian export trade declines slowed last month. According to the latest government data, the country's outbound goods flow by value in September saw a 2.5% drop year-over-year, after a 7% decline in August.
"Sluggish global economic growth and demand especially in major economies like the EU, the UK and China, coupled with the subdued growth in economies like the US and Australia, has led to such declining trends in exports once again though the downward movement has largely been arrested," Dr. A Sakthivel, President of the Federation of Indian Export Organisations (FIEO), said in a statement.
Sakthivel added, "Manufacturing across the Euro Zone and the US has also contracted due to persistent policy tightening measures, but with both the US Fed and UK Central Bank pausing the interest rates, the demand is expected to rebound from October onwards."
He also pointed out, "Further, with the economic outlook for Asia and the Pacific remaining upbeat and the region's developing economies expected to grow 4.7% in 2023 and 4.8% in 2024, it may lead to demand picking up from these regions and countries also."
Sakthivel went on to explain, "The softening of commodity prices across the globe has also pulled down value-wise exports. All these have also led to decline in exports of China in recent months, even contracting by more than 6 percent during September 2023."
The FIEO chief has called for free trade agreements (FTAs) with more countries, particularly the UK and EU, to boost the trade potential for exporters.