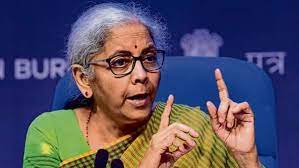 Use technology to catch big fish in illegal cross-border trade, FM Nirmala Sitharaman tells probe agencies
NEW DELHI : Finance Minister Smt Nirmala Sitharaman on Monday told global customs authorities to use technology to nab the big fish in illegal cross-border trade and to share information among themselves to bring large smuggling networks to book.
The minister told delegates at a global conference on cooperation in enforcement matters in Delhi that a collective effort by all agencies was needed to bust these networks, given the technology and skilled manpower that they deploy. Senior officials from India's Central Board of Indirect Taxes and Customs, Central Board of Direct Taxes (CBDT) and the Directorate of Revenue Intelligence, the anti-smuggling agency, attended the event.
The minister said it was important for all governments to know how to deter illegal activities such as smuggling, and bust the notion that small fry can be sacrificed but the brains behind these illegal activities won't be caught.
Availability of technology gives investigative agencies an advantage in deterring such activities, she added. "When I say technology is available, [I mean] it should go hand in hand with intelligence and information sharing, which should be actionable," the minister said, adding that in many cases, information that reaches the authorities is not actionable.
She said the nature of smuggled has not changed over the last 50 to 60 years. "It again seems to be precious metals, narcotics, and precious reserves from the forest or marine life. The goods which are getting illegally traded largely remain the same. Now, if this is the trend over the decades, by now, I think most of us should be fairly informed of who are the forces behind it. So I placed a lot of emphasis in inter-governmental cooperation along with the World Customs Organisation, so that we are able to crack the masterminds behind it with help of local authorities and government," Sitharaman told the delegates.
Sitharaman acknowledged this would not be easy but urged the agencies to show dedication in bringing these networks down and instilling confidence in people's minds that such activities will be punished.