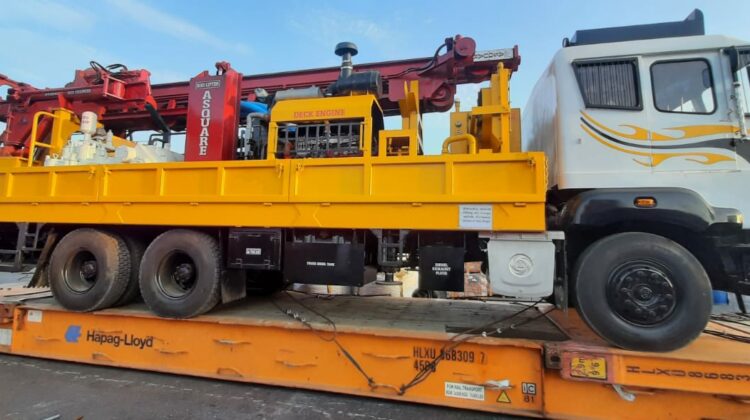 Velji Dosabhai handles a remarkable ODC Shipment at Mundra

---
MUNDRA : Velji Dosabhai & Sons Pvt. Ltd. (VDSPL), a well established Custom Broker & Freight Forwarder in India since last 9 decade, recently handled a remarkable ODC consignment at Seabird CFS, Mundra. The ODC consignment was a Drilling Machine with Truck which weighs 31 Mtons and was over width and over height by 30.48 CMS and 386.02 CMS respectively. The consignment exported to Mombasa and VDSPL have successfully completed all the needed tasks and processes and is now planned to take its onward journey on Marie Delmas ETD 30/08.
Handling and transporting Over Dimensional Cargo (ODC) requires in-depth understanding and experience along with passion to take up such challenging tasks. We at, Velji Dosabhai & Sons Pvt. Ltd. (VDSPL) bring that for you along with peace of mind. Once you assign us the job; it's our baby – our responsibility.
Just like your general containerised cargo or your LCL and AIR shipments, we handle ODC for you just like that with our dedicated team who has the needed expertise and understanding of all the rules and regulations to handle such ODC cargo right from client's factory to port to Gate-In. However; needless to say, it requires special handling as it gets with it, all the operational challenges, twist and turns and all of which is vulnerable to uncalculated and unfactored circumstances which may crop up at the 11th hour when you least expect it.
Team VDSPL gets you 9 decades of experience which stands true by our motto, where service is a way of life… we have all the needed infrastructure and team strength to handle, load and unload such ODC cargo from point to point to provide seamless experience and best solutions.
VDSPL Team takes this opportunity to thank Custom Department and CFS Officials at Seabird Mundra for all their support and cooperation in handling the said consignment.
---