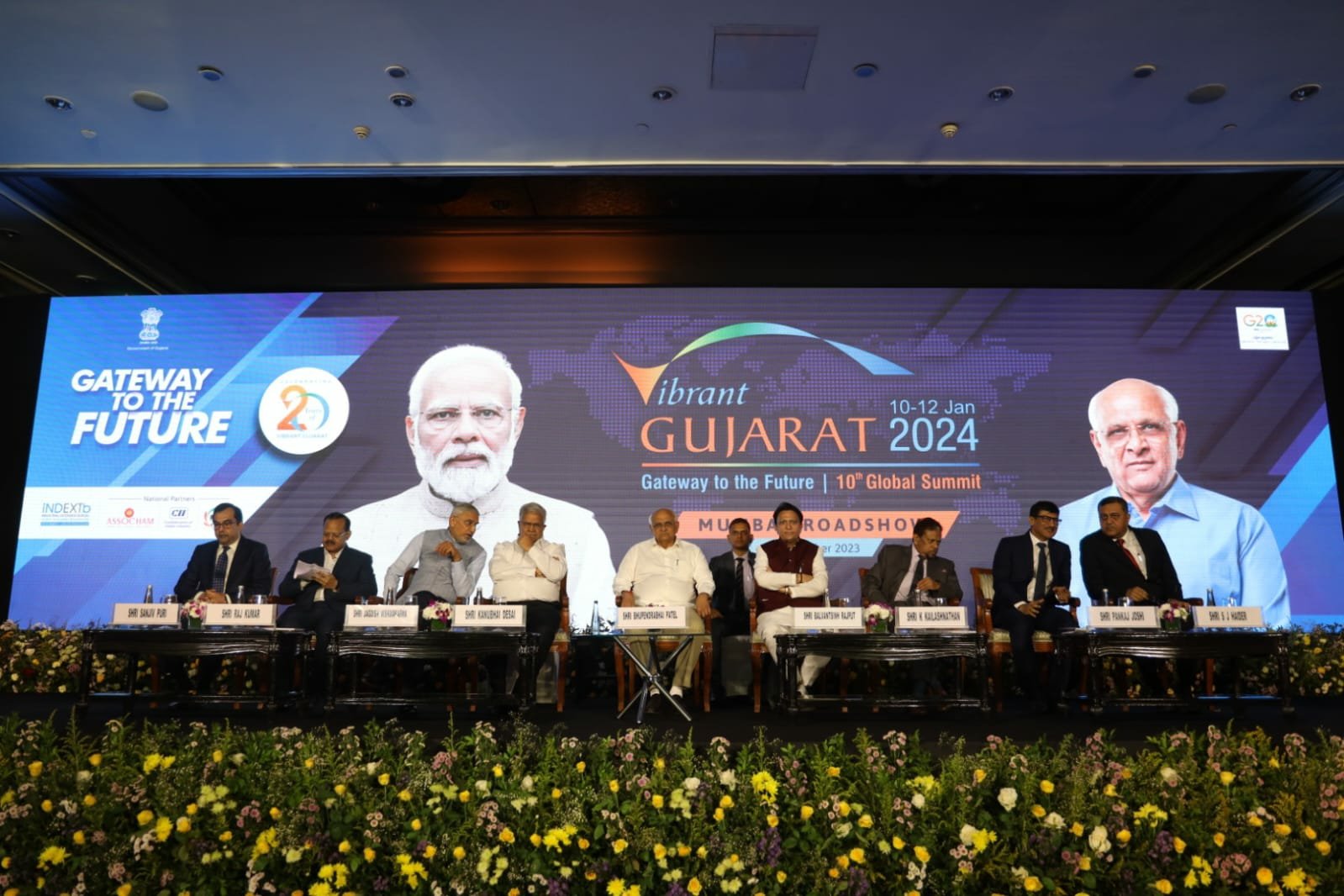 Vibrant Gujarat will further strengthen partnership between Mumbai and Gujarat : Gujarat CM Bhupendra Patel
MUMBAI : Hard-selling GIFT City, Dholera Special Investment Region (SIR) and Dream City projects in Gujarat to investors in Mumbai on Wednesday, Gujarat Chief Minister Shri Bhupendra Patel said the upcoming 10th edition of the Vibrant Gujarat Summit will "further strengthen the partnership between Gujarat and Mumbai."
"Gujarat and Mumbai are two important pillars of India's economy. While Mumbai is known as the country's financial capital, Gujarat has become the most preferred investment destination in the country. There are many development projects for which Mumbai and Gujarat are cooperating, and both will benefit when they are completed. For instance, after the Mumbai-Ahmedabad high-speed rail corridor is commissioned, it will not only boost infrastructure development and economic activities, but it will also lead to cooperation at a social level," said Patel while addressing a curtain raiser event connected with the Vibrant Gujarat summit scheduled to be held on January 10-12, 2024.
Patel stressed that both Mumbai and Gujarat are also known for their diamond trade, and once the Delhi-Mumbai Industrial Corridor project is completed, it will help in faster movement of goods for both Gujarat and Mumbai. "I believe that the 10th Vibrant Gujarat summit will further strengthen this partnership (between Gujarat and Mumbai)," he added.
The chief minister also told businessmen and industrialists present at the event that Vibrant Gujarat summits held since 2003 have helped in the growth of the state's economy. "Vibrant Gujarat, the brainchild of Prime Minister Shri Narendra Modi, has played an important role in establishing Gujarat as a role model of development. Due to this, Gujarat has gained huge success with the growth of GSDP during the last two decades. The economy of Gujarat in 2002-03 stood at Rs 1.42 lakh crore, which has grown at 15 per cent CAGR to Rs 22.61 lakh crore in 2022-23," he said.
"Till 2027, we have targeted a 14 per cent CAGR growth for sectors like semiconductor, hydrogen batteries, EV Manufacturing, pharmaceuticals, technical textiles and textile and apparels. Similarly, we have targeted a 16 per cent CAGR growth for IT and ITES services, financial sector, aircraft leasing, climate financing, healthcare, tourism and hospitality services, logistics," Patel added.