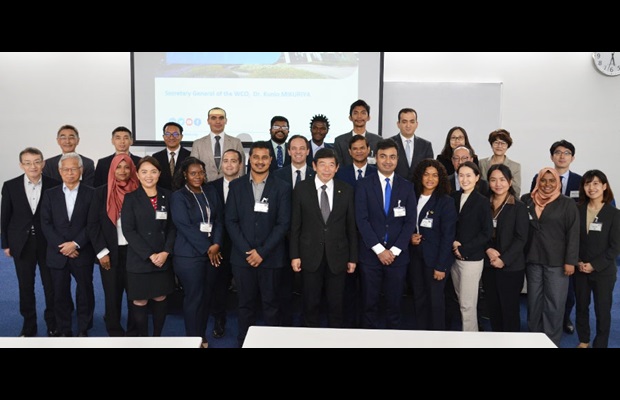 Leading-edge lecture by WCO Secretary General to WCO scholars in Japan
BRUSSELS : On 13 October 2023, the Secretary General of the World Customs Organization (WCO), Dr. Kunio Mikuriya, delivered a special lecture to WCO scholars studying at the National Graduate Institute for Policy Studies (GRIPS) in Tokyo, Japan.
The lecture was attended by 21 scholars from the Japan-WCO Scholarship Programme, who are following the Master's Degree Programme in Public Finance at the GRIPS or in Strategic Management and Intellectual Property Rights at the Aoyama Gakuin University (AGU).
Secretary General Mikuriya briefed them about the WCO's current areas of work, including supply chain realignment, fragile borders, e-commerce, digital technology, Green Customs, and organizational development. The importance of human resource development in Customs was also underscored, and the Scholarship Programme makes an important contribution in this respect.
Dr. Mikuriya concluded by acknowledging the role scholars can play in Customs modernization efforts in their respective home administrations, encouraging them to demonstrate their leadership skills upon their return.
The Secretary General's visit and lecture provided a valuable opportunity for the scholars to learn about the latest WCO policies and activities and to gain an understanding of how the WCO is assisting its Member administrations in their missions.