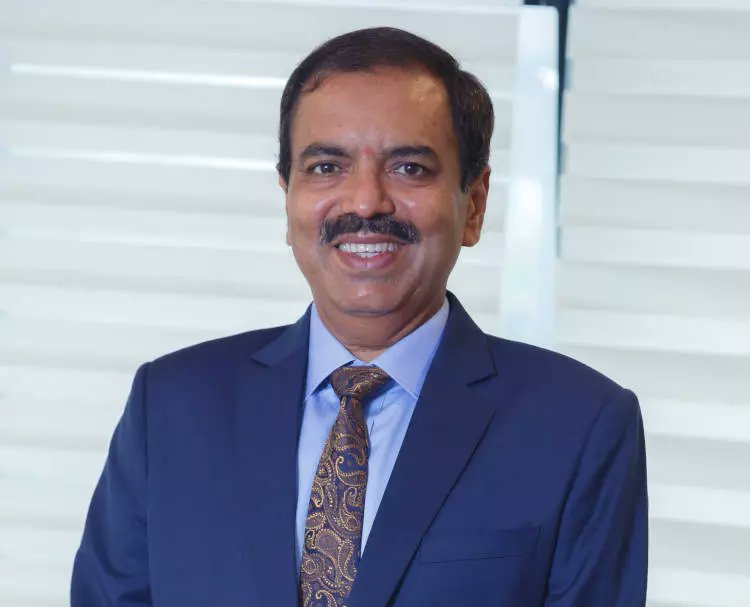 We have to wait and see how things pan out in EXIM sector: V Kalyana Rama, CONCOR
NEW DELHI : As of now we started our year with a target of 10% growth, but we have to wait and see how the things will pan out in this EXIM sector. Domestic, we are getting good demand and we are hopeful that in domestic we will be able to grow. But EXIM, we are waiting for the export-import scenario to get clear," says V Kalyana Rama, Chairman & MD, CONCOR.
Excerpts from an Interview

Q : Let us talk about your earnings and this is the second straight quarter where the volumes have been impacted by the EXIM businesses. Do you expect a single digit growth in EXIM container volumes for H1 FY24 and this due to the global slowdown by any chance?
A : Yes, as of now, exports are not very encouraging but I cannot predict it for the whole year because people are expecting the things to improve. But as we see the headwinds in the Western markets are not very good. We are facing headwinds for the exports going from India, except for the primary agro products.
So we are waiting but as of now we started our year with a target of 10% growth, but we have to wait and see how the things will pan out in this EXIM sector. Domestic, we are getting good demand and we are hopeful that in domestic we will be able to grow. But EXIM, we are waiting for the export-import scenario to get clear.
Q : Like you were mentioning that domestic is still holding strong and in Q4 we have seen a good performance of the domestic business. But at the same time, if we see, then this segment has less margins as compared to the EXIM business. So on the consolidated basis any guidance on the margins going ahead?
A : Before giving guidance, let me tell you what we are working on domestic. You are absolutely right that domestic is not having as good margins as EXIM.
But in the revenue, if we see our domestic revenue percentage it is increasing year on year. So to get more margins, we are trying to add a lot of value-added services into the domestic.
We started first mail, last mail logistics. We started business support solutions. Now we started new products. So we call it material handling methodologies. Bulk cement we are handling in normal containers that is a very new product and it is picking up.
So with these value-added services, we are trying to improve upon our margins in domestic and also we are trying to get into the distribution logistics very soon.
It is in a PPP model where the ROC will be very high because it is no investment from our side, asset-light model. With this, we are trying to increase the margins on domestic side so that our overall margin what we are operating, we will be able to maintain. It is a tough task.
So, going forward, there may be a little strain on the margins but overall I expect the margins in this year to be maintained. We are working towards that because in EXIM, we started doing double stack direct from our depot. We got a depot called Dadri in Delhi, NCR region that is now connected directly to DFC (Dedicated Freight Corridor). And now we are not going through hub. Earlier we used to go through the hub of Kathuwas. Because of this, there is a lot of interest generated. The transit times have come down.
So, there is a very good interest developed among the customers because it is better than road movement now, even for light community cargos, time-sensitive cargos everything will come on to Dadri.
Even we started doing reefer double stack also. So, a lot of new products we are introducing into the EXIM sector.
With all that, we will be able to maintain our volumes in EXIM that will maintain our margins. So to go with at the beginning of this financial year, the guidance will be that we will try to maintain our margins. There may be, yes, it is a tough task, so there may be little pressures on margins, but our aim is to maintain the margins.
Q : Given the fact that you are hoping to maintain margins but the Street is also expecting that the company is a key beneficiary of the real containerization. If you could tell us what are the synergies and the revenue potential ahead for this?
A : That is what in the business we are there for the last 30 years. See that is what I am telling. See in domestic, we are seeing good growth that is where the containerization will come in. Exports, whatever exports earlier going on, they are going on in containers only because the western countries, they accept goods more in containers rather than in the break bulk and bulk mode.
So there the growth will come with the export-import scenario.
How we are able to do well in our exports or how much we are importing, that decides the volumes whereas in domestic, the more and more goods can be containerized.
So to answer your question, see in the domestic side, there is a very good growth potential. With the new methods and the new products we are bringing into containers, there is a huge scope, like the bulk cement which I talked of, the handling of commodities in bulk in normal containers.
If you ask me what is the size of the market, the size of the market is 400 million tons. And how much has been tapped, if you ask me, that is not even 10%.
So there is a huge market there to explore, to capture. It is a virgin market. There are certain headwinds for this, the container availability, because now we are encouraging Atmanirbhar Bharat in India and we are importing containers.
The ecosystem we are developing, the container shortage is there for domestic movement for us as of now. We are working along with railways and various other industrial units to overcome the shortage.
We are working on all these things. So there is definitely the market available, cargo is there, now we have to tap it. We are working on that.
If we look at the past, so the company stated that the approval of the new land license fees policy will also help into the implementation of PM Gati Shakti scheme. I just wanted to know what is the update on the implementation of the Gati Shakti policy could you just give us the suggested timelines?
I do not think I made any announcement or company made announcement like that, that we will be implementing Gati Shakti scheme. We will be working with Gati Shakti scheme, wherever the new terminals are coming up, where we have to use the Gati Shakti, we are definitely using it and at the existing terminals, there is an established business practice.
Maybe we may not require any help of Gati Shakti into that. And going into Gati Shakti, that is a critical business analysis we will be doing, that we are already working on that.
But new terminals, yes, in fact, one new terminal we recently has taken up at a place called Mandalgarh near Kota under Gati Shakti so that we are developing under Gati Shakti.
And even terminals which are not on railway land parcels where we are directly purchasing land parcels and developing, there also we will take the advantage of Gati Shakti in developing all the support services.
So there is no time frame for implementing Gati Shakti for all the terminals. Gati Shakti is a continuous process and the main idea of PM Gati Shakti program is to help logistics improvements and to reduce logistics cost in India.
Source : ET