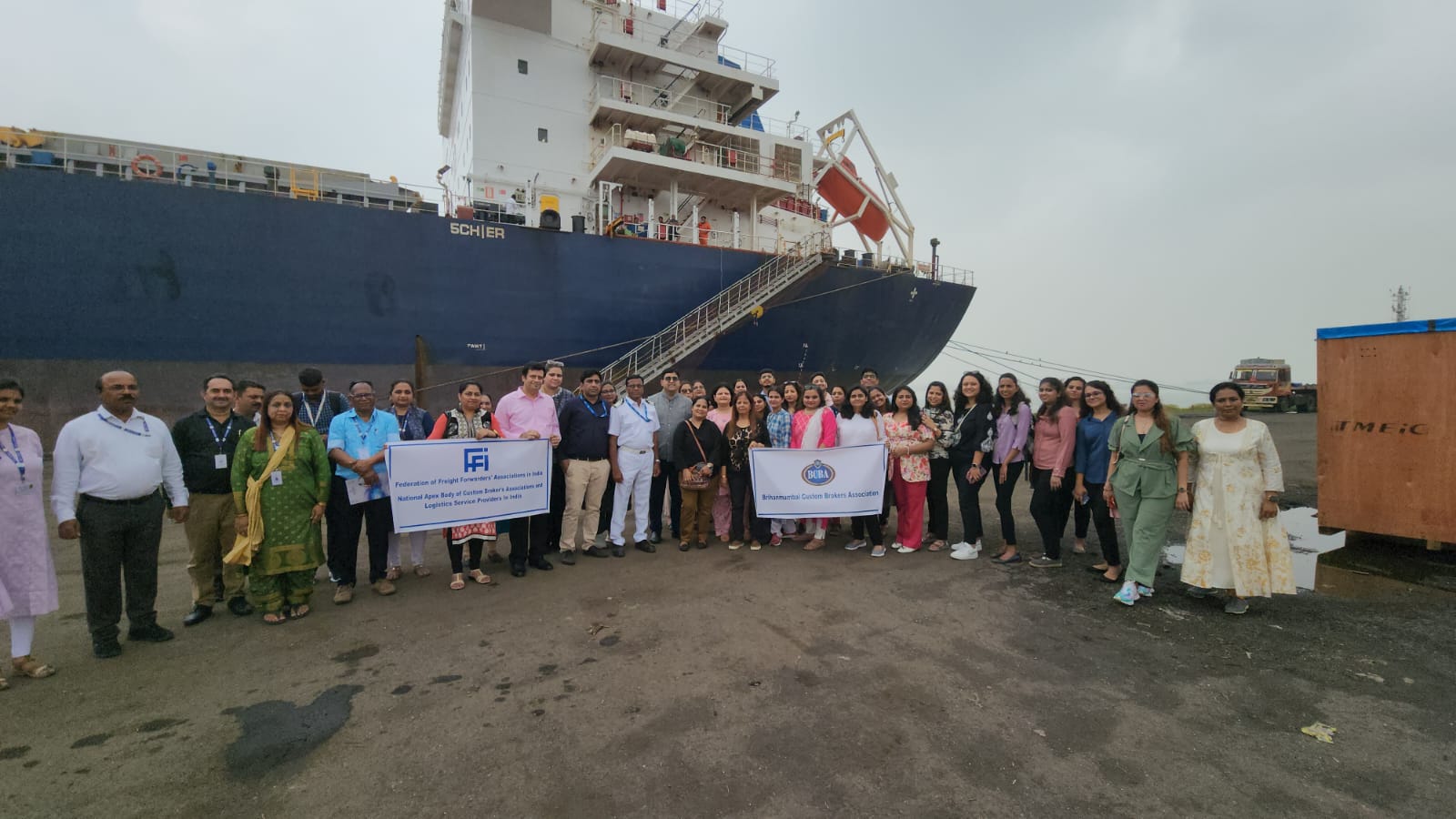 Women's Wing-FFFAI organises visit for their members and APEDA officials to Mumbai Port
MUMBAI : Recently, FFFAI Women's Wing headed by Ms. Chaitaly Mehta, Convenor of the FFFAI Women's Wing interacted with Mumbai Port Authority while visiting the port along with Govt Officials from APEDA (Agricultural and Processed Food Products Export Development Authority) and members of AMTOI (Association of Multimodal Transport Operators of India). It was a record breaking 40-member delegation team.
Mumbai Port Authority celebrates 150 years of operation this year. Started with a very humble beginnings as a trading outpost on 26th June, 1873 Mumbai Port Trust has successfully completed its evolution as one of the main ports and busiest ports of the country playing a very important role in the growth of Mumbai city in India and the country's Maritime Industry. Mumbai Port has the distinction of being the first container port in the country when set up.
According to Mumbai Port Trust officials, some ongoing projects of the Mumbai Port Trust have been SAGARMALA Programme, Mumbai International Cruise Terminal (MICT)– Target completion by Dec 2024, Third Chemical Berth (TCB) at Pir Pau – Target completion by March 2024 and New Fish Jetty at Mallet Bunder – Target completion by October 2025.
Future Projects include monetization of New Sewree Warehouse, Base Oil Tankage at Mallet Bunder, Development of Resort at Thal Khob, Green Cement Terminal at Indira Docks, Logistics Park at Titwala and Development of Mallet Bunder as a Fish Tourism destination.
Future Digital & Automation Projects include Port EBS (Enterprise Business Solutions), AI/ML based Cybersecurity, NLP (National Logistics Portal) Marine, loT-based Connected Tug Boats for movement Tracking & Fuel Monitoring, AI-based Automated Berthing System, Integrated Access Control & Surveillance System, GIS Based EOMS (Estate Operation Management System) and 5G implementation at Port.
Sharing experiences of this visit Ms. Chaitaly stated that the strengths of MbPA could be excellent Infrastructure and Management; excellent Road, Rail, Water and Air connectivity; Multipurpose Port with cargo handling capacity – General Cargo, Project Cargo, Agri Products Handling; Steel Products Handling; Automotive Export Terminal; Oil Terminal and Chemical Terminal – LPG/Crude/POL.
In her opinion, the Port also has excellent Waterways for Coastal Cargo, State of Art Vessel Tracking System and Global Cruise Tourism & Cruise Hub of India with Mumbai International Cruise Terminal and Domestic Cruise Terminal.
She also pointed out that Mumbai Port is now No. 2 port in India for Liquid Handling with 16% market share, Biggest Oil Terminal with Capacity of 22 MMT, Urban Water Transport – providing best Urban Water Transport Facilities to Mumbai.
With a Ship Repair Ecosystem the 'Green Port' is a Hybrid Port – as a hub for Lighterage & Liquid Cargo Handling. Mumbai Port Authority is well known for research & innovation. It is a hub for research, innovation, consultancy & skill development in the port and related sectors.