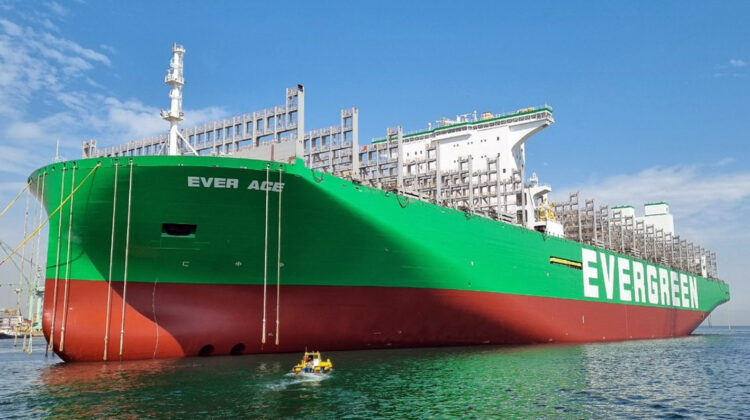 World's largest container vessel, Ever Ace calls at Felixstowe

---
The largest container ship, EVER ACE on her maiden voyage, arrived at Felixstowe, Suffolk, UK. The mammoth vessel is 400m long and has the capacity of carrying 23,992 containers, which is a record capacity among similar-sized vessels. Owned by the Taiwanese shipping company, Evergreen Marine, EVER ACE is the first of the planned series of 12 supersized container vessels.
Built at the Korean shipyard, Samsung Heavy Industries, the vessel left the shipyard on 28th July 2021 and headed for Qingdao, China. The freighter arrived in Hamburg for the first time on 8th September and the admirers there enjoyed its sight till Saturday. EVER ACE crossed Cuxhaven on its way to Hamburg and was in sight from the coast of Gluckstadt.
She will be in Felixstowe till Wednesday and then will leave for Rotterdam. The giant freighter is due to cross the Suez Canal, and all eyes will be on her making the canal transit. This march, Suez Canal was in the news when a giant vessel transiting the canal got stuck and blocked the traffic for almost a week. EVER GIVEN, the vessel that had blocked the canal, is a sister vessel of EVER ACE.
Felixstowe is known for docking some of the giant ocean freighters of the world. Two years back, the port had welcomed MSC GÜLSÜN, which is almost identical to the size of EVER ACE. EVER GIVEN had also arrived at Suffolk last month.
The EVER ACE has attracted many onlookers and ship spotters. Have a look at the photos of the giant ship our community uploaded to FleetMon.com.
Source : Fleetmon
---