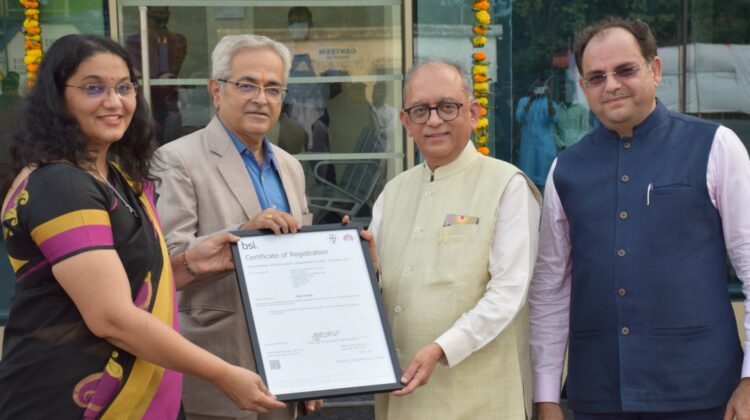 Zodiac Tank Container Terminals gets Certified with ISO 9001:2015, ISO 14001:2015 & ISO 45001:2018

---
MUMBAI : Zodiac Tank Container Terminals Pvt. Ltd. (A Samsara Group Company), one of the most modern ISO Tank Container & Road Tanker cleaning Terminal, providing International standard infrastructure & services, has been accredited with International Standard Organization (ISO) Integrated Management System (IMS) Certification 9001:2015 (Quality Management System), 14001:2015 (Environmental Management System) & 45001:2018 (Occupational Health & Safety Management System) by BSI (British Standards Institute, UK) at a ceremony held on 1st of November 2021, according to a release.
Zodiac Tank Container Terminals Pvt. Ltd. is a strategically located facility which is just 55 km away from JNPT and has an excellent connectivity through New Mumbai-Pune Expressway as well as Old Mumbai-Pune Highway. Zodiac services offerings consists of Cleaning, all types of repairs and testing of ISO Tank Containers and cleaning of Road Tankers with an aim of providing a "One Stop Shop" for globally reputed ISO Tank Operators, Chemical Manufacturers & Logistics Service Providers, the release further added.
Zodiac is First professionally operated, Pollution Control Board approved & ISO certified facility in India to carry out Road Tanker Cleaning, which desired by most Chemical manufacturers having regulatory compliance & commitment towards environment protection as their key objective, it said in release.
Zodiac Tank Container Terminals Pvt. Ltd. is a member of International Tank Container Organization (ITCO), Indian Chemical Council (ICC), All India Liquid Bulk Importers and Exporters Association (AILBIEA), Association of Multimodal Transport Operators of India (AMTOI) & Solvent Extraction Association of India (SEAI).
With accreditation to these prestigious certifications, Zodiac Terminals have reinstituted their mission and commitment to maintaining unmatched standards of high quality, consistent & customer focused services, protecting the environment and considering Occupational Health and Safety of employees. Zodiac Management and team of professionals believe in constant learning, training & continual improvement of processes to ensure that all the learnings of the IMS certification have been amalgamated with their day-to-day operations.