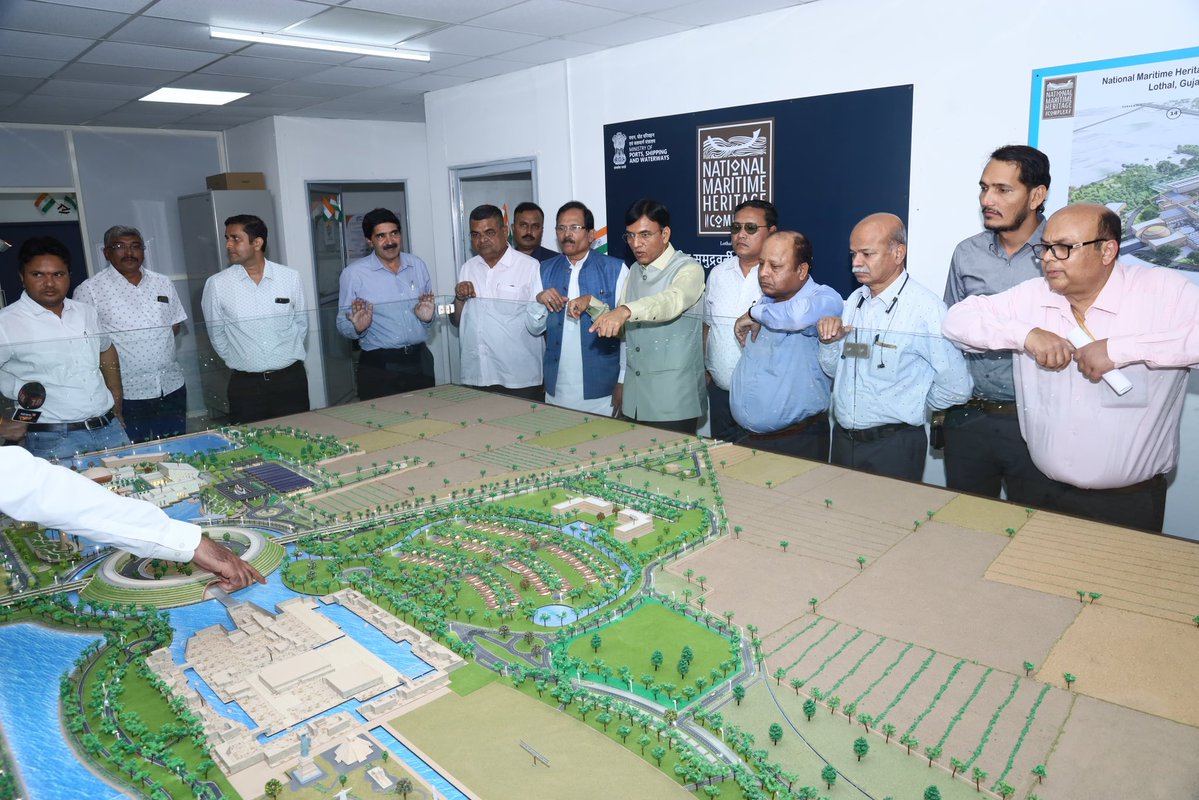 '12 states to set up galleries at Lothal museum; Lighthouse light to be visible even from Ahmedabad'
AHMEDABAD : Union Minister Shri Mansukh Mandaviya chaired a meeting today to review the progress of the National Maritime Heritage Complex (NMHC) at Lothal.
Speaking to the media after the meeting, the Union Minister said, "When NMHC is completed, it will become a project that showcases India's 5,000-year-old maritime power to the nation and the world. The oldest dock in the world is present here in Lothal. 5,000 years ago, we used to trade with the world from Lothal."
"Twelve states will establish their respective galleries in the Maritime Heritage Complex, and a research institute will also be set up here, allowing people from India and around the world to come and study maritime heritage. Unlike traditional museums, NMHC will offer a comprehensive experience. Upon entering, you will step back in time to become citizens of 5,000 years ago. People will don attire from that era and use the same coins that were used in Lothal for trade. Business activities here will mimic the trading patterns of 5,000 years ago," the minister explained.
Mandaviya further said, "The 77-meter-tall lighthouse being constructed here will be visible from Ahmedabad. The light from the tower will also be visible from Ahmedabad. Lothal, the Statue of Unity, and Dholavira will be developed as a corridor, attracting visitors not only from India but also from around the world."
The NMHC will come up on a 400-acre plot of land with a budget of Rs 4,500 crore. The first phase of the project is likely to be inaugurated in January 2024. It will serve as a showcase of the 5,000-year history of the ancient dockyard from the Indus Valley civilization located in Lothal. Additionally, it will feature a 77-meter-tall lighthouse with a viewing gallery at a height of 65 meters. The complex will also house a museum, an open aquatic gallery, and an extensive naval museum. The project involves Memorial theme park, Maritime and navy theme park, Climate theme park and Adventure & Amusement them park.