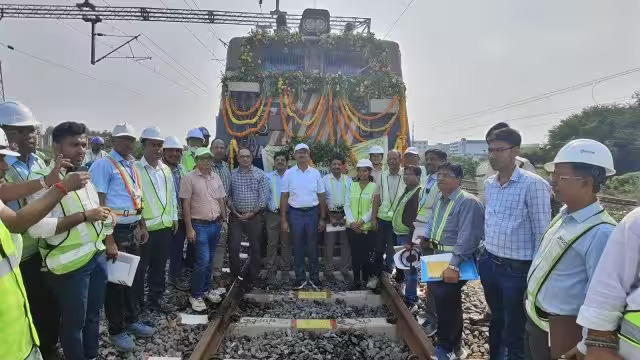 DFCCIL conducts trial run of goods train on freight corridor in Gujarat
SURAT : The Dedicated Freight Corridor Corporation of India Limited (DFCCIL) conducted a successful trial run of a goods train on the newly constructed electrified section connecting Gothangam in Surat district to Makarpura in Vadodara city, calling it "a major step" in enhancing the country's rail infrastructure and boosting freight transportation capacity.
At a cost of approximately Rs 3,644 crore, the new railway section, spanning 117 km and passing through Surat, Bharuch and Vadodara districts of Gujarat, has been completed with a successful trial run, DFCCIL said in a release on Monday.
"With this, out of 1506 km of the Western Dedicated Freight Corridor (WDFC) route, 1,279 km has been completed. As a result of this, load on the existing important busiest main line of Mumbai-Delhi route will be reduced significantly. It will lead in increasing freight capacity, economic growth, efficiency and speed of existing rail network as it is automatic signalling with state of the art electronic interlocking system and level crossing free movement on IR and DFCC network, which will boost new passenger trains capacity on the existing rail network and subsequently more time for maintenance," it added.
The DFCCIL's Gothangam to Makarpura section has 240 minor and major railway bridges, including one major bridge on the Narmada river in Bharuch, spanning 1.3 km — also the longest bridge WDFC, which has been illuminated with architectural lighting.
"This portion of DFCC route crosses the historical Dandi Path (of Mahatma Gandhi's Dandi March) at four locations out of which one at Tham Village has been decorated with the memories of Dandi March. The section of the corridor has no level crossings as it either has an underpass or overbridge to cross the road traffic," DFCCIL said.
The section also has a Japanese train protection and warning system and a European GSM-R for emergency communication and train control and data communication. It also boasts a feeding system for long-haul and heavy-haul operations with reduced energy losses, among other modern technologies.