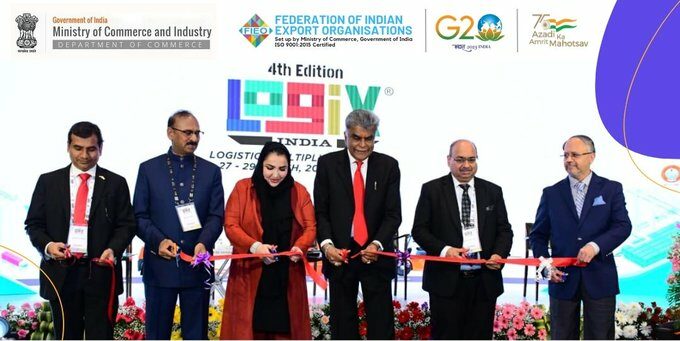 4th Logix India 2023 to focus on value-added and end-to-end logistics through partnerships, JVs and FDI: FIEO
MUMBAI : The 4th Logix India 2023 was inaugurated at Mumbai on March 27, 2023. Dr A Sakthivel, President, FIEO in his inaugural address said that India's logistics ecosystem is now ready for a major transformation. India's PM Gati Shakti and National Logistics Policy (NLP) 2022 shall ensure a new era of planning, coordinating, storing, and moving resources like people, raw materials, inventory, equipment, etc., from one location to another, from the production points to consumption, distribution, or other production points. He stated that major decisions are being made today to quick last-mile delivery, ending transport-related issues, saving manufacturers time and money, and preventing wasting agricultural products. He further said that we are confident that Indian Logistics costs will meet global benchmarks by 2030 by reducing the cost of logistics from 13-14% of GDP to global best practices of 8% and India will be in the top 10 of Logistics Performance Index by 2030.
Dr Ajay Sahai, Director General & CEO, FIEO said that the logistics sector is one of the fastest growing sectors in India particularly after the introduction of GST and this trend will continue with the growth in e-tailing and rising consumption in Tier 2 and Tier 3 cities. He highlighted the need for large logistics companies providing value-added and end-to-end logistics solutions and sought partnerships, joint ventures and 100% overseas FDI which is a prime objective of Logix. Dr Sahai said, the correct transportation mix with focus on railways followed by road and coastal shipping should be the long-term objective of the country. 50% of the transportation should be by Railways, 30-35% by road and 15-20% by coastal shipping. He also said that while the turnaround time at the major ports have decreased, but it is still very long when compared with less than 12 hours turnaround at Dubai, Singapore, Shanghai and Colombo ports.
Mr Paresh Kantilal Mehta, Regional Chairman (WR), FIEO, while proposing vote of thanks mentioned that the importance of logistics in the import and export business is irrefutable and is one of the most important aspects to the success of any international business. For any exporter, logistics is as important as getting goods to their destination – on time, within budget, and undamaged – is critical. He expressed his gratitude to all the dignitaries and to all the supporting partners, foreign delegates, Indian companies, Media for their continued support and cooperation.
The other dignitaries who attended the Inaugural ceremony included Mr Shankar Shinde, Chairman, FFFAI; Mr Shantanu Bhadkamkar, Immediate Past President, AMTOI and Ms Nadia Abdul Aziz, President, NAFL, UAE. The event was also attended by a large number of foreign delegates, diplomats, Indian companies and concerned stakeholders from the logistics sectors.
4th edition of Logix India 2023 is the flagship event of the industry and has participation of more than 100 international delegates from over 30 countries seeking Indian Partners. The 3-day event aims to bring together people, processes and technology together to create efficiencies in global supply chain logistics. The event is organised by Federation of Indian Export Organisations (FIEO) under the aegis of Ministry of Commerce and Industry, Government of India.