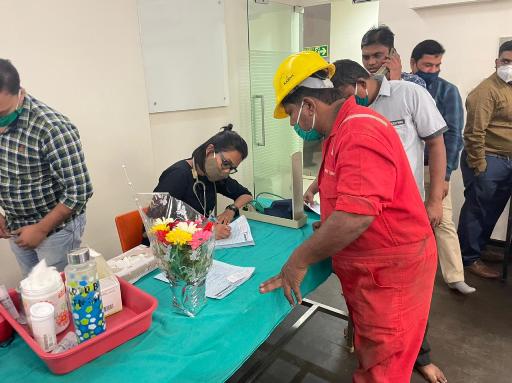 Allcargo Logistics organises blood donation drive in Mumbai

Mumbai, 25 February 2021: Keeping up with its tradition of showing the human side by extending support, setting examples, and giving hope in the unprecedented time, Allcargo Logistics, India's largest end-to-end integrated logistics provider, organised a blood donation drive in Mumbai in collaboration with LTMG Hospital (Sion Hospital).
The blood donation drive led by Avashya Foundation, the CSR arm of Allcargo Logistics, held blood donation camps in Uran, Panvel and Kalina and collected 166 units of blood. The camp followed all the health advisories and social distancing norms to ensure health and safety of the participants.
The blood donation drive is a part of Allcare, an employee volunteering programme of Allcargo Logistics. Confusion and concerns related to blood donation during the pandemic phase have led to the decrease in the number of blood donation camps. Shortage in blood supply, as a result, has adversely impacted various medical treatments and operations which require blood. The blood donation camps aim to reiterate the significance of voluntary blood donations.
"Regular blood donation is essential, as blood has a shelf life and it can't be preserved for perpetuity. We have organised the blood donation drive to make an earnest effort to arrange blood to the patients who require blood for treatments and create awareness on the importance of regularly donating blood. We express our heartfelt gratitude to Sion Hospital for joining hands with us and thank all the donors for coming forward to make our initiative a success. We urge others to participate in blood donation to save lives," said Arathi Shetty, Non-Executive Director, Allcargo Logistics.
"I thank Allcargo Logistics and Sion Hospital for organising the blood donation camp and giving me an opportunity to do my bit to help someone in need of blood. The donation camp has been well-organised, and the organisers have taken utmost care to ensure the health and safety of the donors," said Ambadas Yadav, donor from the Uran camp.
Since its inception, Avashya Foundation has been working towards inclusive people-centric community development with a mission to give back to the society. Aligned with the United Nations' Sustainable Development Goals, the Foundation is actively working in areas such as education, environment, health, women empowerment, disaster relief and sports.