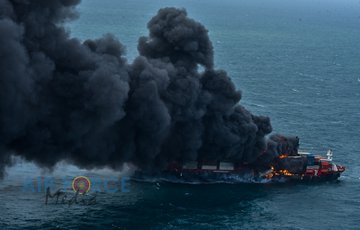 Alone, and on fire : X-Press Pearl continues to burn outside Colombo
COLOMBO : Alone, and on fire – this seems to be the status of X-Press Pearl, a feeder vessel operated by X-Press feeders on their Singapore/Middle East service currently burning in the Indian Ocean close to the port of Colombo, is one of the premier transhipment hubs in the Indian Ocean.
The two month old ship caught on fire initially on the 19th of May 2021 while waiting at anchorage and the fire was subsequently brought under control with the help of the Sri Lanka Ports Authority (SLPA), Sri Lanka Navy and the Sri Lankan Airforce which dropped fire suppressing powder on the vessel.
The Marine Environment Protection Agency of Sri Lanka has said that initial investigations indicate that the fire was burning under a container floor in the vessel.
However, the fire flared up again and is believed to be due to a reaction to some Nitric Acid cargo loaded from Hazira in India.
Source :Shipping And Freight Resource