CMA CGM introduces new Duisburg intermodal rail solutions

---
MARSEILLE : Effective from January, CMA CGM will provide a new block-train service offering to serve the Rhur region in the Duisburg area of Germany through the European South Corridor as a complement to its current services.
"As of January 2022, the innovative product Duisburg Ramp and vicinity permit our customers to benefit from very short and reliable transit time through South port corridors Fos and Marseille," said the French container carrier.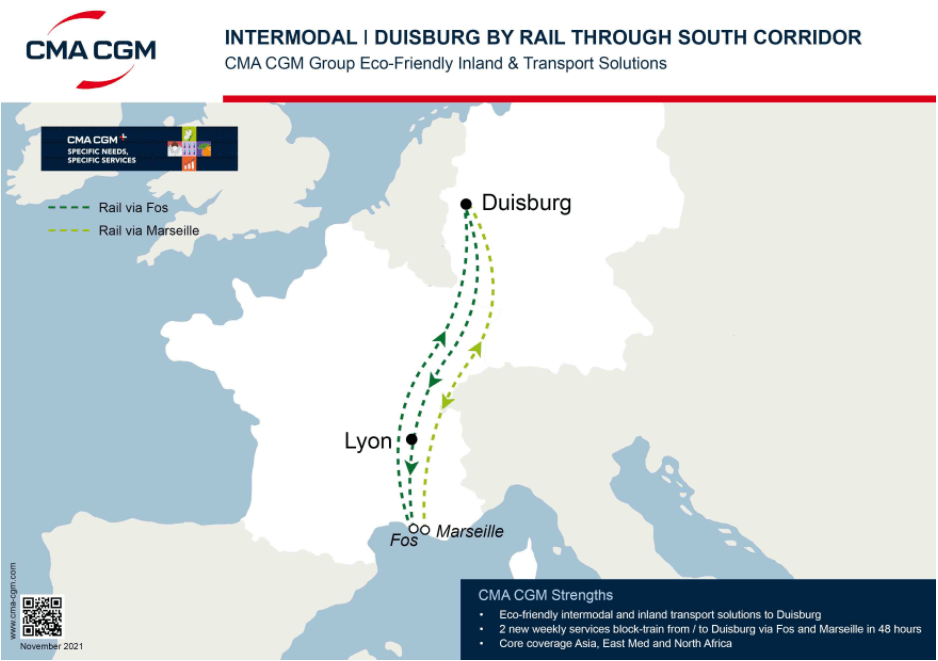 The intermodal service linking Duisburg with the French port of Fos will have a weekly capacity of 96TEU and an estimated transit time of two days. Its rotation will be Fos – Duisburg Trimodal Terminal (D3T) – Lyon – Fos.
CMA CGM said that the eco-friendly solution will also be connected with two core services Mediterranean Club Express (MEX) and Mediterranean Club Express 2 (MEX2), which link the Mediterranean Sea with Asia.
The block-train service dedicated to Duisburg via Marseille, which is designed for the transportation of 45′ High Cube and Pallet Wide containers, will have a weekly capacity of 105TEU with a transit time of two days. Its rotation will be Marseille – Duisburg D3T – Marseille.
This rail service will also be connected with three CMA CGM core services, Turkey Med Express 1 (TMX1), Turkey Med Express 2 (TMX2) and Euronaf, from and to East Mediterranean and North Africa.
Therefore, Duisburg will be reached from Ambarli in eight days, from Aliaga in seven days, from Gebze in nine days and from Gemlik in ten days, on TMX1 and TMX2 services, according to the French carrier.
Furthermore, export cargo bound from the German facility will reach North Africa and particularly Algier in three days through TMX2, as well as Skikda in five days, and Ghazaouet in three days, through Euronaf B.