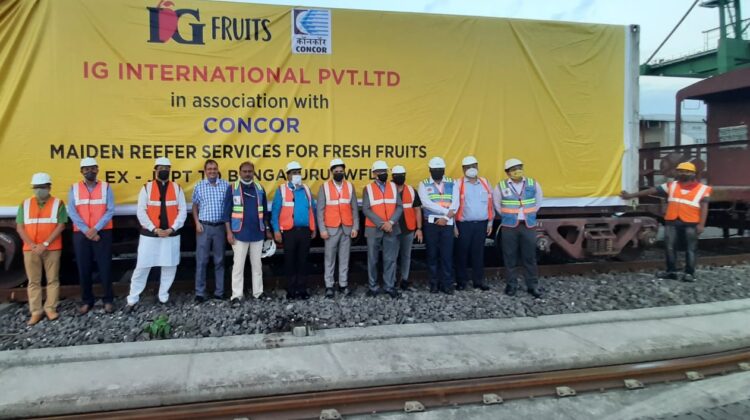 CONCOR flags off maiden Reefer train from JNPT (BMCT) to Bengaluru (WFD) with IG International
MUMBAI : Maiden reefer train service from JNPT / BMCT to Bengaluru (WFD) . Another milestone achieved by CONCOR by commencing the Reefer Rail services 4 perishable cargo from JNPT to southern India. M/s. IG International started on 06.06.2021. The 1st reefer rake with 44×40' containers of imported fresh fruits of IG International started from JNPT/BMCT to ICD WFD (Bengaluru) on 06.06.2021.
The inaugural ceremony was attended by Sh. Anil Sonawane (GGM/CONCOR) and from IG International Sh. G.C. Arora (Chairman), Sh. Sanjay Arora (Director) and Sh. Tarun Arora (Director) along with other officials from CONCOR, IG International, BMCT and ULA CFS (J.M. Baxi Group).
This is the first time a fresh produce company (IG International) has used the Rail as a mode to transport fresh fruits from Port city (JNPT) to another consumption centers / cities.
CONCOR will regularize this rail services for Bengaluru (WFD) and will be further extended to north and eastern part of the country also.
These services involved an integrated logistics covering First Mile Last Mile (FMLM) support for the perishable cargo through reefer containers. These Train services are not only cost effective but also safe and eco-friendly by protecting environment, minimizing CO2 level and reducing high dependency on lone / traditional transport mode.
Besides ICD Traffic, CONCOR can offer various Rail services for DPD and DPD CFS containers which can be railed from JNPT / DRT Terminal in shipping lines or CONCOR's Domestic containers by releasing shipping line containers at CFS's.
The Export traffic can be catered from ICD's and any rail sidings for JNPT under DPE.
Source : CONCOR